cd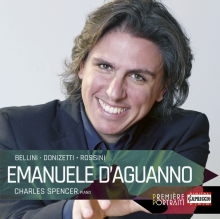 Première Portraits - EMANUELE D'AGUANNO
VINCENZO BELLINI · GAETANO DONIZETTI · GIOACCHINO ROSSINI
EMANUELE D'AGUANNO, tenor · CHARLES SPENCER, piano
C3005 PC: 01 (Special Price) 845221030050

VINCENZO BELLINI (1801 – 1835)
[1] Malinconia, Ninfa gentile · [2] Vanne, o rosa fortunata · [3] Almen se non poss'io · [4] Per pieta, bell'idol mio · [5] Ma rendi pur contento · [6] Torna, vezzosa Fillide · [7] · La ricordanza · [8] Vaga luna, che inargenti
GAETANO DONIZETTI (1797 – 1848)
[9] E morta · [10] Eterno amore e fe · [11] Amore e mort · [12] Il pescatore
[13] Il barcaiolo
GIOACCHINO ROSSINI (1792 – 1868)
La promessa · [15] Il rimprovero · [16] La partenza · [17] L' orgia

With "Première Portraits" CD-Edition Capriccio set an example for the support of young and talented artists and invite them to release their première CD for a worldwide audience.
Emanuele D'Aguanno is one of the most promising young tenors of his generation. He imposes himself at the "Toti dal Monte" Competition in Treviso (Paolino in Cimarosa's Il matrimonio segreto), and immediately started an intense activity which led him to perform quickly in many important houses in Italy and abroad. Among his most important recent engagements: Nemorino in L'elisir d'amore conducted by Bruno Campanella and Die Frau ohne Schatten conducted by Zubin Mehta at Teatro Comunale in Florence, L'elisir d'amore at Bunka Kaikan in Tokyo, Lucrezia Borgia directed by Christoph Loy at the Bayerische Staatsoper in Munich, Salieri's Il mondo alla rovescia at Teatro Filarmonico in Verona, Verdi's Otello (Cassio) at the Canadian Opera in Toronto, Hasse's Piramo e Tisbe with Europa Galante conducted by Fabio Biondi at the Whistun Festival in Salzburg and in Montpellier, Don Giovanni (Don Ottavio) in Glyndebourne, Mayr's Medea in Corinto (Egeo) conducted by Ivor Bolton at the Bayerische Staatsoper in Munich and Il ritorno di Ulisse in patria (Giove and Anfinomo) for his debut at Teatro alla Scala in Milan conducted by Rinaldo Alessandrini.

Weitere Bilder