cd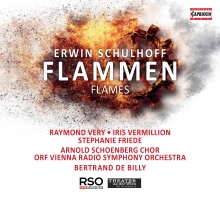 ERWIN SCHULHOFF
FLAMMEN
RAYMOND VERY · IRIS VERMILLION · STEPHANIE FRIEDE · ARNOLD SCHOENBERG CHOR · ORF VIENNA RADIO SYMPHONY ORCHESTRA · BERTRAND DE BILLY
2CD · C5382 PC: 22 UPC: 845221053820

Musical Tragicomedy in 2 Acts with 10 Scenes WV 93 (1928-32)
Libretto von / by: Max Brod · Nach / after: Karel Josef Beneš
Don Juan RAYMOND VERY
La Morte IRIS VERMILLION
Eine Frau / Eine Nonne / Margarethe / Donna Anna STEPHANIE FRIEDE
1. Frauenschatten GABRIELA BONE
2. Frauenschatten NINA BERNSTEINER
3. Frauenschatten ANNA PESHES
4. Frauenschatten CHRISTA RATZENBÖCK
5. Frauenschatten HERMINE HASELBÖCK
6. Frauenschatten ELISABETH WOLFBAUER
Der Komthur Salvador FERNÁNDEZ-CASTRO
Pulcinella KARL-MICHAEL EBNER
Pantalone ANDREAS JANKOWITSCH
Harlekin MARKUS RAAB
ARNOLD SCHOENBERG CHOR
(Einstudierung / Chorus Master: Erwin Ortner)
Jazzband: Mitglieder des Orchesters der Vereinigten Bühnen Wien
ORF VIENNA RADIO SYMPHONY ORCHESTRA · BERTRAND DE BILLY

In the 1920s and 1930s, there was a multi-faceted musical scene in culturally flourishing Czechoslovakia. When we take a look at the works by e.g. Pavel Haas, Gideon Klein, Hans Krása, Viktor Ullmann or Erwin Schulhoff, we can perceive a stylistically very similar course, conceivable against the given background as a 'Prague School' (as a counter-movement to the 'Viennese School'). In Schulhoff's early works, the features are a late Romantic approach influenced by Reger that later developed with an emphasis on rhythm in the direction of Expressionism and Neo-Classicism, also including jazz elements. The starting point is the 'Don Juan' story, but the underlying idea in Beneš' and Schulhoff's work is not to present the colourful seducer, but the fate of a man driven by his desires and needs who cannot even remotely find happiness and peace in constancy. In his opera, Schulhoff brilliantly manages to find a different dramaturgical approach, on the one hand, and at the same time to pay a kind of alienated homage to Mozart's work, on the other.
Hörprobe
Weitere Bilder