cd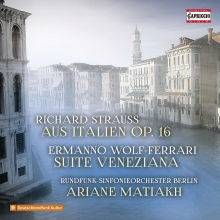 R. STRAUSS: Aus Italien · WOLF-FERRARI: Suite Veneziana
Rundfunk-Sinfonieorchester Berlin
Ariane Matiakh
C5344 PC: 21 UPC: 845221053448
'Never have I really believed in inspiration by the beauty of nature; I was put right by the ruins of Rome. There my ideas just flew to me.' Richard Strauss
"Aus Italien"was the first major symphonic poem mirroring diverse moods to be composed by Richard Strauss and that was to be followed by later masterpieces such as Don Juan, Tod und Verklärung, Ein Heldenleben or Eine Alpensinfonie. The Venetian Suite was written in 1935 by then almost 60-year-old Ermanno Wolf-Ferrari. It is the music of an opera composer, accustomed to illustrating events with his music, and yet in his concert works handing over many things to the imagination of the listeners, not wanting to give all the answers in advance.

Weitere Bilder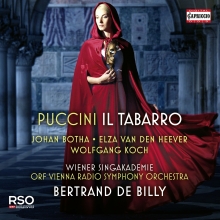 GIACOMO PUCCINI: IL TABARRO
Botha · Koch · Brunner · van den Heever
WIENER SINGAKADEMIE · ORF VIENNA RADIO SYMPHONY ORCHESTRA · BERTRAND DE BILLY
C5326 PC: 21 UPC: 845221053264
IL

TABARRO


Opera in un atto / Opera in one act (1913-16)
Libretto: Giuseppe Adami (1878-1946) nach / after Didier Golds "La Houppelande


LUIGI

: Johan Botha, Tenor / tenor


MICHELE

: Wolfgang Koch, Bariton / baritone
LA

FRUGOLA

: Heidi Brunner, Sopran / soprano


GIORGETTA

: Elza van den Heever, Sopran / soprano
IL

TINCA

/

LIEDERVERK

Ä

UFER

(Song Seller) /

LIEBENDER

(Lover)
Charles Reid, Tenor / tenor
IL

TALPA

: Janusz Monarcha Bass / bass


LIEBENDE

: Elisabeta Marin, Sopran / soprano


WIENER

SINGAKADEMIE


(Einstudierung / Chorus Master: Heinz Ferlesch)


ORF

VIENNA

RADIO

SYMPHONY

ORCHESTRA




BERTRAND

DE

BILLY

, Dirigent / conductor

With "Il tabarro" Puccini wrote the first part of his projected opera triptych, with which he ultimately intended to parody and reverse Wagner's Ring tetralogy by stringing together three completely incoherent short stories. Once more, for Il tabarro the composer virtually emigrated to France, to which he had already made declarations of love with La Bohème and Manon Lescaut. This affinity is now mirrored more clearly than in these two operas in the music of The Cloak, which emanates French, well-nigh Impressionist perfume. Bertrand de Billy knows how to make the the score alive with a fantastic cast on his side. World famous tenor Johan Botha was on the top of his carreer.
Youtube
Weitere Bilder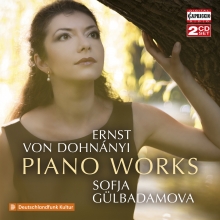 ERNST VON DOHNÁNIY (1877 - 1960)
SOLO PIANO WORKS
SOFJA GÜLBADAMOVA, Klavier / piano
2CD-Set · C5332 PC: 21 UPC: 845221053325
Dohnányis Piano works are influenced of the late romantic aera, with different character pieces formed as a cycle like the late piano works of Brahms.
Sofja Gülbadamova, prizewinner of many international competitions, is being highly acclaimed for her poetic interpretations, profound musicality as well as astonishingly varied sound palette. Since many years she take care of Dohnányis piano Oevre.

Weitere Bilder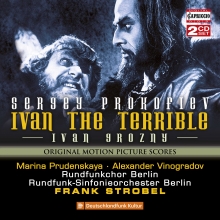 PROKOFIEV: IVAN THE TERRIBLE
- ORIGINAL MOTION PICTURE SCORES -
MARINA PRUDENSKAYA, alto · ALEXANDER VINOGRADOV, bass · RUNDFUNKCHOR BERLIN · RUNDFUNK-SINFONIEORCHESTER BERLIN · FRANK STROBEL
2CD-Set · C5311 PC: 22 UPC: 845221053110
(UDSSR 1943-1945)
Epic film by Sergej Eisenstein (1898-1948)
with Music for soli, choir and orchestra by Sergey Prokofiev op. 116
First complete new recording oft he reconstructed original score

IVAN THE TERRIBLE – the second joint project of Sergei Eisenstein and Sergei Prokofiev – is, much like ALEXANDER NEWSKI, a historical epic, portraying the rise and fall of the autocratic ruler Ivan IV in the 16th century. Sergei Prokofiev's musical portrayal is unique in film history, for the score conceives both parts of the film on an epic scale. Prokofiev's rich melodic invention thrives on the expressive sound palette of his native Russia, mostly as they echo the spiritual works of the Russian-orthodox liturgy.


Youtube
Weitere Bilder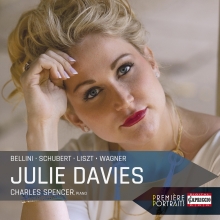 Premiere Portraits: Julie Davies
BELLINI · SCHUBERT · LISZT · WAGNER
Julie Davies, soprano · Charles Spencer, piano
C3003 PC: 01 845221030036
VINCENZO BELLINI (1801 – 1835)
Sei Ariette / Six Ariettas
No. 2: Vanne, o rosa fortunate (Pietro Metastasio)
La farfalletta (Anonymus)
Sei Ariette / Six Ariettas
No. 5: Per pietà, bell'idol mio (Pietro Metastasio)
No. 6: Ma rendi pur content (Pietro Metastasio)

FRANZ SCHUBERT (1797 – 1828)
4 Canzonas D. 68888
Vedi, quanto adoro D. 510 (Pietro Metastasio)

FRANZ LISZT (1811 – 1886)
3 Sonetti del Petrarca, S. 270a

RICHARD WAGNER (1813-1883)
Les adieux de Marie Stuart WWV 61(Pierre-Jean de Béranger)

With "Première Portraits" CD-Edition Capriccio set an example for the support of young and talented artists and invite them to release their première CD for a worldwide audience.
American soprano Julie Davies has been featured in Darmstadt's productions of The Tales of Hoffman (all four ladies), I Pagliacci (Nedda), Don Pasquale (Norina), La traviata (Violetta), Desdemona in Otello and Gerhilde in Die Walküre. Ms. Davies is specifically celebrated for her performances of the title roles in Lucia di Lammermoor and La sonnambula. Ms. Davies has won several competitions: Metropolitan Opera Regional Auditions, First in the Naftzger Young Artists Competition, and Finalist in the Marilyn Horne Foundation Competition


Weitere Bilder