cd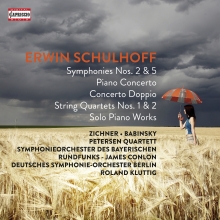 ERWIN SCHULHOFF (1894-1942)
Symphonies 2 + 5 · Piano Concerto · Concerto Doppio · String Quartets Solo Piano Music
JAQUES ZOON · FRANK-IMMO ZICHNER · MARGARETE BABINSKY · PETERSEN QUARTETT · LEIPZIGER STREICHQUARTETT · SYMPHONIEORCHESTER DES BAYERISCHEN RUNDFUNKS - JAMES CONLON · DEUTSCHES SYMPHONIE-ORCHESTER BERLIN - ROLAND KLUTTIG
6CD-Set · C7297 PC: 06 UPC: 845221072975
CD 1
Symphony No. 2(1932) · Suite for chamber orchestra (1921)
Symphony No. 5 (1938/39)
CD 2
Concerto Doppio for flute and piano (1927)
Concerto for piano and small orchestra, Op. 43 (1923)
Concerto for string quartet and wind ensemble
Ludwig van Beethoven / arr. Erwin Schulhoff: Rondo a capriccio op. 129
CD 3
String Quartet No. 1 (1924)
Five pieces for string quartet (1923)
String Quartet No. 2 (1925)
CD 4
String Quartet in G major, Op. 25 (1918)
Duo for violin and cello (1925)
Sonata for violin solo
String Sextet (1924)
CD 5
Piano Sonata No. 1 (1924) · Five Burlesques, Op. 23
Piano Sonata No. 3 (1927) · Five Grotesques Op. 21
CD 6
Six Ironies, Op. 34 · Five Picturesque's Op. 31 · Jazz Improvisations
As an internationally successful pianist and composer, Erwin Schulhoff was one of the most important Czech artists in the first half of the 20thcentury. For the last twentyfive years, his works are being rediscovered, and it goes to show that without him, a facet of the music of the 20th century would be missing. Not only did he abhor mainstream, but, like a sponge, he absorbed all musical currents of his time, and thus becoming a polystylist. For the first time now available in a 6 CD-Box you'll find this enormous diversity of his musically work.
The early piano pieces and string quartets, the symphonies and finally his Jazz Improvisations shows how tricky he played with the different genres and trends of his time.


Weitere Bilder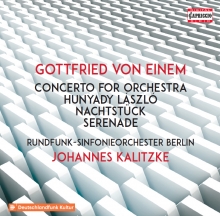 GOTTFRIED VON EINEM
Concerto for orchestra, Op. 4 · Hunyady László, op. 59 · Serenade for Double String Orchestra, Op. 10 · Nightpiece for orchestra, Op. 29
RUNDFUNK-SINFONIEORCHESTER BERLIN · JOHANNES KALITZKE
C5357 PC: 21 UPC: 845221053578
Gottfried von Einem was one of those great composer personalities that played a major role in rebuilding the waste of the Austrian music scene after 1945, following the devasting cultural policies of Austrofascism, which were above all hostile to modern trends, and even more so those of the Nazis. We owe Einem not least his rescue of the note material of many works by banned colleagues from destruction. Catchy thematic and melodic ideas, sharply accentuated rhythm, strong gestural and dance-like energy and a pronounced feeling for differentiated timbres determined Gottfried von Einem's musical diction at an early age, features he retained throughout his life.


Weitere Bilder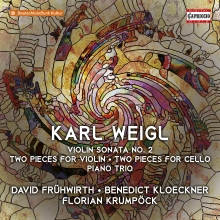 Karl Weigl
Violin Sonata No. 2 · 2 pieces for cello · 2 pieces for violin · Piano Trio
David Frühwirth · Benedict Kloeckner · Florian Krumpöck
C5318 PC: 21 21845221053189
Somewhere between the first and second decade of the "short" 20th century, the great Viennese musical tradition of Beethoven, Brahms, Bruckner, and Mahler supposedly crashed into the limits of tonality and came to a halt. Schoenberg, Webern, and Berg composed anew, now according to what was supposed to be the "historically inevitable" system of atonality. Karl Weigl went on to write marvelously traditional music. Schoenberg wrote in 1938 that "I always considered Dr. Weigl one of the best composers of the old school; one of those who continued the glittering Viennese tradition." And that is what we hear in abundance in Weigl's output throughout the genres: His symphonies , his songs , his concertos , his string quartets , and the chamber works for piano, cello, and violin in various combinations.

Weitere Bilder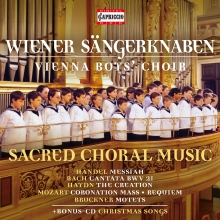 WIENER SÄNGERKNABEN VIENNA BOYS' CHOIR
Handel: Messiah (complete) · Haydn: The Creation (complete) · Mozart: Coronation Mass · Requiem · Bach: Cantata · Bruckner: Motets / Bonus-CD / Christmas Songs
MAX EMANUEL CENCIC · DEREK LEE RAGIN · GOTTHOLD SCHWARZ · Academy Of London · Symphonieorchester der Wiener Volksoper · Peter Marschik
7CD-Box · C7317 PC: 06 UPC: 845221073170
CD 1 + 2
GEORGE FRIDERIC HANDEL (1685-1759): DER MESSIAS · MESSIAH HWV 56 (Complete Recording)
CD 3 + 4
JOSEPH HAYDN (1732-1809): DIE SCHÖPFUNG · THE CREATION Hob. XXI:2 (Complete Recording)
CD 5
WOLFGANG AMADEUS MOZART (1756-1791)
MESSE C-DUR KV 317 "KRÖNUNGSMESSE"
MASS IN C MAJOR K 317 "CORONATION MASS"
JOHANN SEBASTIAN BACH (1685-1750)
KANTATE / CANTATA BWV 21 "Ich hatte viel Bekümmernis"
CD 6
WOLFGANG AMADEUS MOZART
REQUIEM KV 626 · AVE VERUM CORPUS KV 618
ANTON BRUCKNER (1824-1791): MOTETTEN · MOTETS
BONUS-CD
WEIHNACHTSLIEDER · CHRISTMAS SONGS
MAX EMANUEL CENCIC, Knabensopran / Boysoprano
CHARLES HUMPHRIES, Countertenor
DEREK LEE RAGIN, Altus / alto
CHRISTIAN BAUER, IVAN SHARPE, MICHAEL KNAPP, Tenor
GOTTHOLD SCHWARZ, ERNST JANKOWITSCH, ROBERT TORDAY, Bass / bass
WIENER SÄNGERKNABEN · VIENNA BOYS' CHOIR · CHORUS VIENNENSIS
ACADEMY OF LONDON · SYMPHONIEORCHESTER DER WIENER VOLKSOPER
STUTTGARTER PHILHARMONIKER
PETER MARSCHIK (Dirigent / conductor)

Weitere Bilder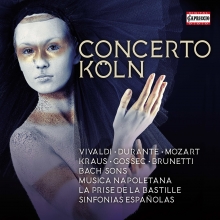 CONCERTO KÖLN
VIVALDI · MUSIC OF THE BACH SONS · MUSICA NAPOLETANA · FRANCESCO DURANTE · LA PRISE DE LA BASTILLE · SINFONIAS ESPAÑOLAS · GAETANO BRUNETTI · JOSEPH MARTIN KRAUS · FRANÇOIS-JOSEPH GOSSEC · WOLFGANG AMADEUS MOZART
Concerto Köln - Werner Ehrhardt
10CD-Set · C7305 PC: 07 UPC: 845221073057
CD 1: ANTONIO VIVALDI
Concerti: "La Tempesta di Mare" · "Concerto funébre" · "La Notte"
CD 2: MUSIK DER BACH-SÖHNE / MUSIC OF THE BACH SONS
Johann Christoph Friedrich Bach · Carl Philipp Emanuel Bach
Wilhelm Friedemann Bach · Johann Christoph Friedrich Bach
CD 3: MUSICA NAPOLETANA
Domenico Scarlatti · Leonardo Leo · Giovanni Battista Pergolesi
CD 4: FRANCESCO DURANTE: Concerti for Strings
CD 5: LA PRISE DE LA BASTILLE
Jean-Baptiste 'Citoyen' Davaux · Carl Ditters Von Dittersdorf
François Martin · François-Joseph Gossec
CD 6: SINFONIAS ESPAÑOLAS
Francisco Javier Moreno · Jose Pons · José Nonó · Juan Crisóstomo Arriaga
CD 7: GAETANO BRUNETTI: Sinfonien · Symphonies
CD 8: JOSEPH MARTIN KRAUS: Sinfonien · Symphonies
CD 9: FRANÇOIS-JOSEPH GOSSEC: Sinfonien · Symphonies
CD 10: WOLFGANG AMADEUS MOZART
Betulia liberata (Overture) · Clarinet Concerto
Symphonies Nos. 29 & 35 "Haffner"
Aufnahmen / Recordings: 1989 – 2003

Weitere Bilder