cd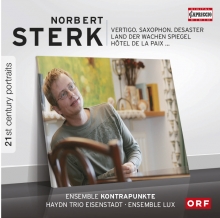 21st century portraits Vol. 3
Norbert Sterk (*1968)
Ensemble Kontrapunkte · Oslo Sinfonietta · Haydn Trio Eisenstadt
C5164 PC: 21 845221051642

NORBERT STERK (*1968)
[1] Die Ankunft des Atemzugs. The Arrival of Breath (2005
[2] "…wenn die Vögel die Nacht aufritzen – "
,when the birds rip open the night' (2007)
[3] Vertigo. Saxophon. Desaster (2010)
[4] "…aus Finsternissen losgelöst" / ,Released from Darkness' (2007)
[5] land der wachen spiegel. land of sleepless mirrors (2007/11)
[6] Hôtel de la Paix (2005)
CHRISTIAN HILZ, /bass-baritone (6) . VERA KLUG,flute (5)
GERALD PREINFALK, soprano saxophone (3) . KARI RONNEKLEIV, violin (1)
ENSEMBLE KONTRAPUNKTE . PETER KEUSCHNIG, Dirigent/ conductor (3)
ENSEMBLE LUX (4) . HAYDN TRIO EISENSTADT (6) · OSLO SINFONIETTA . ANDREA PESTALOZZA, Dirigent/ conductor (1) · ENSEMBLE STIMMWERCK (2)

'Composing is the attempt to bring the tranquillity – and the noise – in me to life'
(Norbert Sterk)
He is one of the many individualists on the contemporary Austrian music scene. No adherent of any group or school, positioning within stereotypes between aesthetic ideologies, such as characterized the 1970s and 1980s, is completely alien to him.
At the Conservatoire of the City of Vienna, he studied piano, double bass, music theory and composition with Karl Heinz Gruber, and at Vienna University he studied philosophy, musicology and theatre studies. He also attended seminars held by Iván Eröd, Karl Heinz Füssl, Alfred Schnittke and Kurt Schwertsik. The different approaches of his teachers stand symbolically for Sterk's formation of his own style. Expressive melodic development, on the one hand, and primarily acoustically targeted musical processes, on the other, are just as important components of his work as original reorchestrations of classics of the 20th century, especially in an early period of his development. This compilation combines works of the years 2005-2011, thus presenting the composer with temporally very close works.
Weitere Bilder