cd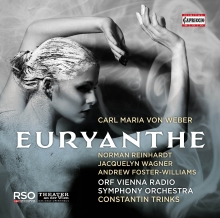 CARL MARIA VON WEBER: Euryanthe
Stefan Cerny · Norman Reinhardt · Jacquelyn Wagner · Andrew Foster-Williams · Theresa Kronthaler
ARNOLD SCHOENBERG CHOR ORF VIENNA RADIO SYMPHONY ORCHESTRA · CONSTANTIN TRINKS
C5373 · 2CD-Set PC: 22 UPC: 845221053738
CARL MARIA VON WEBER (1786 – 1826)
EURYANTHE
GROSSE ROMANTISCHE OPER IN 3 AUFZÜGEN J.291
GREAT ROMANTIC OPERA IN 3 ACTS
Libretto von / by Helmina de Chézy
(Opera Complete Recording)
König Ludwig VI – Stefan Cerny
Adolar – Norman Reinhardt
Euryanthe – Jacquelyn Wagner
Lysiart – Andrew Foster-Williams
Eglantine – Theresa Kronthaler
ARNOLD SCHOENBERG CHOR
(Chorus Mater: Erwin Ortner)
ORF VIENNA RADIO SYMPHONY ORCHESTRA
CONSTANTIN TRINKS, Dirigent / conductor
As good as every music lover is acquainted with Der Freischütz, but the fewest are aware of Euryanthe. In the light of the musical quality of the opera, the disdain for it does not seem fitting. Euryanthewas Weber's most ambitious project, one that anything but backfired. The composition may certainly be termed ground-breaking and truly deserves more attention. 'A chain of glittering jewels from the beginning to the end. All witty and ingenious', Robert Schumann in his critic about Euryanthe.
Live Recording · Theater an der Wien, 11.-12. & 15.12.2018
Weitere Bilder