cd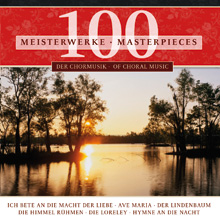 100 Meisterwerke der Chormusik
100 Masterpieces of Choral Music
5CD-Box
5 CDs · 49 565 PC: 04 4006408495659
ICH BETE AN DIE MACHT DER LIEBE – GEISTLICHE CHORMUSIK
AM BRUNNEN VOR DEM TORE – DIE SCHÖNSTEN MÄNNERCHÖRE
STILL WIE DIE NACHT – WELTLICHE CHORMUSIK
IN EINEM KÜHLEN GRUNDE – DIE SCHÖNSTEN DEUTSCHEN VOLKSLIEDER
HALLELUJAH – ORATORIEN, PASSIONEN und MESSEN
WIENER SÄNGERKNABEN · REGENSBURGER DOMSPATZEN
DRESDNER KREUZCHOR · MÄNNERCHOR DES RUNDFUNKCHORES LEIPZIG
RUNDFUNKCHOR BERLIN · THOMANERCHOR LEIPZIG · RHEINISCHE KANTOREI
RIAS-KAMMERCHOR · BERLINER MÄNNERCHOR "CARL MARIA VON WEBER"
u.v.a.
Capriccio presents a box of 5 CDs with the ultimate collection of choir music. The most famous choirs like the Vienna Boys' Choir, the Regensburg Domspatzen and the St. Thomas Choir Leipzig sing popular works for choir: sacred music, folk music, male choirs and many more. A box intended for all friends of choir music, available at a very attractive price.
In einer 5-CD-Box legt Capriccio die definitive Chormusik-Kollektion vor. Die berühmtesten Chöre wie Wiener Sängerknaben, Regensburger Domspatzen, Thomanerchor Leipzig singen die beliebtesten Chorwerke: geistliche Musik, Volkslieder, Männerchöre u.v.a. Eine Box für alle Freunde des Chorgesangs, zum besonders attraktiven Preis.