editionen
Original Motion Picture Score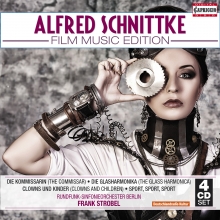 The story of an unknown actor · The Commissar · The Fairytale oft he Wanderings · Clowns and Children ...
RUNDFUNK-SINFONIEORCHESTER BERLIN · FRANK STROBEL
4CD-Box · C7196 PC: PC04 (Special Price) UPC: 845221071961
CD 1
Die Geschichte von einem unbekannten Schauspieler
The story of an unknown actor (Alexander Sarchi / Mosfilm 1976)
Die Kommissarin / The Commissar (Alexander Askoldow / Mosfilm 1967/87)
CD 2
Clowns und Kinder / Clowns and Children (Alexander Mitta, Mosfilm 1976)
Der Walzer / The Waltz (Viktor Titow / Mosfilm 1969)
Die Glasharmonika / The Glass Harmonica (Andrei Khrzhanovsky, 1968)
Der Aufstieg / The Ascent (Larissa Schepitko / Mosfilm 1976)
CD 3
Das Märchen der Wanderungen / The Fairytale oft he Wanderings
(Alexander Mitta, Mosfilm 1982/83)
Rikki-Tikki-Tavi (Alexander Sguridi / ZentrNaútschFilm, 1976)
CD 4
Sport, Sport, Sport (Elem Klimow, Mosfilm 1970) / Die Abenteuer eines Zahnarztes / The adventures of a dentist (Elem Klimow, Mosfilm 1965) RUNDFUNK-SINFONIEORCHESTER BERLIN · FRANK STROBEL
Alfred Schnittke as a composer of film music – that is a fact well known to anyone who has ever been concerned with Alfred Schnittke. However, only very few people are familiar with his actual work in the film music genre. This is all the more surprising since on the one hand, Alfred Schnittke wrote more than 60 film scores during the years between 1961 and 1984, and on the other hand, his poly-stylistic techniques found a nearly perfect equivalent in film. Since Alfred Schnittke suffered from the artistic regimentations like many contemporary composers in the USSR, and his works could often only be performed under difficult circumstances, his work for the film to a large extent contributed to his livelihood.

Weitere Bilder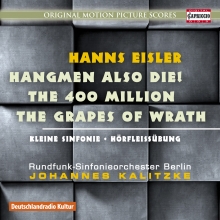 Hangmen Also Die · The 400 Million · The Grapes of Wrath (+ Kleine Symphonie / Hörfleißübung)
RUNDFUNK-SINFONIEORCHESTER BERLIN · JOHANNES KALLITZKE
1CD · C5289 PC: 21 845221052892
Hangmen Also Die – Filmmusik / Film Music (1942/43)
The 400 Million - Filmmusik / Film Music (1938/39)
Präludium: Andante con moto / Main Title
Thema mit Variationen / Theme with variations
Scherzo für Solovioline und Orchester / Scherzo for solo violin and orchestra
Fünf Orchesterstücke / Five pieces for orchestra
The Grapes of Wrath Alternative Film Music (1941/1942)
Kleine Symphonie (1932)
Hörfleißübung (1930)

RUNDFUNK-SINFONIEORCHESTER BERLIN
JOHANNES KALLITZKE, Dirigent / conductor

Besides the Oscar-nominated score for Fritz Lang's film 'Hangmen Also Die' (1943), this CD contains other rarely heard works by Hanns Eisler (1898-1962), in which the special interpretation Schönberg's pupil had developed of the twelve-tone technique plays an astonishingly important role for the field of film and orchestral music.

Weitere Bilder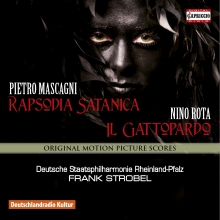 NINO ROTA: IL GATTOPARDO
Deutsche Staatsphilharmonie Rheinland-Pfalz · Frank Strobel
C5246 PC: 21 845221052465
Pietro Mascagni's single work for the early days of cinema was composed in winter time 1914/15.
The idea of the film director Nino Oxilia was to create a "Poema cine-musicale", a synthesis of the arts with music, poetry and finally cinematography. The plot is something like a female version of "Faust", based on a poetry by Fausto Maria Martini. Mascagni itself conducted the first performance in July 1917 and orientated his composition near to Richard Wagners musical language.
The French-German TV channel Arte restored this treasure of early cinema in 2006 and recorded the
complete film music score which is now available also on CD.

Weitere Bilder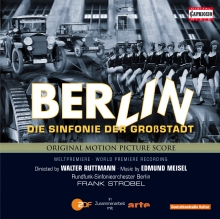 ORIGINAL MOTION PICTURE SCORE · Music: Edmund Meisel
Rundfunk-Sinfonieorchester Berlin · Frank Strobel
C5067 PC: 21 UPC: 845221050676
ORIGINAL

MOTION

PICTURE

SCORE

(World Premiere Recording)
first complete new recording of the original score
Erste vollständige Neu-Aufnahme der Originalpartitur

After the successful release of the Original Motion Picture Score "Metropolis" (Capriccio CD C5066) another Masterpiece of the "Stummfilm-Era" will be realeased. Again in Co-Operation with the German Television

ZDF

and

ARTE

this movie is now completely renewed as movie and as well with a completely new recorded soundtrack after the original score by the composer Edmund Meisel (1894-1930). Film Music Expert and conductor Frank Strobel delivers a full range and deep impressive soundtrack with the Radio-Sinfonieorchester Berlin for the new TV-, Cinema-, and CD-Version.
Weitere Bilder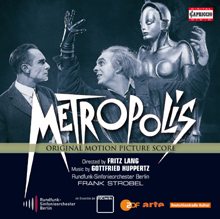 FRITZ LANG / GOTTFRIED HUPPERTZ
ORIGINAL MOTION PICTURE SCORE
(World Premiere Recording)
C5066 · 1CD · PC: 21 UPC: 845221050669
In Zusammenarbeit mit

ZDF

und

ARTE

wurde das wohl berühmteste Meisterwerk der Stummfilm-Era komplett renoviert und rekonstruiert. So sind nicht nur 22 Minuten verschollen geglaubtes Filmmaterial wieder entdeckt worden, auch die Originalpartitur der Filmmusik von Gottfried Huppertz (1887-1937) konnte ergänzt und rekonstruiert werden. Der Filmmusikexperte und Dirigent Frank Strobel liefert hiermit einen neuen, beeindruckenden Soundtrack, eingespielt mit dem Radio-Sinfonieorchester Berlin.
In Co-Operation with the German Television

ZDF

and

ARTE

this well known Masterpiece of the "Stummfilm" Era is now completely renewed as movie and as well with a completely new recorded soundtrack after the original score by the composer Gottfried Huppertz (1887-1937). Film Music Expert and conductor Frank Strobel delivers a full range and deep impressive soundtrack with the Radio-Sinfonieorchester Berlin for the new TV-, Cinema-, and CD-Version.
Weitere Bilder
Sport, Sport, Sport (1970) · Die Abenteuer eines Zahnarztes (1977)
Rundfunk-Sinfonieorchester Berlin · Frank Strobel
C5002 PC: 21 UPC: 845221050027
Elektrisch verstärkte Gitarre, Celesta, präpariertes Klavier und drei Bongos eröffnen die Suite der Musik zur Körperertüchtigungssatire "Sport, Sport, Sport". Unkommentiert basteln der Regisseur Elem Klimow und Schnittke eine gutmütige Karikatur auf all die sich ehrgeizig Bewegenden.
Electrically amplified guitars, celestas, prepared pianos and three bongos open the suite from the music to the satire on fitness: "Sport, Sport, Sport". Movie director Elem Klimow and Schnittke put together a good-humored caricature of the ambitious movers.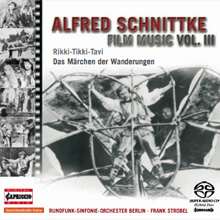 Rundfunk- Sinfonieorchester Berlin
Frank Strobel
Märchen der Wanderungen (1982/2003)
Rikki-Tikki-Tavi (1975/2004)
1 SACD · 71 127 PC: 21 4006408711278
Die erfolgreiche Serie mit Filmmusiken von Alfred Schnittke wird fortgesetzt. Die ersten beiden Folgen (71 041, 71 061) wurden beide ausgezeichnet mit dem Preis der deutschen Schallplattenkritik. Frank Strobel, der Dirigent dieser Aufnahmen, hat sich wie kein anderer zeitgenössischer Musiker mit dem Thema Filmmusik befasst und die zahlreichen Partituren Alfred Schnittkes für die Wiederaufführung eingerichtet. Das hierzulande weitgehend unbekannte Gebiet des sowjetischen Films der 70er und 80er Jahre wird auf diese Weise der Vergessenheit entrissen.
The successful series with film music by Alfred Schnittke is being continued. The first two releases (71 041, 71 061) were both distinguished with the Preis der deutschen Schallplatten-kritik (German Record Critics Prize). Frank Strobel, the conductor of these recordings, has occupied himself with film music like no other contemporary musician and for this revival has rearranged the numerous musical scores of Alfred Schnittke. Hereby, the in this country largely unknown world of Soviet film from the 70's and 80's is wrested from oblivion.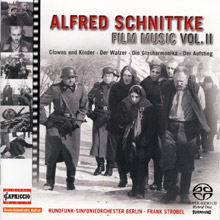 Rundfunk-Sinfonieorchester Berlin
Frank Strobel
Clowns und Kinder (1976) · Der Walzer (1969)
Die Glasharmonika (1968) · Der Aufstieg (1976)
Augezeichnet!: Preis der Deutschen Schallplattenkritik
1SACD: 71 061 PC: 21
Auch wenn Alfred Schnittke die im doppelten Sinn sein Leben unterhaltende Musik zu mehr als 60 Filmen komponiert hat, soll nicht länger verwundern, was musikwissenschaftliche Herablassung zunächst nicht glauben mochte: Die Filmmusik offenbart vieles, im Grunde alles, was Alfred Schnittkes Musik auszeichnet. Ja, sie fügt sich mit den Sinfonien, Konzerten, Kammermusik- und Chorwerken sowie den Opern zu einem faszinierenden Ganzen seiner musikalischen Persönlichkeit. Schnittkes Figuren glänzen nicht wie Helden aus Stahl und Glas, sondern sie irren, lachen und triumphieren, wie Menschen es halt tun. Das hat ihn vorm Elfenbeinturm bewahrt, in welchen nicht wenige Komponisten des 20. Jahrhunderts wie die Lemminge eingezogen sind.
"Schnittke hat in seinen Filmmusiken viel ausprobiert und weiterentwickelt. Man muss sich vorstellen, dass er für jeden Film einen Score mit einer durchschnittlichen Länge von 45 bis 60 Minuten geschaffen hat. Das ist eine enorme kompositorische Leistung, die ich ohne Zögern an die Seite seiner Concerti grossi, Sinfonien und weiteren Werke stellen möchte." (Frank Strobel)
Although Alfred Schnittke wrote the music for more than 60 films, music that supported his life in more than one sense, we should no longer be surprised at what musicological arrogance did not want to believe at first: This film music reveals much, if not practically everything that distinguishes Alfred Schnittke's music, contributing to the fascinating whole of his musical character together with his symphonies, concertos, chamber and vocal music as well as the operas. Schnittke's protagonists are not shining like heroes made of steel and glass. Instead, they are mistaken, laugh and triumph, as people do. This is what kept him from the ivory tower into which many of the composers in the 20th century moved like lemmings.
"Schnittke experimented a lot in his film music and continued the development of certain elements. One has to imagine that he wrote a score for each film that is, on average, of 45 to 60 minutes' duration. This is a great compositional achievement that I would not hesitate to place next to his concerti grossi, symphonies and other works." (Frank Strobel)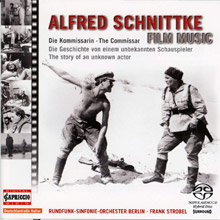 Die Kommissarin
Die Geschichte von einem unbekannten Schauspieler
Rundfunk-Sinfonieorchester Berlin
Frank Strobel
PC: 21 4006408710417
Augezeichnet!: Preis der Deutschen Schallplattenkritik
Der Dirigent Frank Strobel hat sich auf die Wiederentdeckung und Rekonstruktion vergessener Filmpartituren spezialisiert. 2004 erhielt er für seine Weltersteinspielung der rekonstruierten Filmmusik "Alexander Newski" von Sergej Prokofjew den Preis der deutschen Schallplattenkritik. Jetzt beginnt Frank Strobel bei Capriccio ein neues ehrgeiziges Projekt, wieder zusammen mit dem Rundfunk-Sinfonieorchester Berlin: eine auf mehrere SACDs angelegte Sammlung mit Filmmusiken von Alfred Schnittke. Es ist wenig bekannt, dass Schnittke zu zahlreichen – meist sowjetischen bzw. russischen – Filmen die Musik geschrieben hat. Den Anfang machen die Partituren zu den Filmen "Die Kommissarin" und "Die Geschichte eines unbekannten Schauspielers".
Conductor Frank Strobel specialized on the re-discovery and reconstruction of forgotten sores for film music. Last year, he received the Prize of the German Record Critics for his world premiere recording of the reconstructed film score "Alexander Nevsky" by Serge Prokofiev. Frank Strobel is now in the process of starting another ambitious project with Capriccio and once again with the Berlin Radio Symphony Orchestra: A collection to be published on several SACDs containing film music by Alfred Schnittke. It is a little known fact that Schnittke wrote the music for numerous – mostly Soviet, or Russian – films. The beginning will be the scores for the films "The Commissar" and "The Story of an Unknown Actor".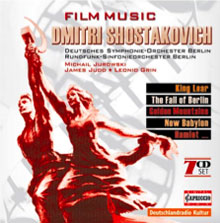 Shostakovich
Capriccio is marking the 100th birthday of Dmitry Shostakovich (1906-1975) with a whole string of new releases. This 7-CD set unites the film scores of Shostakovich previously released on separate CDs. Film music formed a lifelong accompaniment to Shostakovich's career, from the silent films of the 1920s to "King Lear" in 1970. This is a fascinating excursion through half a century of Russian film music and an important contribution to history's verdict on the ever-enigmatic Dmitry Shostakovich.
7 CD-Set 49 533 PC: 07
Zum 100. Geburtstag von Dmitri Shostakovich (1906-1975) wartet Capriccio mit einer ganzen Reihe von Neuveröffentlichungen auf. Dieses 7-CD-Set fasst die bisher in Einzelausgaben erschienenen Ausgaben mit Filmmusiken von Shostakovich zusammen. Filmmusik hat Shostakovich ein ganzes Leben lang begleitet: von den frühen Stummfilmen der 20er Jahre bis zu "König Lear" aus dem Jahr 1970. Ein faszinierender Streifzug durch ein halbes Jahrhundert russischer Filmmusik und ein wichtiger Beitrag zum Gesamtbild des noch immer rätselhaften Dmitri Shostakovich.
Opera Recordings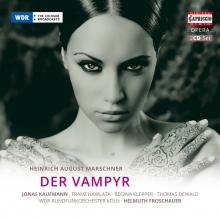 Romantic Opera Complete Recording
Jonas Kaufmann · Regina Klepper · Franz Hawlata · Thomas Dewald · WDR Rundfunkorchester Köln · Helmuth Froschauer
2CD · C5184 PC: 21 (Special Price) UPC: 845221051840
HEINRICH AUGUST MARSCHNER (1795-1861)
DER VAMPYR
Romantische Oper in 2 Aufzügen · Romantic Opera in 2 Acts
Text: Wilhelm August Wohlbrück
- Gesamtaufnahme / Complete Recording -
JONAS KAUFMANN
FRANZ HAWLATA · REGINA KLEPPER · THOMAS DEWALD
WDR RUNDFUNKORCHESTER KÖLN · HELMUTH FROSCHAUER
Something demonic and ghostly fills the air: we find ourselves in the age of Dark Romanticism, which cast its shadow on the opera. The fateful drama is of Scottish origin, whose essence consists of inherited curses, dark, guilty entanglements and bloody props, in order to wake fatalistic shivers. Among the audience at the premiere performance of the "Vampire" in 1828 at the Sächsisches Hoftheater in Leipzig was 15-year-old Richard Wagner. Marschner's opera crosses the path of the theatre novice many times. In 1833 the fledgling répétiteur Wagner in Würzburg got involved in:
"However, soon the Marschner score interested me sufficiently to make it worth while to have my bitter work published. I contributed a new allegro movement to Aubry's tenor aria in Marschner's 'Vampire', which I also wrote the text to. My resulting work was demonic and effective, registering the acclaim of the audience and encouraging recognition from my brother".
Wagner could still get worked up about the "loathsomeness of the thematic"; even Hans Pfitzner had to placatingly defend and emphasise the 'gruesomeness' of the text, the 'shivering' was the "best part of Marschner's music". Edgar Istel also captured his theatrical impression in creepy gothic words: "Whoever saw how the once-bitten vampire returns to life rises up by moonlight to the sounds of Marschner's ghostly music, they will never forget this impression."
Weitere Bilder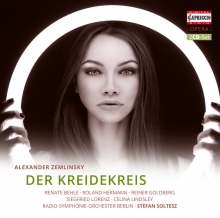 Opera Complete Recording
Renate Behle · Reiner Goldberg · Roland Hermann · Radio-Symphonie-Orchester Berlin · Stefan Soltesz
2CD · C5190 PC: 21 (Special Price) UPC: 845221051901
ALEXANDER ZEMLINSKY (1871-1942)
DER KREIDEKREIS
THE CHALK CIRCLE
Oper in drei Akten · Opera in three acts
Text: Klabund
- Gesamtaufnahme / Complete Recording -
RENATE BEHLE · ROLAND HERMANN · REINER GOLDBERG
SIEGFRIED LORENZ · CELINA LINDSLEY
RADIO-SYMPHONIE-ORCHESTER BERLIN
STEFAN SOLTESZ
The old Chinese drama of courtroom and customs was usable only as raw material. In its original version it is a fairly dull, wooden affair, handled extremely clumsily from the dramatic
point of view. It is in effect inventing a Chinese fairy-tale. No strict Chinoiserie: it had
to be as if in a dream of China. Klabund (1925)
Two years after the death of Klabund, Zemlinsky decided to use his Chalk circle as the basis for an opera. He recast the five-act "play after the Chinese" first into a two-act, later into a three-act version, and composed his Chalk circle in 1931/32. This blend of a fairy-tale Utopia, social criticism and inwardness makes itself felt in Zemlinsky's music, which seeks to combine varied stylistic components: Chinese coloration appears in the orchestral scoring, which is enriched with gongs and other exotic-sounding instruments: the melody often avoids semitonal steps and so takes on a pentatonic character. It was the seventh and also his last completed opera, from which the then 61-year-old Zemlinsky hoped for the definitive breakthrough as an operatic dramatist.
Weitere Bilder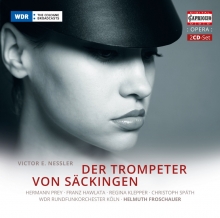 Opera Complete Recording
Hermann Prey · Franz Hawlata · Regina Klepper · WDR Rundfunkorchester Köln · Helmuth Froschauer
2CD · C5187 PC: 21 (Special Price) UPC: 845221051871
VICTOR E. NESSLER (1841-1890)
DER TROMPETER VON SÄCKINGEN
THE TRUMPETER OF SÄCKINGEN
Opera in a prologue and three acts
Text: Rudolf Bunge, Joseph Victor von Scheffel
UA: Leipzig, 1884
- Gesamtaufnahme / Complete Recording -
HERMANN PREY · FRANZ HAWLATA · REGINA KLEPPER
WDR RUNDFUNKORCHESTER KÖLN · HELMUTH FROSCHAUER

The first performance of "The Trumpeter of Säckingen" on May 4, 1884 at the Stadttheater in Leipzig was an unprecedented success. For the hundredth Leipzig performance there was a procession with flaming torches in honour of the composer. "The Trumpeter" then began its triumphant conquest of the entire German theatre scene; within a few years the opera had been performed several thousand times and, by the turn of the century, had established its place in the repertoire of all the major opera houses. That great critical authority Eduard Hanslick showed most restraint, making an attempt to analyze the "popular force, the winning something" in Nessler's "musical mediocrity", and concluding: "The most remarkable thing in this unprecedentedly successful opera is precisely its success." In 1884 – the year following Wagner's death, the year which saw the premieres of Massenet's "Manon" and Puccini's first work, "Le Villi", the year in which Bruckner's seventh symphony and Mahler's "Lieder eines fahrenden Gesellen" were composed, – the tastes of the Biedermeier period and quaint romanticism had made their second conquest of the German opera world.
Weitere Bilder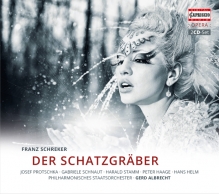 Opera Complete Recording
Protschka · Schnaut · Stamm · Haage · Philharmonisches Staatsorchester · Gerd Albrecht
2CD · C5175 PC: 21 UPC: 845221051758
LIVE FROM HAMBURG STATE OPERA
FRANZ SCHREKER (1878-1934)
DER SCHATZGRÄBER
Opera with a Prologue, 4 Acts and an Epilogue
- Gesamtaufnahme / Complete Recording -
JOSEF PROTSCHKA · GABRIELE SCHNAUT · HARALD STAMM
PETER HAAGE
PHILHARMONISCHES STATTSORCHESTER
GERD ALBRECHT

Franz Schreker's operas were among the most played works of the Weimar Republic. And, in fact, Der Schatzgräber was to become one of the most performed of all contemporay operas during the years of his time: in all 385 performances of the work are between 1920 – the year of the premiere – and 1932 in 50 different cities and productions. If these figures are compared with the 166 performances given to Alban Berg's Wozzeck between 1925 and 1936 in 29 different productions, then the popularity of schreker's opera is to be clearly recognized. Franz Schreker was almost exclusively a composer of operas – an almost singular case in the history of twentieth-century music – the reasons for which are to be found in his technique of musical composition. Schreker accepted and extended the independence of the individual harmonic (chordal) combination as a sonorous value in its own right as was first realized in Wagner's Tristan and Isolde. This is programmatically formulated in the Tristan - quotation occurring in the Interlude of Act III of Der Schatzgräber. As is also the case in the dramatic works of Wagner – certain tonal centres are utilized as "sonorous ciphers" for differing levels of dramatic meaning. Thus, in Der Schatzgräber the tone c sharp denotes the realm of illusion – the world of the treasure – while the tone d implies its opposite, the realm of reality or real life.
The work was however not only Schreker's most successful opera but also his last successful opera. Its later sudden loss of popularity coincides with the change in cultural climate of the year of 1924, a change which is documented in the fine arts by the transition from Expressionism to so-called New Objectivitiy (Neue Sachlichkeit) and on the political scene by the initial phase of economic consolidation in the young Republic.
Also available:
Weitere Bilder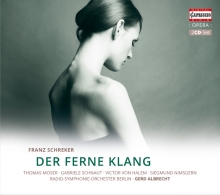 Opera Complete Recording
Moser · Schnaut · Von Halem · Nimsgern · RSO Berlin · Gerd Albrecht
2CD · C5178 PC: 21 UPC: 845221051789
FRANZ SCHREKER (1878-1934)
DER FERNE KLANG
Opera in 3 Acts · Text: Franz Schreker
- Gesamtaufnahme / Complete Recording -
THOMAS MOSER · GABRIELE SCHNAUT
VICTOR VON HALEM · SIEGMUND NIMSGERN
RADIO-SYMPHONIE-ORCHESTER BERLIN
GERD ALBRECHT
"Der ferne Klang came into being from a twofold need. As a young man I was in a ferment: youth and longing clamoured for self-expression. Longing – to attain an artistic ideal, fame, joy in life, a woman, love! And I wanted to create, wanted to mould everything into sound pictures […] Then in the nick of time I thought of myself, of the drama of growing up, of the folly of this life with its uncertain issue, of all the tragedies that harshly befall us and now and again – often only fleetingly – involve us in their confusion of scene. And I wrote Der ferne Klang out of myself, out of my own youthful experience. (Franz Schreker)
The sensational reception of Der ferne Klang at its first performance on 18 August 1912 in Frankfurt set on foot Schreker's unusually successful career as an opera composer: his works often achieved a higher number of performances than the music-dramas of Richard Strauss. His appointment as teacher at the Vienna Academy of Music enabled him to concentrate on further operas: Das Spielwerk und die Prinzessin (1909 -1912), Die Gezeichneten (1912 -1915) and Der Schatzgräber (1916 -1919). In 1920 Franz Schreker took over the direction of the Berlin High School for Music. He appointed lecturers there of the rank of Arthur Schnabel and Paul Hindemith. Violent political attacks forced Schreker in 1932 to resign his position as director. His work was suppressed and still remained largely forgotten for decades after the war.
Also available:
Weitere Bilder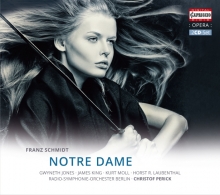 Opera Complete Recording
Jones · King · Moll · Laubenthal · RSO Berlin · Christof Perick
2CD · C5181 PC: 21 UPC: 845221051819
FRANZ SCHMIDT (1874-1939)
NOTRE DAME
Romantic Opera in 2 Acts
Text: Leopold Wilk, Franz Schmidt
- Gesamtaufnahme / Complete Recording -
GWYNETH JONES · JAMES KING · KURT MOLL
HORST R. LAUBENTHAL
RADIO-SYMPHONIE-ORCHESTER BERLIN
CHRISTOF PERICK
"Notre Dame" immediately evokes the hunchbacked bellringer, Quasimodo, and the films with C. Laughton and A Quinn; one remembers a gruesome, bloodthirsty tale from the late Middle Ages about deformed people, gypsies, villains, knights and priests. With their percise feel for the psychology of the plot, Franz Schmidt and his librettist Leopold Wilk condensed and modified the story and shifted its emphasis. In his novel The Hunchback of Notre Dame, Victor Hugo's prime intent was to portray 19th century Paris (with Notre Dame Cathedral as the symbolic main character) and to express his social concern for outcasts and the aesthetic and moral worth of ugliness. The opera is dominated not by Paris, not by Quasiomodo (of the five main characters, he has the smallest part), but by Esmeralda. She is at the centre oft the web of stories which make up the plot. The four principal male characters, Phoebus, Gringoire, the Archdeacon, and Quasimodo, have one thing in common – their love for Esmeralda. Men seem to be irresistibly attracted to her, even "bewitched". The lives of these four men are changed, and later destroyed, by their passion for Esmeralda. Meeting Esmeralda has disastrous consequences for all people involved. In her effect on men and the ensuing events, Esmeralda reminds one of Lulu. She is the innocent sister of child-woman Lulu. – However, Alban Berg was not to write his opera for another thirty years.
Also available:
Weitere Bilder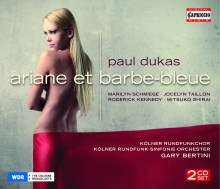 PAUL DUKAS

Opera Complete Recording
Marilyn Schmiege · Roderick Kennedy Jocelyn Taillon · Mitsuko Shirai Monique Baudoin · KÖLNER RUNDFUNKCHOR · KÖLNER RUNDFUNK-SINFONIE-ORCHESTER · GARY BERTINI, conductor

2CD-Set · C7112 PC: 22 UPC: 845221071121
OPÉRA EN TROIS ACTES
Oper in 3 Akten · Opera In 3 Acts
Text: Maurice Maeterlinck
Gesamtaufnahme · Complete Recording

Numerous authors have worked with this story in all possible ways – as fairy-tale, narrative, novel, drama, opera. Among the best-known works are the fairy-tale by Ludwig Bechstein, the puppet show by Georg Trakl, the narrative by Max Frisch as well as several pieces of music theatre. These include Jacques Offenbach's operetta, the opera "Ariane et Barbe-Bleu" by Paul Dukas – as well as the probably most prominent work – the opera "Bluebeard's Castle" by Béla Bartók.
The opinion on Bluebeard and his last wife – who is the culprit? who is the victim? – has changed over the centuries since Perrault published his fairy-tale in Paris 1697.
However, a very similar analysis of the "battle of the sexes" was already presented by Paul Dukas in 1907, ten years before the premiere of Béla Bartók's work, in "Ariane et Barbe-Bleue", his tree-act opera which was first performed at the Opera-comique in Paris. Thereby the composer set a text by the Belgian writer Maurice Maeterlinck to music.
The composer, who was known to be a slow worker, took seven years to set the libretto to music, at the same time altering it to represent his own vision. The result was greeted with great and ungrudging approval, especially by fellow composers and musicians. Vincent d'Indy thought that "Ariane" was the most important piece of music drama since Wagner; Karol Szymanowski, Ferruccio Busoni or Bruno Walter considered "Ariane et Barbe-Bleu" to be the most important French opera besides Debussy's "Pelleas et Melisande". Certainly, Dukas' music for "Bluebeard" has way less exotic flair than Debussy's "Pelléas".

From the archives of Westdeutsche Rundfunk Köln this Studio Recording, produced in 1986, is now presented for the first time on CD. Former chief conductor Gary Bertini had a very good cast on his hand to do this interesting production.



Weitere Bilder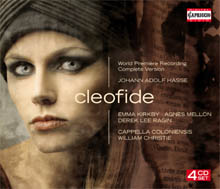 Opera Complete Recording

4CD-Set · C7080 PC: 23 UPC: 845221070803
After many years of absence this famous World Premiere Recording of Hasses 1731 in Dresden performed opera is now back and available for international sale. With a well known cast like EMMA KIRKBY, AGNÈS MELLON, DEREK LEE RAGIN and the conductor WILLIAM CHRISTIE this recording is a "must" for all Baroque Opera Lovers.
Weitere Bilder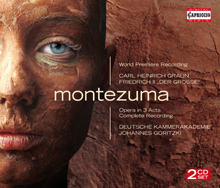 FRIEDRICH II "DER GROSSE" MONTEZUMA

Opera Complete Recording
C7085 · 2CD-Set PC: 22 UPC: 845221070858
Together with Johann Adolf Hasse, Carl Heinrich Graun was the chief representative of Italian Opera in Germany in the 18th century. The story of "Montezuma" accords with the historical fate of the last ruler of the Aztecs. The text is by King Frederick II, Graun had a close friendship to him and became chief of the circle of Berlin composers. "Montezuma" can be seen as Frederick's countersignature to his own fate, which made him into a martial war-prince. "Montezuma" shows him in a field of tension: thus the artistically-minded idealistic prince became the royal practical politician: if justice is to be seen to be done to life's reality, Montezuma must die. Montezuma is mor than just a Baroque opera. This opera can allude to the history of its own nation. It directs our ear to the destiny of America and the destiny of Prussia, to the German's view, 200 years ago, of America, and American history as the mirror of its own.