cd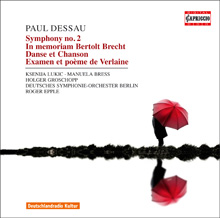 PAUL DESSAU Diapason d'Or
1CD · C5019 PC: 21 UPC: 845221050195
In memoriam Bertolt Brecht (1957)
Symphony No.2 (1934-1962)
Sinfonie in einem Satz (1926)
Examen et poème de Verlaine (1938)
KSENIJA LUKIC · MANUELA BRESS
HOLGER GROSCHOPP
DEUTSCHES SYMPHONIE-ORCHESTER BERLIN
ROGER EPPLE
PAUL DESSAU
Paul Dessau (1894-1979) war neben Hanns Eisler der bekannteste Komponist der DDR. Trotzdem wird man seinem umfangreichen Schaffen nicht gerecht, wenn man ihn auf die Rolle des regimetreuen Staatskomponisten reduziert. Dessau stammte aus einer musikalisch geprägten jüdischen Familie in Hamburg; sein Vetter war der Operettenkomponist Jean Gilbert. Ursprünglich wollte Dessau Dirigent werden, hatte jedoch seit Mitte der 20er Jahre soviel Erfolg mit seinen Kompositionen, dass das Dirigieren in den Hintergrund trat. Unter dem Eindruck des Ersten Weltkriegs, des Nationalsozialismus und schließlich eines weiteren vernichtenden Krieges bildete sich Dessaus politische Überzeugung heraus, dass nur der Kommunismus zu einer humanen Gesellschaft führen konnte. Die Entscheidung, in der DDR zu leben, muss vor diesem Hintergrund gesehen werden. Dessaus kompositorisches Werk umfasst nahezu alle Gattungen vom Klavierstück über Kammermusik, Lieder und Chorwerke bis hin zur großen Oper.
Together with Hanns Eisler, Paul Dessau (1894-1979) was the leading composer of the German Democratic Republic. Nevertheless, it is not possible to reduce him to a state composer loyal to his regime. Dessau was born in Hamburg and was part of a musically active Jewish family; his cousin was famous operetta composer Jean Gilbert. Oroginally, Dessau wanted to become a director. During the mid-twenties he was that successful with his own composition that no time remained for directing. His political credo was formed and influenced by the first World Was, the Nazis and a further, devastating war. He believed that only communism leads to a humane society. This is why he decided to live in the German Democratic Republic. Dessau's compositorial work comprises all kinds of classic music, from piano to chamber music, lieder, works for choirs and also great operas.
Paul Dessau (1894 – 1979) était le compositeur le plus connu de la RDA, avec Hanns Eisler. Toutefois, on ne rend pas justice à son œuvre étendue en le réduisant à un compositeur d'Etat conforme au régime. Dessau est issu d'une famille juive d'Hambourg, qui s'intéresse à la musique; le compositeur d'opérette Jean Gilbert était son cousin. Initialement, Dessau eut l'intention de faire carrière en tant que chef d'orchestre, cependant, à partir de la moitié des années 1920, ses compositions eurent un tel succès, que l'autre activité passa au second plan. Sous la pression de la Première Guerre Mondiale, du nazisme et, enfin, d'une autre guerre destructive, Dessau conclut que seulement le communisme pouvait mener vers une société humaine. De ce point de vue il faut comprendre sa décision de vivre en RDA. Les compositions de Dessau comprennent presque tous les genres, du morceau de piano, à la musique de chambre, en passant par des Lieder et des œuvres chorales jusqu'au grand opéra.