cd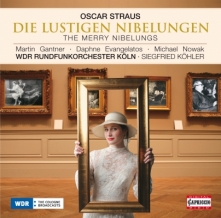 DIE LUSTIGEN NIBELUNGEN · THE MERRY NIBELUNGS
OSCAR STRAUS
Gantner · Evangelatos · Nowak · WDR RUNDFUNKORCHESTER KÖLN · SIEGFRIED KÖHLER
C5088 · 1CD PC: 21 UPC: 845221050881


Burleske Operette in drei Akten / Burlesque operetta in three acts von / by Rideamus
"At last! The reform of operetta!", exulted the critics after the first performance
of the Merry Nibelungs on 12 November 1904 in the Carltheater, Vienna. Johann
Strauss had been dead for five years and had taken the golden era of operetta to
the grave with him. And then there appeared in Vienna one Oscar Straus, and renewed this most Viennese of all genres with a work aimed at parodying contemporary society, as in the old Paris works of Offenbach. There every punch-Iine was laughed at, every musical allusion understood. There was equal laughter at the alliterative persiflage and the musical quotations from Richard Wagner's solemnity, there was laughter at dragon's-blood sausage and the dachshund dressed as a dragon, and at the parody of the Nibelung verse metre. And Oscar Straus's overflowing melodic richness gave enjoyment. Yet what lay, barely concealed, behind it all was also accepted: an attack on military display and Germanic arrogance.

Weitere Bilder