cd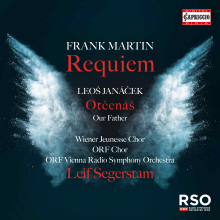 Frank Martin
Requiem (1971/1972) · LEOŠ JANÁČEK: OTČENÁŠ
Marsh · Bollen · Ahnsjö · Zednik · Holl · Wiener Jeunesse Chor · ORF Vienna Radio Symphony Orchestra · Leif Segerstam
C5454 PC: 21 UPC: 845221054544

/
/
[1] – [8]
FRANK MARTIN (1890-1974)
REQUIEM
für 4 Solostimmen, Chor, Orchester und Orgel (1971/72)
for 4 soloists, chorus, orchestra and organ
Jane Marsh, Sopran / soprano · Ria Bollen, Alt / alto
Claes H. Ahnsjö, Tenor / tenor · Robert Holl, Bass / bass
WIENER JEUNESSE CHOR
Rudolf Scholz, Orgel / organ
ORF VIENNA RADIO SYMPHONY ORCHESTRA

[9] – [13]
LEOŠ JANÁČEK (1854-1928)
OTČENÁŠ (OUR FATHER)
für Tenorsolo, Chor, Orgel und Harfe JW IV/29
for tenor, chorus, organ and harp
Heinz Zednik, Tenor / tenor · Arcola Clark, Harfe / harp · ORF CHOR
Rudolf Scholz, Orgel / organ
LEIF SEGERSTAM, Dirigent / conductor
Two treasuries out of the ORF Archive (Austria Broadcasting Corporation):
It took Frank Martin a long time to heed his deep-seated inner calling to write a Requiem:
'What I have tried to express here is the clear will to accept death; to make peace with it.' The Requiem was composed in 1971/72, Martin utilizes the whole bandwidth of orchestral sound and explores all opportunities for interplay among the vocalists, as well. Leoš Janáček's setting of the Otčenáš, the Lord's Prayer, is not a conventionally religious work. The Czech composer was more interested in its social aspects than any theological musings. Conductor Leif Segerstam, Chief conductor of ORF Vienna radio Symphony Orchestra from 1975-1983 loved to surprise his public with non-mainstream repertoire. Two of these live recordings are now restored, re-mastered and first time published for the future.


Hörprobe
Weitere Bilder