backstage
NINO ROTA - and a lot of Italian fun!
Il cappello die paglia di Firenze (Opera complete Recording)

In Spring 2021 – when daily live stopped for Lockdowns and all public performances too – the Opera of Graz had prepared two fresh stage productions which could'nt take place anymore. One of them was Weinberg's 'Passagierin' (already release at Capriccio Label / C5455) and the second one this really funny, entertaining Opera 'The Florentine Straw Hat' by famous film composer Nino Rota. Happily no one of the artists got infected these days, so we could finish in time and could use the empty Opera House as a fantastic recording studio.
Oper Graz – General Manager: Nora Schmid
Recording Supervision: Jens Jamin
Video Operator: Axel Stummer
Producer: Johannes Kernmayer
2CD-Set · Capriccio C5466
Youtube
News from 'Moscow's Gershwin'
Nikolai Kapustin - Piano Concerto No. 5

The successful Edition with Music by russian composer NIKOLAI KAPUSTIN (1937-2020) goes on: I had the chance to talk to pianist FRANK DUPREE about these fascinating Music with a mixture of Jazz and Classic and how much this music changed his life with that – already – 3rd album he recorded.
Video Operator: Christina Voigt, Markus Nick · Recording Supervision: Johanna Vollus · Video Editing: Axel Stummer · Interview: Johannes Kernmayer · Producers: Stefan Lang (Deutschlandradio) · Johannes Kernmayer (Capriccio)
Youtube
#bruckner24 Symphony No. 4
Unfinished Diversities

'This is actually I have a hard time accepting – but there simply is'nt "the Fourth Symphony",
explains conductor Markus Poschner. He talks about these many versions, these 'unfinished diveristies',
and Bruckners distempered lifetime.
BRUCKNER ORCHESTER LINZ
ORF VIENNA RADIO SYMPHONY ORCHESTRA
MARKUS POSCHNER, conductor
Recording Supervision: Erich Hofmann · Recording Engineer: Erich Pintar
Video Operator: Axel Stummer · Producer: Johannes Kernmayer
.
Youtube
40th Anniversary: The Story Behind
Interview · Stories · Anecdotes

2022 marks the 40th anniversary of Capriccio, the distinguished classical music record label based in Vienna. Johannes Kernmayer, Capriccio's label director, joined the company in 1988, and takls about his long time work with
the artists and the label.
Interview: Jens F. Laurson
Video Operator: Axel Stummer

Youtube
Powerful Holocaust Drama: Weinberg - Die Passagierin
Fascinating Graz Opera Production during Pandemic Times

When the world had to stay in Lockdown, all public performances cancelled, the Opera in Graz decided to use the time for CD and DVD Video Productions. The already prepared staging of this powerful and shocking Holocaust Drama has been recorded without any public and under strong Covid restrictions.
Youtube
From Russia with Love - Alfred Schnittke and his Film Music Scores
Volume 5
Rundfunk-Sinfonieorchester Berlin · Frank Strobel
Alfred Schnittke's film music encapsulates almost everything that characterises the Russian composer's compositional style. Arrangeur and Concuctor Frank Strobel tells us in this interview how this all starts and what makes Schnittkes Film Music Scores so special to us.
Youtube
#bruckner24 - Capriccio's 19 Versions Edition
Bruckner Orchester Linz
Markus Poschner
During the Lockdown beginning of 2021 Bruckner Orchestra Linz and capriccio had time – under strong Covid restrictions – to start with the new, all 19 Versions Bruckner Edition. Markus Poschner in Interview about this still 'mysterious' Mr. Bruckner and his music.
Youtube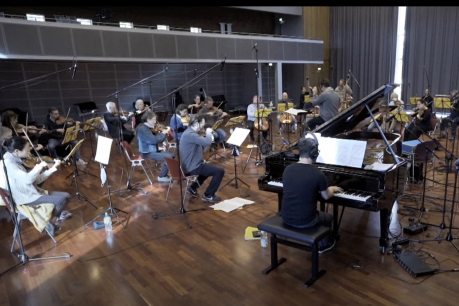 'Moscow Gershwin' - NIKOLAI KAPUSTIN
Fascinating Jazz Sounds from USSR: Nikolai Kapustin is occasionally considered a 'Russian in Gershwin's clothing'.
Frank Dupree · Württembergisches Kammerorchester Heilbronn · Case Scaglione
Youtube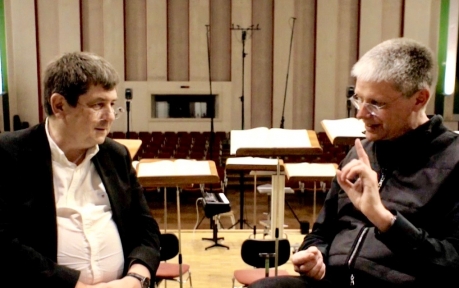 A Swiss Composer and the Vatikan
Basler Madrigalisten on the trace of Benno Amman (1904-1986) an his Vatikan Mass 'Missa defensor pacis'.
Interview with Raphael Immoos
Youtube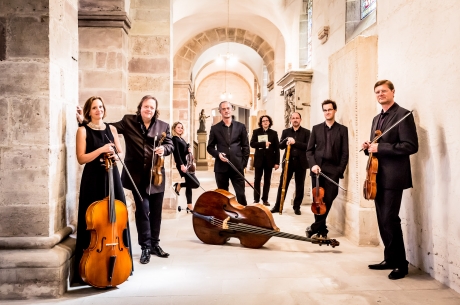 Thüringer Bach Collegium discover the Music of ANTON SCHWEITER (1735-1787)
The sacred Music of a forgotten Thuringian composer

Arnstadt, 2.-5.7.2020
Audio Recording: Johanna Vollus
Video Production: Axel Stummer
Interviews: Johannes Kernmayer
Youtube