cd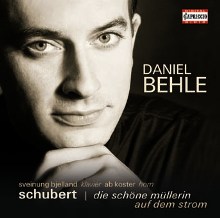 FRANZ SCHUBERT (1797 – 1828)
Die schöne Müllerin · Auf dem Strom

C5044 PC: 1CD · PC 21 UPC: 84522105044 7
DANIEL BEHLE, Tenor · SVEINUNG BJELLAND, Klavier · AB KOSTER, Horn
Nach dem erfolgreichen Debüt Album "Lieder" (PE154) wagt sich der junge, aufstrebende Tenor an das Spitzenrepertoire des Liedgesangs!
PRESSE:
Hört man Daniel Behle Schuberts Schilderung der Leiden des jungen Müllers singen, so hört man eine Stimme, in deren Helle Heldenhaftigkeit wie auch seelische Reinheit widerklingt: weich, klar, sanft und doch strahlkräftig, maßhaltend und doch intensiv. Wunderschön.
"Die schöne Müllerin CD" der standard 14.12.2010
-­‐-­‐-­‐
Beste Newcomer CD des Jahres! Ein großes Wort, aber wahr: Seit Fritz Wunderlich keine so frische, kluge, penibel textverständliche, musikantische und aufregende "Müllerin" mehr gehört! Der junge deutsche Tenor Daniel Behle wird den Liedgesang revolutionieren.
"Die schöne Müllerin CD" tagesspiegel 5.12.2010
-­‐-­‐-­‐
Recording of the month! -­‐ There is no shortage of good recordings of Die schöne Müllerin but this new recording has to be included among the top contenders.
"Die schöne Müllerin CD" – musicweb Nov 2010
-­‐-­‐-­‐
Eine künstlerische Leistung, die von ihrem Gegenstand absolut durchdrungen ist.
"Die schöne Müllerin CD" – Die Zeit 25.11.2010
-­‐-­‐-­‐
The sheer freshness and unmannered beauty of Behle's voice are immediately apparent, as are the ease and spontaneity of his vocal production. 5 of 5 stars .
"Die schöne Müllerin CD" -­ allmusic 25.11.2010
-­‐-­‐-­‐
Wie Behle bei aller nie nachlassenden Detailintensität stets den übergreifenden Spannungsbogen dieser großen Lieder-­‐Erzählung in 20 Kapiteln mitdachte und –gestaltete, zeugte von seltener Meisterschaft.
"Die schöne Müllerin LIVE" Heppenheim 19.11.2010