cd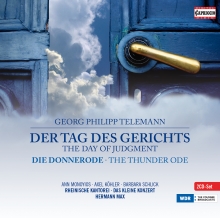 DER TAG DES GERICHTS DIE DONNERODE
THE DAY OF JUDGMENT
GEORG PHILIPP TELEMANN
2CD-Set · C5098 PC: 21 UPC: 845221050980
MONOYIOS · SCHLICK · KÖHLER · JOCHENS · SCHRECKENBERGER
RHEINISCHE KANTOREI · DAS KLEINE KONZERT
HERMANN MAX, conductor

DER TAG DES GERICHTS · THE DAY OF JUDGMENT
Ein Singgedicht in vier Betrachtungen · A poem for singing in four reflections
DIE DONNERODE · THE THUNDER ODE
Kantate in 2 Teilen für 5 Solostimmen, Chor und Orchester
Cantata in 2 Parts for 5 solo voices, choir and orchestra

"For the Lord himself shall descend from heaven with a shout, with the voice of the archangel and with the trump of God, and the dead in Christ shall rise first". In addition Telemann lets the thunder, the wrath of God, rumble darkly and menacingly. The Lord, the Judge, approaches. The Day of Judgment begins. With these signals a gripping musical event starts that opens a rich, symbol-laden world of the most beautiful, inspiring, often individual artistic accomplishments of word and music to anyone who is prepared to come to terms with it. The group begun in 1755 of Telemann works of his old age includes, several sacred oratorios in an absolutely logical sequence – Der Tod Jesu, Die Auferstehung, Die Auferstehung und Himmelfahrt Jesu, Der Tag des Gerichts - as well as the two-part Donner-Ode, a cantata on Psalm models on the occasion of the Lisbon earthquake. . In all these late works, always wrestling with a compositional design suitable to the subject and the text, Telemann in each case strikes a specific note inherent in the work; he employs his compositional means in a way that develops an unmistakably individual character for the work. In The Day of Judgment Telemann is also the master of colour, of superior use of instruments.
Thus it becomes clear that The Day of Judgment is not, for instance, only a monument in the history of the German oratorio, but introduces the theological discussions and eschatological thought of that time.

Weitere Bilder