box-sets
JOSEPH MARTIN KRAUS
AMPHITRYON · CANTATAS · SYMPHONIES · CHAMBER MUSIC
SIMONE KERMES · CONCERTO KÖLN · L'ARTE DEL MONDO · WERNER EHRHARDT
5CD-Set · C7325 PC: 05 UPC: 845221073255



CD 1
AMPHITRYON - Schauspielmusik / Incidental Music
CD 2
KANTATEN / CANTATAS: "Olympie" VB 33 · "La Scusa" VB 43 · "La Primavera" VB 47
"La Gelosia" VB 46· "La Pesca" VB 44
CD 3
SINFONIEN / SYMPHONIES I: "Sinfonia da chieas" in D major · Sinfonie in C sharp minor
Sinfonie in C major · "Sinfonia funébre" in C minor
CD 4
SINFONIEN / SYMPHONIES II: Sinfonia in C minor · Sinfonia in E flat major
Sinfonia in C major · Sinfonia in D major
CD 5
KAMMERMUSIK / CHAMBER MUSIC: Flute Quintet in D major
String Quartet in G minor, Op. 1 No. 3
String Quartet in D major, Op. 1 No. 4

Joseph Martin Kraus, also named as the "Swedish Mozart", has been many years a shadowy existence in music history. Gluck and even Joseph Haydn saw "a real genius" in his virtuose and nearly early-romantic works. His position as composer at the swedish court under Gustav III. made it possible to have a fix income and a blithe creativity. This CD-Set gives us an overall musical impression about his compositions in all genres: Beginning with the incidental music to Amphitryon, the high virtuos Italian Cantatas, his Symphonies from different life periods, till the early String Quartets- Gluck and Haydn have not been mistaken.
Weitere Bilder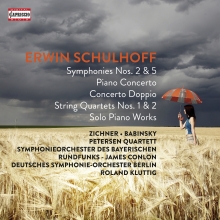 ERWIN SCHULHOFF (1894-1942)
Symphonies 2 + 5 · Piano Concerto · Concerto Doppio · String Quartets Solo Piano Music
JAQUES ZOON · FRANK-IMMO ZICHNER · MARGARETE BABINSKY · PETERSEN QUARTETT · LEIPZIGER STREICHQUARTETT · SYMPHONIEORCHESTER DES BAYERISCHEN RUNDFUNKS - JAMES CONLON · DEUTSCHES SYMPHONIE-ORCHESTER BERLIN - ROLAND KLUTTIG
6CD-Set · C7297 PC: 06 UPC: 845221072975
CD 1
Symphony No. 2(1932) · Suite for chamber orchestra (1921)
Symphony No. 5 (1938/39)
CD 2
Concerto Doppio for flute and piano (1927)
Concerto for piano and small orchestra, Op. 43 (1923)
Concerto for string quartet and wind ensemble
Ludwig van Beethoven / arr. Erwin Schulhoff: Rondo a capriccio op. 129
CD 3
String Quartet No. 1 (1924)
Five pieces for string quartet (1923)
String Quartet No. 2 (1925)
CD 4
String Quartet in G major, Op. 25 (1918)
Duo for violin and cello (1925)
Sonata for violin solo
String Sextet (1924)
CD 5
Piano Sonata No. 1 (1924) · Five Burlesques, Op. 23
Piano Sonata No. 3 (1927) · Five Grotesques Op. 21
CD 6
Six Ironies, Op. 34 · Five Picturesque's Op. 31 · Jazz Improvisations
As an internationally successful pianist and composer, Erwin Schulhoff was one of the most important Czech artists in the first half of the 20thcentury. For the last twentyfive years, his works are being rediscovered, and it goes to show that without him, a facet of the music of the 20th century would be missing. Not only did he abhor mainstream, but, like a sponge, he absorbed all musical currents of his time, and thus becoming a polystylist. For the first time now available in a 6 CD-Box you'll find this enormous diversity of his musically work.
The early piano pieces and string quartets, the symphonies and finally his Jazz Improvisations shows how tricky he played with the different genres and trends of his time.


Weitere Bilder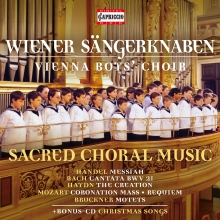 WIENER SÄNGERKNABEN VIENNA BOYS' CHOIR
Handel: Messiah (complete) · Haydn: The Creation (complete) · Mozart: Coronation Mass · Requiem · Bach: Cantata · Bruckner: Motets / Bonus-CD / Christmas Songs
MAX EMANUEL CENCIC · DEREK LEE RAGIN · GOTTHOLD SCHWARZ · Academy Of London · Symphonieorchester der Wiener Volksoper · Peter Marschik
7CD-Box · C7317 PC: 06 UPC: 845221073170
CD 1 + 2
GEORGE FRIDERIC HANDEL (1685-1759): DER MESSIAS · MESSIAH HWV 56 (Complete Recording)
CD 3 + 4
JOSEPH HAYDN (1732-1809): DIE SCHÖPFUNG · THE CREATION Hob. XXI:2 (Complete Recording)
CD 5
WOLFGANG AMADEUS MOZART (1756-1791)
MESSE C-DUR KV 317 "KRÖNUNGSMESSE"
MASS IN C MAJOR K 317 "CORONATION MASS"
JOHANN SEBASTIAN BACH (1685-1750)
KANTATE / CANTATA BWV 21 "Ich hatte viel Bekümmernis"
CD 6
WOLFGANG AMADEUS MOZART
REQUIEM KV 626 · AVE VERUM CORPUS KV 618
ANTON BRUCKNER (1824-1791): MOTETTEN · MOTETS
BONUS-CD
WEIHNACHTSLIEDER · CHRISTMAS SONGS
MAX EMANUEL CENCIC, Knabensopran / Boysoprano
CHARLES HUMPHRIES, Countertenor
DEREK LEE RAGIN, Altus / alto
CHRISTIAN BAUER, IVAN SHARPE, MICHAEL KNAPP, Tenor
GOTTHOLD SCHWARZ, ERNST JANKOWITSCH, ROBERT TORDAY, Bass / bass
WIENER SÄNGERKNABEN · VIENNA BOYS' CHOIR · CHORUS VIENNENSIS
ACADEMY OF LONDON · SYMPHONIEORCHESTER DER WIENER VOLKSOPER
STUTTGARTER PHILHARMONIKER
PETER MARSCHIK (Dirigent / conductor)

Weitere Bilder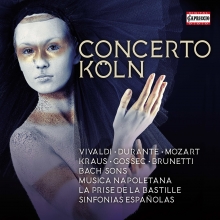 CONCERTO KÖLN
VIVALDI · MUSIC OF THE BACH SONS · MUSICA NAPOLETANA · FRANCESCO DURANTE · LA PRISE DE LA BASTILLE · SINFONIAS ESPAÑOLAS · GAETANO BRUNETTI · JOSEPH MARTIN KRAUS · FRANÇOIS-JOSEPH GOSSEC · WOLFGANG AMADEUS MOZART
Concerto Köln - Werner Ehrhardt
10CD-Set · C7305 PC: 07 UPC: 845221073057
CD 1: ANTONIO VIVALDI
Concerti: "La Tempesta di Mare" · "Concerto funébre" · "La Notte"
CD 2: MUSIK DER BACH-SÖHNE / MUSIC OF THE BACH SONS
Johann Christoph Friedrich Bach · Carl Philipp Emanuel Bach
Wilhelm Friedemann Bach · Johann Christoph Friedrich Bach
CD 3: MUSICA NAPOLETANA
Domenico Scarlatti · Leonardo Leo · Giovanni Battista Pergolesi
CD 4: FRANCESCO DURANTE: Concerti for Strings
CD 5: LA PRISE DE LA BASTILLE
Jean-Baptiste 'Citoyen' Davaux · Carl Ditters Von Dittersdorf
François Martin · François-Joseph Gossec
CD 6: SINFONIAS ESPAÑOLAS
Francisco Javier Moreno · Jose Pons · José Nonó · Juan Crisóstomo Arriaga
CD 7: GAETANO BRUNETTI: Sinfonien · Symphonies
CD 8: JOSEPH MARTIN KRAUS: Sinfonien · Symphonies
CD 9: FRANÇOIS-JOSEPH GOSSEC: Sinfonien · Symphonies
CD 10: WOLFGANG AMADEUS MOZART
Betulia liberata (Overture) · Clarinet Concerto
Symphonies Nos. 29 & 35 "Haffner"
Aufnahmen / Recordings: 1989 – 2003

Weitere Bilder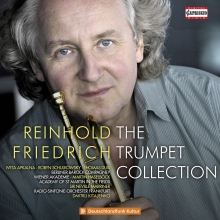 Reinhold Friedrich - The Trumpet Collection
TRIBUTE TO OLD ENGLAND · ITALIAN TRUMPET CONCERTOS · GERMAN TRUMPET CONCERTOS · BAROQUE TRUMPET CONCERTOS · CLASSICAL TRUMPET CONCERTOS · 20th CENTURY TRUMPET CONCERTOS
TRUMPET AND ORGAN · TRUMPET AND PERCUSSION
10CD-Set · C7285 PC: 07 UPC: 845221072852
CD 1 TRIBUTE TO OLD ENGLAND
Handel · Clarke · Purcell · Snow · Finger · Corbett · Lawes
CD 2 ITALIAN TRUMPET CONCERTOS
Stradella · Corelli · Marcello · Torelli · Albinoni
CD 3 GERMAN TRUMPET CONCERTOS: Molter · Endler
CD 4 BAROQUE TRUMPET CONCERTOS: Endler · Telemann · Fasch
CD 5 CLASSICAL TRUMPET CONCERTOS: J. Haydn · M. Haydn · L. Mozart · Hummel
CD 6 20th CENTURY TRUMPET CONCERTOS: Jolivet · Denisov · Rääts · Shostakovich
CD 7 CONTEMPORARY TRUMPET CONCERTOS: Zimmermann · Berio · Rihm · Scelsi · Killmayer
CD 8 TRUMPET AND ORGAN
Messiaen · Zbinden · Shostakovich · Eben · Escaich · Tomasi · Sauget · Takemitsu
CD 9 BELLE EPOQUE – TRUMPET AND PIANO
Charlier · Thome · Pennequin · Ropartz · Gaubert · Erlanger
Pares · Gedalge · Savard
CD 10 TRUMPET AND PERCUSSION: Cage · Wolff · Walter · Huber · Bornhoeft
REINHOLD FRIEDRICH, Trompete / trumpet
IVETA APKALNA, Orgel / organ· THOMAS DUIS, Klavier / piano
ROBYN SCHULKOWSKY, Schlagzeug / percussion
BERLINER BAROCK-COMPAGNEY
WIENER AKADEMIE – MARTIN HASELBÖCK
BUDAPEST STRINGS – BELA BANFALVI
ACADEMY OF ST MARTIN IN THE FIELDS – SIR NEVILLE MARRINER
RADIO-SINFONIE-ORCHESTER FRANKFURT – DMITRIJ KITAJENKO
DEUTSCHES-SYMPHONIE-ORCHESTER BERLIN – LUTZ KÖHLER


Weitere Bilder