cd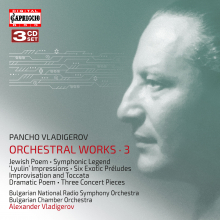 PANCHO VLADIGEROV: ORCHESTRAL WORKS · 3
Jewish Poem · 'Lyulin' Impressions · Six Exotic Préludes
BULGARIAN NATIONAL RADIO SYMPHONY ORCHESTRA · ALEXANDER VLADIGEROV
3CD-SET · C8056 PC: 22 UPC: 845221080567
COMPACT DISC 1
"Ljulin" Impressionen - Suite für grosses Orchester op. 63 (1972)
'Lyulin' Impressions - Suite for large orchestra, Op. 63
Jüdisches Poem / Jewish Poem, Op. 47 (1949)
Sechs symphonische Novelletten Op. 59/60 (1964/65)
Six Symphonic Novelettes. op. 59/60
Dramatisches Poem, Op. 52 / Dramatic Poem, op. 52 (1956)

COMPACT DISC 2
Sechs exotische Präludien, op.17 / Six Exotic Préludes, Op. 17 (1924)
Drei konzertante Stücke, op. 57 / Three Concert Pieces, Op. 57 (1959/60)
Improvisation und Toccata für Orchester, op. 36a (1941/42)
Improvisation and Toccata for Orchestra, Op. 36a

COMPACT DISC 3
Drei Impressionen für Orchester, op.9 (1920)
Three Impressions for Orchestra, Op. 9
''Einsamkeit'' / 'Solitude' – Prelude op. 10 Nr. 3 (1929/56)
Drei Stücke für Streichorchester / Three pieces for string orchestra
Symphonische Legende, op. 8 / Symphonic Legend, Op. 8 (1919)

From the diversity of Bulgarian musical culture Pancho Vladigerov stands out as undoubtedly the most important composer for the musical self-conception of modern Bulgaria. As the mentor of generations of Bulgarian composers in the 20th century, up to now he has formed a salient figure in the music life of his country. Revered as a living legend, he was in a position to continue his work largely unaffected by the demands of the Communist regime, although his musical diction, based on late Romantic tradition and keynote-related tonality, would hardly have provoked any reprisals anyway. With these recordings, produced in the 1970s in Bulgaria, Capriccio releases an 18CD Vladigerov-Edition to preserve this colourful music also for the next generations.
Hörprobe
Weitere Bilder