cd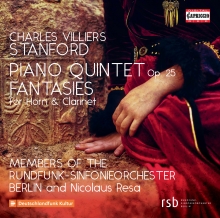 CHARLES STANFORD
Piano Quintet Op. 25 · Fantasy for horn · Fantasy No. 2 for clarinet
MEMBERS OF THE RUNDFUNK-SINFONIEORCHESTER BERLIN
C5381 PC: 21 UPC: 845221053813
//
//
Quintet in D minor, Op. 25 for piano, 2 violins, viola and cello
Fantasy in A minor for horn, 2 violins, viola and cello
Fantasy No. 2 in F major for clarinet, 2 violins, viola and cello
MEMBERS OF THE
RUNDFUNK-SINFONIEORCHESTER BERLIN
NIKOLAUS RESA. Klavier / Piano (1-4) · DÁNIEL EMBER, Horn / horn (5)
CHRISTOPH KORN, Klarinette / clarinet (6)
ANNE FELTZ, Violine / violin I · BRIGITTE DRAGANOV, Violine / violin II
ALEJANDRO REGUEIRA CAUMEL, Viola · GEORG BOGE, Violoncello / cello
Nowadays William Stanford's fame is largely based on his teaching activities in London while his reputation as a "great composer" has waned considerably. The list of his students reads like a veritable Who's-Who of British music of the 19th and 20th century. Gustav Holst, Ralph Vaughan Williams, Arthur Bliss, Frank Bridge and several more were taught by Stanford. His œuvre covered a wide variety of sacred and secular music and his works carry within them elements of Irish folklore and mysticism. His many chamber works have a definite air of Brahms about them… never by way of direct quote or paraphrase, but by making Brahms' style his own.


Hörprobe
Weitere Bilder