cd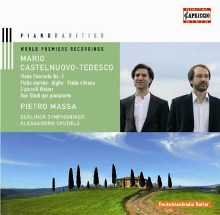 MARIO CASTELNUOVO-TEDESCO (1895-1968)
Piano Concerto No. 2 in F major
Vitalba e Biancospino Alghe · Passatempi: 5 piccoli Walzer
C5046 PC: 1CD · PC 21 UPC: 8452210504 6


Onde · Vitalba e Biancospino
PIETRO MASSA, piano · BERLINER SYMPHONIKER · ALESSANDRO CRUDELE
Mario Castelnuovo-Tedesco (Florenz 1895 -Beverly Hills 1968) war Komponist und Humanist. Sein Leben zeichnete sich durch eine anhaltende Tendenz aus, sich selbst als Bestandteil antiker Kulturtraditionen – zuerst der toskanischen und dann der jüdischen – zu entdecken. Die Karriere als Komponist begann schon während seiner Ausbildung durch das großherzige Engagement von Alfredo Casella. Er erhielt einhellige breite Zustimmung in den Kritiken und wurde als viel versprechender Komponist der Avantgarde begrüßt.
Castelnuovo-Tedescos musikalische Imagination entfaltete sich in einem engen Verhältnis zur Toskana und deren Kultur. 1939 verabschiedete er sich von seinem Land und emigrierte in die Vereinigten Staaten von Amerika, um die Zukunft der eigenen Familie zu sichern und vor allem das Leben seiner beiden Kinder zu schützen. Arturo Toscanini und Jascha Heifetz, die bereits mehrmals seine Musik aufgeführt hatten, unterstützten ihn in dieser schwierigen Phase und leisteten einen wesentlichen Beitrag, damit er eine Stelle als Komponist für Filmmusik bei Metro Goldwyn Mayer erhielt. Als der Zweite Weltkrieg zu Ende war, ließ Castelnuovo-Tedesco sich in Beverly Hills nieder, wo er sich der privaten Lehrtätigkeit widmete und weiter bis ins späte Alter hinein komponierte.
Mario Castelnuovo-Tedesco (Florence 1895 -Beverly Hills 1968) was a composer and humanist. His life was characterised by his persistent tendency to view himself as being part of ancient cultures – at first the Tuscan, later the Jewish one.
He started his compositional career while still being educated, thanks to the wholehearted support of Alfredo Casella. Critiques welcomed him unanimously as a promising avant-garde composer.
The musical imagination of Castelnuovo-Tedesco unfolded in close contact with the
Tuscany and its culture. In 1939 he said good-bye to his homeland and immigrated to the United States, to safeguard the future of his family and especially to protect the lives of his two children. Arturo Toscanini and Jascha Heifetz, who had both repeatedly performed his music before, supported him n this difficult situation and, after his first concerts as interpreter of his own works, secured him a position as composer for film music at Metro Goldwyn Mayer. After World War II Castelnuovo-
Tedesco settled down in Beverly-Hills, where he worked as a private tutor and composed until a ripe old age.
BACKKATALOG: PIANO RARITIES
LUIGI DALLAPICCOLA (1904 – 1975)
Piccolo Concerto per Pianoforte e Orchestra Piano Sonatas Nos. 1 & 3
Pietro Massa · RSO-Berlin
C5045 · 1CD · PC 21
ERWIN SCHULHOFF (1894 – 1942)
Sonatina canonica · Tre Episodi etc. Jazz-Variations · Burlesken
Peter Hirsch · Margarete Babinsky
PE181 · 2CD · PC 02
NIKOLAI MEDTNER (1880 – 1951)
Forgotten Melodies op.38 & op.39 Fantasy-Sonatas Nos.1 – 3
Ekaterina Derzhavina
PE156 · 2CD · PC 02
HENNING MANKELL (1868 – 1930)
Stimmungsbilder op.1 · Sonata Triad op.11 Barcarole op.60 · Three Preludes
Anna Christensson
PE184 · 2CD · PC 02