cd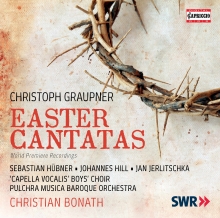 CH. GRAUPNER
EASTER CANTATAS (World Premiere Recording)
Hübner · Johannes Hill · Jan Jerlitschka · capella vocalis Boys' Choir · PULCHRA MUSICA BAROQUE ORCHESTRA · CHRISTIAN BONATH
C5411 PC: 21 UPC: 845221054117
Die Furcht des Gerechten
Kantate zum Gründonnerstag,
GWV
1126/33 (1733) / Cantata for Holy Thursday
Eröffnet euch ihr Augenquellen
Kantate zum Karfreitag,
GWV
1127/25 (1725) / Cantata for Holy Friday
Der Sieg ist da
Kantate zum 1. Ostertag,
GWV
1128/43 (1743) / Cantata for the 1
st
Day of Easter
Ihr werdet traurig sein
Kantate zum 2. Ostertag,
GWV
1129/19 (1719) / Cantata for the 2
nd
Day of Easter
In 1711 Graupner was already appointed court conductor and he would continue to work in Darmstadt for the rest of his life. Graupner's focus shifted to sacred vocal music, which explains the sheer abundance of the 1,400-plus cantatas he composed. In 1723 the Leipzig city magistrates were looking for a new cantor at the Thomas School – and wanted him, above all. Alas, Graupner's patron did not release him from his contract an so they had to hire Bach. Graupner, famous and widely celebrated during his lifetime, was soon thereafter forgotten. As we rediscover and hear more and more of his works, however, the judgement of his contemporaries would appear to us as increasingly germane. The present recording spans the liturgical arc from Maundy Thursday via Good Friday and Easter Sunday to Easter Monday and presents one liturgical work for each of the festive days – and each of them a world premiere recording!
Hörprobe
Weitere Bilder