cd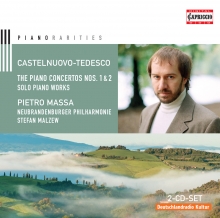 piano rarities - MARIO CASTELNUOVO-TEDESCO: Piano Concertos Nos.1 & 2
Solo Piano Works
Pietro Massa, piano Neubrandenburger Philharmonie · Stefan Malzew
2CD-Set C5156 PC: 21 (Special Price) UPC: 845221051567
Mario Castelnuovo-Tedesco (Florence 1895 – Beverly Hills 1968) was a composer and humanist. His life was characterized by a lasting tendency to discover himself as a component of ancient cultural traditions, first the Tuscan and then the Jewish one. On the other hand, he showed an inclination to withdraw from the historical present, on the one hand, due to his reserved disposition and, on the other, because of the tragic events that rocked his existence.
In 1939, he took his leave of his country and emigrated to the USA to safeguard the future of his own family and above all protect the lives of his two children. Arturo Toscanini and Jascha Heifetz, who had already performed his music several times, supported him in this difficult period and made a substantial contribution to him obtaining a position as the composer of film music with Metro Goldwyn Mayer.
The Piano Concertos in G major No. 1 op. 46 and in F major No. 2 op. 92 were written in 1927 and 1936/37 respectively; the latter presumably while preparing for exile.

Weitere Bilder