cd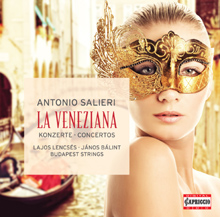 ANTONIO SALIERI (1750-1825)
LA VENEZIANA

C5087 · 1CD PC: 01 · UPC: 845221050874
Antonio Salieri ist ein Sonderfall der Musikgeschichte: Legenden, Vermutungen und Anekdoten, die bisheute durch nichts belegt werden konnten, haben Salieri immer wieder mit demangeblichen Giftmord an Wolfgang Amadeus Mozart in Verbindung gebracht. Seine Musik dagegen war sehr bald und sehr gründlich vergessen worden – zu Unrecht. Dabei war er zu seinen Lebzeiten über dreißig Jahre lang die zentrale Figur im Musikleben der Kaiserstadt Wien gewesen. Aus den beiden hier vorgestellten Konzerten und der Sinfonia "La Veneziana"spricht deutlich der Musikdramatiker Salieri.
Wie Salieri die konzertierenden Partnermiteinander "reden" lässt, verrät den geübten Opernkomponisten.
The composer Antonio Salieri is something of an 'odd man out' in the historyof music.
After his death in 1825, he lived on as a macabre figure in music-lovers'minds, whereas his music soon sank into total oblivion – a most undeserved fate.Although there is no evidence to support them, legends, anecdotes and conjecturehave repeatedly placed the responsibility for Mozart's supposed murder (by poison)at Salieri's door. But as regards Salieri the composer, we are no wiser than before. Yet Salieri dominated the musical life of the Imperial capital Vienna for some 30 years. The two concerti and the symphony "La Veneziana" on this disc bear witness toSalieri's gift for opera. The way Salieri has the solo instruments 'speak' to one another betrays thehand of the practised opera composer.
Lajos Lencsés, Oboe / oboe · János Bálint, Flöte / flute
Béla Bánfalvi, Violine / violin · Károly Botvay, Violoncello / cello
BUDAPEST STRINGS
Béla Bánfalvi (Konzertmeister / Leader), Károly Botvay (Künstlerischer Leiter / Artistic Director)