cd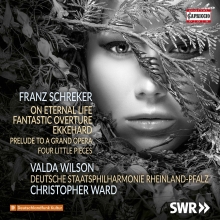 Franz Schreker
Ekkehard · Vom ewigen Leben · Phantastische Ouvertüre · Vier kleine Stücke für großes Orchester · Vorspiel zu einer großen Oper
VALDA WILSON · DEUTSCHE STAATSPHILHARMONIE REIHNLAND-PFALZ · CHRISTOPHER WARD
C5348 PC: 21 UPC: 845221053486
After the ban the Nazi rabble-rousers had imposed on him, it took a long time for Schreker's oeuvre to be re-discovered, excavated from the archives, subjected to a re-appraisal and acknowledged as an indispensable element in one of the most fascinating periods of musical history. Although being taken for granted may bear the risk of renewed negligence, Franz Schreker's status should no longer be challenged today. This makes it possible, apart from dealing with all of his main works also to consider what he himself perhaps did not deem his most ground-breaking works, ones permitting interesting insight into a musician's workshop and displaying cross-references to his other works like you can hear on this recording.
Weitere Bilder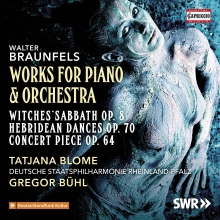 WALTER BRAUNFELS
Witches' Sabbath, Op. 8 Concert Piece, Op. 64 Hebridean Dances, Op. 70
TATJANA BLOME, piano DEUTSCHE STAATSPHILHARMONIE REIHNLAND-PFALZ · GREGOR BÜHL
C5345 PC: 21 UPC: 845221053455
Walter Braunfels is a composer whose music died twice: Once when the Nazis declared his music "degenerate art". Then again when post-war Germany had little use for the various schools of tonal music; when the arbiters of taste considered any form of romantic music – almost the whole pre-war aesthetic – to be tainted. This 6threlease of Capriccio's Braunfels Edition shows again his large range of colorful music and focus this time on his works for piano and orchestra from 3 different periods of his life: his first complete orchestral work, the Witches Sabbath, op. 8 (1906), the Concert piece for piano and orchestra op. 64 (1946) and one of his last compositions the Hebridian Dances op. 70(1950/51).

Weitere Bilder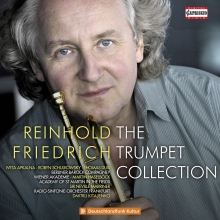 Reinhold Friedrich - The Trumpet Collection
TRIBUTE TO OLD ENGLAND · ITALIAN TRUMPET CONCERTOS · GERMAN TRUMPET CONCERTOS · BAROQUE TRUMPET CONCERTOS · CLASSICAL TRUMPET CONCERTOS · 20th CENTURY TRUMPET CONCERTOS
TRUMPET AND ORGAN · TRUMPET AND PERCUSSION
10CD-Set · C7285 PC: 07 UPC: 845221072852
CD 1 TRIBUTE TO OLD ENGLAND
Handel · Clarke · Purcell · Snow · Finger · Corbett · Lawes
CD 2 ITALIAN TRUMPET CONCERTOS
Stradella · Corelli · Marcello · Torelli · Albinoni
CD 3 GERMAN TRUMPET CONCERTOS: Molter · Endler
CD 4 BAROQUE TRUMPET CONCERTOS: Endler · Telemann · Fasch
CD 5 CLASSICAL TRUMPET CONCERTOS: J. Haydn · M. Haydn · L. Mozart · Hummel
CD 6 20th CENTURY TRUMPET CONCERTOS: Jolivet · Denisov · Rääts · Shostakovich
CD 7 CONTEMPORARY TRUMPET CONCERTOS: Zimmermann · Berio · Rihm · Scelsi · Killmayer
CD 8 TRUMPET AND ORGAN
Messiaen · Zbinden · Shostakovich · Eben · Escaich · Tomasi · Sauget · Takemitsu
CD 9 BELLE EPOQUE – TRUMPET AND PIANO
Charlier · Thome · Pennequin · Ropartz · Gaubert · Erlanger
Pares · Gedalge · Savard
CD 10 TRUMPET AND PERCUSSION: Cage · Wolff · Walter · Huber · Bornhoeft
REINHOLD FRIEDRICH, Trompete / trumpet
IVETA APKALNA, Orgel / organ· THOMAS DUIS, Klavier / piano
ROBYN SCHULKOWSKY, Schlagzeug / percussion
BERLINER BAROCK-COMPAGNEY
WIENER AKADEMIE – MARTIN HASELBÖCK
BUDAPEST STRINGS – BELA BANFALVI
ACADEMY OF ST MARTIN IN THE FIELDS – SIR NEVILLE MARRINER
RADIO-SINFONIE-ORCHESTER FRANKFURT – DMITRIJ KITAJENKO
DEUTSCHES-SYMPHONIE-ORCHESTER BERLIN – LUTZ KÖHLER


Weitere Bilder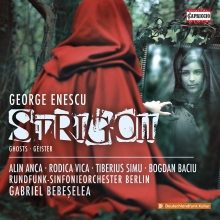 GEORGE ENESCU: STRIGOII (Ghosts)
World Premiere Recording
Rodica Vica · Tiberius Simu · Bogdan Baciu · Alin Anca · Rundfunk-Sinfonieorchester Berlin · GABRIEL BEBEŞELEA
C5346 PC: 21 UPC: 845221053462

Oratorium in 3 Teilen / Oratorio in 3 Parts (1916)
Text: Mihai Eminescu (1850 – 1889)
Die Königin / The Queen: Rodica Vica,Sopran / soprano
Arald: Tiberius Simu, Tenor / tenor
Der Magus: Bogdan Baciu, Bariton / baritone
Der Erzähler / Narrator: Alin Anca, Bass / bass

PASTORALE FANTASIEfür kleines Orchester (1899)
Pastorale Fantasy for small orchestra (1899)
Nobody knew anything aboutStrigoii. The script, lost together with other items in the turmoil of the First World War, was purchased back by the Director of the Enescu Museum. To make it easier to understand how Strigoiiwas created, it was necessary to undertake the decipherment and reconstruction of the manuscript. When Enescu approached Strigoiiin 1916, it was the result of an older admiration for the poet Mihai Eminescu that was to last until the end of the composer's life. Whilst Eminescu evinces some similarities to German Romanticism in his poem (Novalis or Tieck), in StrigoiiEnescu also shows stylistic affinities to some contemporaries such as Alexander von Zemlinsky or the young Alban Berg.


Youtube
Weitere Bilder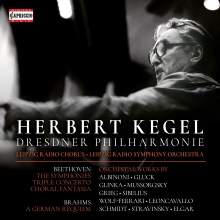 HERBERT KEGEL EDITION
BEETHOVEN · BRAHMS ALBINONI · GLUCK · GLINKA MUSSORGSKY · GRIEG · SIBELIUS
Rösel · Funke · Büchner · Hargan · Kováts · Lorenz Leipzig Radio Chorus Berlin Radio Chorus · Leipzig Radio Symphony Orchestra · DRESDNER PHILHARMONIE
8CD-Box · C7275 PC: 06 UPC: 845221072753
CD 1: LUDWIG VAN BEETHOVEN Symphony No. 1 in C major, op. 21
Symphony No. 3 in E flat major, op. 55 "Eroica"
CD 2: LUDWIG VAN BEETHOVEN
Symphony No. 2 in D major, op. 43 · Symphony No. 7 in A major, op. 92
CD 3: LUDWIG VAN BEETHOVEN
Symphony No. 4 in B flat major, op. 60 · Symphony No. 5 in C minor, op. 67
CD 4: LUDWIG VAN BEETHOVEN
Symphony No. 6 in F major, op. 68 "Pastoral" · Symphony No. 8 in F major, op. 93
CD 5: LUDWIG VAN BEETHOVEN
Symphony No. 9 in D minor, op. 125 "Choral"
Alison Hargan · Ute Walther · Eberhard Büchner · Kolos Kováts
Leipzig Radio Chorus · Berlin Radio Chorus
CD 6: LUDWIG VAN BEETHOVEN
Concerto for piano, violin, cello and orchestra in C major, op. 56 "Triple Concerto"
Fantasia for piano, chorus and orchestra in C minor, op. 80 "Choral Fantasia"
Peter Rösel, piano· Christian Funke,violin· Jürnjakob Timm, cello · Leipzig Radio Chorus
CD 7: JOHANNES BRAHMS
A German Requiem, op. 45
Marie Anne Häggander, soprano· Siegfried Lorenz, baritone
Leipzig Radio Chorus · Berlin Radio Chorus · Leipzig Radio Symphony Orchestra
CD 8: ALBINONI: Adagio in G minor· GLUCK: Dance of the Blessed Spirits
GLINKA: Ruslan and Ludmilla- Overture· MUSSORGSKY: Khovanshchina – Entr'acte
GRIEG: Two Elegiac Melodies, op. 34 · SIBELIUS: Valse triste, op. 44
WOLF-FERRARI: I Quattro Rustecchi -Intermezzo
LEONCAVALLO: Pagliacci – Intermezzo· SCHMIDT: Notre Dame – Intermezzo
STRAVINSKY:Circus Polka ·ELGAR: Pomp and Circumstance
Herbert Kegel is revered in Japan since his lifetime as one of the most important conductors of the 20thcentury. By contrast, maestro Kegel has always been regarded with a certain scepticism in his home country. For this reason, Kegel's name today also stands as a warning as to what damage the so-called 'music business' and state-regulated cultural policies may do. His interpretations are characterized by immensely painstaking precision, transparency and listenability. The list of exploits can be continued, including, undoubtedly, the first Beethoven cycle in digital technology. It can also be heard in this box. Kegel's slow tempi are initially surprising, but they have an effect: the poetry and clarity of Beethoven's scores have rarely shown to more advantage.

Weitere Bilder