cd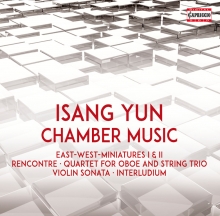 ISANG YUN
East-West-Miniature I Rencontre Interludium A Quartet for oboe and string trio Sonata for violin and piano East-West-Miniature II
GEORG ARZBERGER SHOTA TAKAHASHI MARIA STANGE EGIDIUS STREIFF MARIANA DOUGHTY WALTER GRIMMER KAYA HAN · MARKUS STANGE
C5364 PC: 21 UPC: 845221053646
Isang Yun's works are inconceivable without the East Asian philosophy of the Tao. The more than one hundred works composed by Isang Yun in Europe combine national tradition with international modernity. Yun found his way to an individual sound in Europe through the reminiscence of Chinese-Korean court music. Furthermore, the oeuvre is characterised by the flexible, lively tone… of the traditional music of his home, by the art of the flowing transition from the spirit of the Tao. The chamber music occupies an important role in Yun's oeuvre; the composer experimented with not only the most diverse and also unusual combinations of instruments, but also continued to compose in traditional classical genres.

Weitere Bilder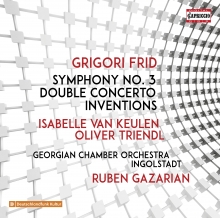 GRIGORI FRID (1915-2012)
Concerto for viola, piano and string orchestra, Op. 73 · Symphony No. 3, Op. 50
ISABELLE VAN KEULEN · OLIVER TRIENDL · GEORGISCHES KAMMERORCHESTER INGOLSTADT RUBEN GAZARIAN
C5353 PC: 21 UPC: 845221053530
With his opera The Diary of Anne Frank(1968/69), by virtue of the subject alone Grigory Frid could be sure of attracting attention beyond the borders of Russia. The remaining enormous oeuvre by the composer, covering mainly instrumental works, songs, radio and film music, still remains to be discovered and treated in depth. Both prior to and after the collapse of the Communist USSR, Frid was awarded the highest honours, e.g. the title of Artist of Merit (1986) and the Moscow Prize (1996). If it is probably not erroneous to view Frid's aesthetic position in a propinquity to Dmitri Shostakovich, on the one hand, and in the environment of his contemporaries a generation younger such as Edison Denisov, Sofia Gubaidulina and Alfred Schnittke. As in the cases of these composers, Frid's music is also positioned in a field of tension between following the great Russian tradition and the quest for possibilities of expression in keeping with new, modern and international trends.

Weitere Bilder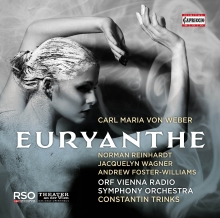 CARL MARIA VON WEBER: Euryanthe
Stefan Cerny · Norman Reinhardt · Jacquelyn Wagner · Andrew Foster-Williams · Theresa Kronthaler
ARNOLD SCHOENBERG CHOR ORF VIENNA RADIO SYMPHONY ORCHESTRA · CONSTANTIN TRINKS
C5373 · 2CD-Set PC: 22 UPC: 845221053738
CARL MARIA VON WEBER (1786 – 1826)
EURYANTHE
GROSSE ROMANTISCHE OPER IN 3 AUFZÜGEN J.291
GREAT ROMANTIC OPERA IN 3 ACTS
Libretto von / by Helmina de Chézy
(Opera Complete Recording)
König Ludwig VI – Stefan Cerny
Adolar – Norman Reinhardt
Euryanthe – Jacquelyn Wagner
Lysiart – Andrew Foster-Williams
Eglantine – Theresa Kronthaler
ARNOLD SCHOENBERG CHOR
(Chorus Mater: Erwin Ortner)
ORF VIENNA RADIO SYMPHONY ORCHESTRA
CONSTANTIN TRINKS, Dirigent / conductor
As good as every music lover is acquainted with Der Freischütz, but the fewest are aware of Euryanthe. In the light of the musical quality of the opera, the disdain for it does not seem fitting. Euryanthewas Weber's most ambitious project, one that anything but backfired. The composition may certainly be termed ground-breaking and truly deserves more attention. 'A chain of glittering jewels from the beginning to the end. All witty and ingenious', Robert Schumann in his critic about Euryanthe.
Live Recording · Theater an der Wien, 11.-12. & 15.12.2018
Weitere Bilder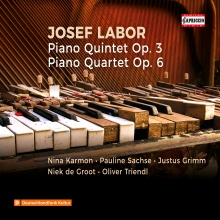 JOSEF LABOR (1842-1924)
Piano Quintet Op. 3 · Piano Quartet Op. 6
NINA KARMON · PAULINE SACHSE · JUSTUS GRIMM · NIEK DE GROOT · OLIVER TRIENDL
C5390 PC: 21 UPC: 845221053905

_________________________________________________________________

[1] – [4]
Quintett für Klavier, Violine, Viola, Violoncello und Kontrabass e-Moll, op. 3
Quintet for piano, violin, viola, cello and double-bass in E minor, Op. 3
[5] – [8]
Quartett für Klavier, Violine, Viola und Violoncello C-Dur, op. 6
Quartet for piano, violin, viola and cello in C major, Op. 6

NINA KARMON, Violine/violin· PAULINE SACHSE, Viola· JUSTUS GRIMM, Violoncello/cello
NIEK DE GROOT, Kontrabass/Double-bass· OLIVER TRIENDL, Klavier/piano
During his lifetime, Josef Labor was a pianist and organist recognized throughout Europe and a celebrity of the Viennese music scene. At the age of three, he lost his sight due to smallpox.
Up to now, Josef Labor has been little researched in musicology. Labor was not an expressive
musician along the lines of late Romanticism, who made his own life into the starting point of his art. Nor was he a musical innovator, nor simply a conservative. The linking principle is
classicist aesthetics, setting great store by clear formal structure and balanced proportions. In this adherence to the ideals of Viennese Classicism, he shows himself to be unimpressed by the vehement conflicts of the time between New Germans and supporters of Brahms. During his lifetime and in his generation Labor was an outsider as a composer, a kind of musical solitary, who positioned himself in a very special way, independent of the spirit of the age.



Weitere Bilder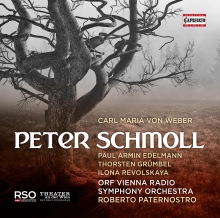 CARL MARIA VON WEBER: PETER SCHMOLL UND SEINE NACHBARN
PAUL ARMIN EDELMANN · THORSTEN GRÜMBEL · ILONA REVOLSKAYA · SEBASTIAN KOHLHEPP
ORF VIENNA RADIO SYMPHONY ORCHESTRA · ROBERTO PATERNOSTRO
C5376 PC: 21 UPC: 845221053769
CARL MARIA VON WEBER(1786 – 1826)
PETER SCHMOLL UND SEINE NACHBARN
PETER SCHMOLL AND HIS NEIGHBOURS
Komische Oper in 2 Akten (1802) / Comic Opera in Two Acts
Libretto nach dem Roman von / Libretto after the novel by Carl Gottlob Cramer
Gesangstexte von / Song texts by Willy Werner Göttig
Peter Schmoll, ein reicher Bankier - PAUL ARMIN EDELMANN
Martin Schmoll, sein Bruder und Teilhaber – THORSTEN GRÜMBEL
Minette, Martins Tochter – ILONA REVOLSKAYA
Karl Pirkner – SEBASTIAN KOHLHEPP
Hans Bast, Peters Faktotum – CHRISTOPH SEIDL
Niklas, ein Bauer - JOHANNES BAMBERGER
ORF VIENNA RADIO SYMPHONY ORCHESTRA
ROBERTO PATERNOSTRO, Dirigent / conductor

'Yesterday, with genuine pleasure I attended a kind rehearsal of the opera 'Peter Schmoll und seine Nachbarn' by my pupil Mr. Carl Maria von Weber, and I cannot help attesting with truth, […] that I consider it only right and proper that I recommend this, my favourite pupil, be welcomed by the entire musical and sensitive world'.Johann Michael Haydn, 1802
After the artful overture, which may make an absolute claim to autonomy, Peter Schmollshows a colourful succession of a total of 20 numbers, as was customary in the musical comedies composed in this manner for about three decades. In Peter Schmoll, we see glimpses of the 'typical' Weber, based primarily on the melodic idea, such as we know him today from Der Freischütz, written in 1817.
Hörprobe
Weitere Bilder