cd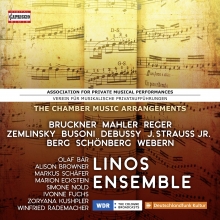 LINOS ENSEMBLE
ASSOCIATION FOR PRIVATE MUSICAL PERFORMANCES - THE CHAMBER MUSIC ARRANGEMENTS
BRUCKNER · MAHLER · BERG · REGER · SCHÖNBERG · WEBERN · DEBUSSY · ZEMLINSKY · BUSONI · STRAUSS (Sohn)
8CD-Set C7265 PC: 06 UPC: 845221072654

CD 1 ANTON BRUCKNER: Symphony No. 7 (arr. Stein / Eisler / Rankl)
CD 2 GUSTAV MAHLER: Symphony No. 4 (arr. Stein)
Lieder eines fahrenden Gesellen (arr. Schönberg)
CD 3 GUSTAV MAHLER: Das Lied von der Erde (arr. Riehn)
CD 4 GUSTAV MAHLER: Kindertotenlieder (arr. Schönberg / Riehn)
ALBAN BERG: Violin Concerto (arr. Schönberg / Tarkmann)
Altenberg Lieder (arr. Schönberg / Wagenaar)
CD 5 MAX REGER: Violin Concerto op. 101 (arr. Kolisch)
CD 6 ARNOLD SCHÖNBERG: Chamber Symphony op. 9 (arr. Webern)
Six Songs for voice and orchestra, op. 8 (arr. Eisler / Stein / Schönberg)
ANTON WEBERN: Six Orchestral Pieces, op. 6 (arr. Webern)
CD 7 CLAUDE DEBUSSY: Prélude à l'après-midi d'un faune (arr. Sachs)
MAX REGER: Romantic Suite op. 125 (arr. Schönberg / Kolisch)
ALEXANDER ZEMLINSKY Six Songs, op. 13 "Maeterlinck-Lieder"
(arr. Stein / Tarkmann)
FERRUCCIO BUSONI: Berceuse élégiaque op. 42 (arr. Stein)
CD 8 JOHANN STRAUSS (Sohn): Waltz-Arrangements (arr. Schönberg / Berg / Webern)
OLAF BÄR · ALISON BROWNER · MARKUS SCHÄFER · MARION ECKSTEIN · SIMONE NOLD · IVONNE FUCHS· ZORYANA KUSHPLER · WINFRIED RADEMACHER
LINOS ENSEMBLE
Founded in November 1918 by Arnold Schoenberg(1874–1951) and a few of his confidants, the Association for Private Musical Performancesconstituted perhaps the most progressive and most intensive opportunity for a select Viennese musical circle to familiarize themselves with contemporary and the latest works of the international composers' scene in the immediate aftermath of the First World War and hence at the time of a dearth of a cultural spirit of optimism and innovation. Schoenberg had a close personal tie with many of the composers performed at the association concerts and sometimes even an amical one, as in the case of Zemlinsky. The association became a nursery for the entire modern music from Richard Strauss and Debussy to Webern, as far as the instrumentation of the works allowed.


Weitere Bilder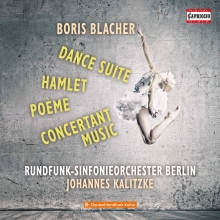 BORIS BLACHER (1903-1975)
Dance Suite · Poème · Hamlet · Concertant music for orchestra
RUNDFUNK-SINFONIEORCHESTER BERLIN · JOHANNES KALITZKE
C5349 PC: 21 UPC: 845221053493
What Boris Blacher passed on to many of his students – like Gottfried von Einem, Aribert Reiman or Isang Yun - primarily also characterizes his own music: a pronounced gestic and dance-like energy, lyrical melodies, orchestral sparkle, but also very subtle and intimately instrumented moments. The Poemeis an excellent example of the fact that for Blacher, who wrote a large number of 'genuine' ballets, movement plays a central role even in works that are to be understood as absolute music. It sounds almost a little strange that such an individualist and musician open-minded to absolute innovation had no direct problems with the conditions imposed by Nazi cultural policy also on the whole field of music, but quite the opposite, was in a position at that time to compose some of his major works. . It was probably due to the disunity of the pundits in the Third Reich that Blacher was permitted to continue his very individual course, without being disciplined too severely.
Weitere Bilder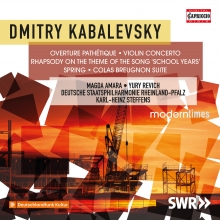 DMITRY KABALEVSKY (1904-1987)
Overture Pathétique · Violin Concerto · Rhapsody on the Theme of the Song 'School Years' · Vesna · Colas Breugnon Suite
YURY REVICH · MAGDA AMARA · DEUTSCHE STAATSPHILHARMONIE RHEINLAND-PFALZ · KARL-HEINZ STEFFENS
C5347 PC: 21 UPC: 845221053479
Many of the today distinguished Soviet composers in the second half of the 20thcentury knew how to steer a middle course, enabling them to supply what was officially desirable and yet to remain faithful to themselves, writing the music they wanted to write. Kabalevsky was a Jack of all musical trades and, as a specialist for children's music especially, cultivated a highly personal style, kept in easily comprehensible tonal aesthetics. His works are characterized by some of the features typical of Kabalesky's overall oeuvre: a cornucopia of melodious imagination, dance rhythms, above all in the fast movements, expansive slow sections and a positive, often cheerful tone.

Youtube
Weitere Bilder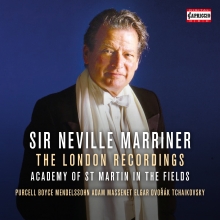 SIR NEVILLE MARRINER - The London Recordings
PURCELL BOYCE MENDELSSOHN ADAM MASSENET ELGAR DVORAK TCHAIKOVSKY
ACADEMY OF ST MARTIN IN THE FIELDS
14CD-Set · C7250 PC: 07 UPC: 845221072500

CD 1 HENRY PURCELL: Opera Suites
CD 2 WILLIAM BOYCE: 8 Symphonies
CD 3 FELIX MENDELSSOHN BARTHOLDY: Overtures
CD 4 ADOLPHE CHARLES ADAM Giselle
CD 5 JULES MASSENET: Ballet Suites
CD 6 EDWARD ELGAR: Enigma Variations
The Wand Of Youth Suites Nos. 1 & 2
CD 7+8 ANTONIN DVORAK:
Symphonies Nos. 7, 8 & 9 "From The New World"
Carnival Overture · Othello Overture
CD 9-14 PETER TCHAIKOVSKY:
The Symphonies Nos. 1-6
Manfred Symphony · Capriccio Italien · Overture "1812" · Francesca da Rimini
Neville Marriner was the Academy of St. Martin in the Fields – the orchestra he founded in 1958 and led for over half a century. Moreover, he was the face of classical music to millions of listeners… in a way that only Toscanini, Bernstein, and Karajan have rivalled in the age of recorded sound. In the later years, it was Capriccio, that stepped in when other labels showed no interest to record the Academy in the bigger romantic repertoire. The central element of this collection is the set of Tchaikovsky symphonies."The members of the Academy, trained on quite different repertory, let their hair down in playing that is both crisp and alert, obviously enjoying their outing into this pop repertory." Edward Greenfield, Gramophone


Weitere Bilder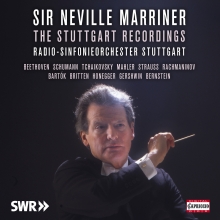 Sir Neville Marriner - The Stuttgart Recordings
BEETHOVEN SCHUMANN TCHAIKOVSKY MAHLER STRAUSS RACHMANINOV BARTOK BRITTEN HONEGGER GERSHWIN
RADIO-SINFONIEORCHESTER STUTTGART
15CD-Box C7230 PC: 07 UPC: 845221072302
CD 1 + 2 LUDWIG VAN BEETHOVEN: Overtures
CD 3 – 5 ROBERT SCHUMANN
Symphonies Nos. 1 – 4 · "Zwickauer" · Manfred Overture
CD 6 – 7 PETER TCHAIKOVSKY: Orchestral Suites 1-4
CD 8 GUSTAV MAHLER: Symphony No. 4
CD 9 – 10 RICHARD STRAUSS
Don Juan · Till Eulenspiegel · Capriccio · Rosenkavalier-Suite
CD 11 SERGE RACHMANINOV: Symphony No. 2· Vocalise
CD 12 BELA BARTOK: Der wunderbare Mandarin
CD 13 BENJAMIN BRITTEN: Sinfonietta op. 1 · Sinfonia da Requiem
ARTHUR HONEGGER: Sinfonie Nr. 3 "Liturgique"
CD 14 GEORGE GERSHWIN
Rhapsody in Blue · Piano Concerto in F · An American In Paris
CD 15 BARBER · COPLAND · GERSHWIN · BERNSTEIN
In Stuttgart, 1983 – 1989,Neville Marriner followed Sergiu Celibidache, offering quite the contrast to that willfully prodigious Romanian broodingly charismatic style with his own easygoing, less spectacular but genial manner and music-making. His sound wasn't as dense and carefully crafted, but the ensemble's playing became lighter and flexible, agile rather than probing. It is in his Stuttgart period that Marriner increasingly focused on repertoire that went beyond the baroque and classical periods. This compilation offers repertoire which music lovers will be less likely to associate with Marriner: German romanticism, including all of Schumann's Symphonies, Richard Strauss, Tchaikovsky and Rachmaninoff, Mahler, Bartók and Gershwin – The fundamental impression that comes from re-listening to these performances, apart from good and fresh music-making, is one of sympatheticmusic-making. That feels about right as an epitaph for the man and his body of work.

Weitere Bilder