cd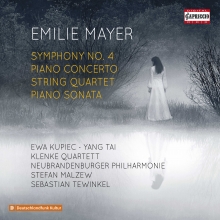 EMILIE MAYER (1812-1883)
Symphony No. 4 · Piano Concerto · String Quartet · Piano Sonata
Ewa Kupiec · Yang Tai Klenke Quartett Neubrandenburger Philharmonie · Stefan Malzew · Sebastian Tewinkel
2CD-Set · C5339 PC: 21 UPC: 845221053394
'Miss E. Mayer is a rare phenomenon. […]here we can see a female composer writing not merely for the pianoforte, but also solving the arduous task of orchestral composition, swarming with thousands of secrets. And how she solves it!'
Neue Berliner Musikzeitung 1878
In the German-speaking area, it was Clara Schumann and Fanny Hensel that towered beyond the borders and, at the turn of the 20thcentury, it was Amy Beach in the USA and even more so Ethel Smyth in Great Britain that became icons of the women's movement in music. Still hardly present is the music by the German Romantic Emilie Mayer. At the age of five, she already received piano lessons, and in the early 1840s none other than Carl Loewe in Stettin was her teacher. We encounter familiar classical form patterns, yet once more the focus is placed on the colourfulness of her music, which constantly holds new phrases and impulses ready and with which she recommends herself as one of the most important female representatives of Central European music in the 19thcentury.
Weitere Bilder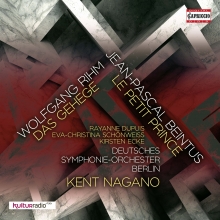 WOLFGANG RIHM: DAS GEHEGE JEAN-PASCAL BEINTUS: LE PETIT PRINCE
RAYANNE DUPUIS · EVA-CHRISTINA SCHÖNWEISS · KIRSTEN ECKE
DEUTSCHES SYMPHONIE-ORCHESTER BERLIN · KENT NAGANO
C5337 PC: 21 UPC: 845221053370
When Kent Nagano assumed the direction of the Bavarian State Opera in Munich in autumn 2006, he had intended a new production of Richard Strauss' Salomeas one of the first premieres. He wanted to precede the challenging one-act opera after Oscar Wilde's drama with a new music theatre work. He turned to Wolfgang Rihm. 'I replied', Rihm said in an interview with Die Zeit: 'There's only one thing: the final scene from Schlusschorby Botho Strauß.Nagano's commission became the catalyst in transforming this desire into reality. This is the genesis of Das Gehege. A nocturnal scene for soprano and orchestra.
Kent Nagano and Jean-Pascal Beintus (* 1966) met in the orchestra pit of the Opéra de Lyon in 1988. After considering the first orchestral manuscripts, the maestro, known for his openness and great erudtion, encouraged the young man to expand his musical career. Several pictorial projects came to Nagano's mind, which he entrusted to Beintus' musical imagination: first, Wolf Tracks for recitator and orchestra (recorded with the speakers Bill Clinton and Michail Gorbachov), for which Beintus was awarded a Grammyin 2004, before in 2008 writing for the family concerts of the German Symphony Orchestra in Berlin a suite on Antoine de Saint-Exupéry's omnipresent The Little Prince.

Weitere Bilder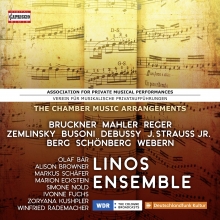 LINOS ENSEMBLE
ASSOCIATION FOR PRIVATE MUSICAL PERFORMANCES - THE CHAMBER MUSIC ARRANGEMENTS
BRUCKNER · MAHLER · BERG · REGER · SCHÖNBERG · WEBERN · DEBUSSY · ZEMLINSKY · BUSONI · STRAUSS (Sohn)
8CD-Set C7265 PC: 06 UPC: 845221072654

CD 1 ANTON BRUCKNER: Symphony No. 7 (arr. Stein / Eisler / Rankl)
CD 2 GUSTAV MAHLER: Symphony No. 4 (arr. Stein)
Lieder eines fahrenden Gesellen (arr. Schönberg)
CD 3 GUSTAV MAHLER: Das Lied von der Erde (arr. Riehn)
CD 4 GUSTAV MAHLER: Kindertotenlieder (arr. Schönberg / Riehn)
ALBAN BERG: Violin Concerto (arr. Schönberg / Tarkmann)
Altenberg Lieder (arr. Schönberg / Wagenaar)
CD 5 MAX REGER: Violin Concerto op. 101 (arr. Kolisch)
CD 6 ARNOLD SCHÖNBERG: Chamber Symphony op. 9 (arr. Webern)
Six Songs for voice and orchestra, op. 8 (arr. Eisler / Stein / Schönberg)
ANTON WEBERN: Six Orchestral Pieces, op. 6 (arr. Webern)
CD 7 CLAUDE DEBUSSY: Prélude à l'après-midi d'un faune (arr. Sachs)
MAX REGER: Romantic Suite op. 125 (arr. Schönberg / Kolisch)
ALEXANDER ZEMLINSKY Six Songs, op. 13 "Maeterlinck-Lieder"
(arr. Stein / Tarkmann)
FERRUCCIO BUSONI: Berceuse élégiaque op. 42 (arr. Stein)
CD 8 JOHANN STRAUSS (Sohn): Waltz-Arrangements (arr. Schönberg / Berg / Webern)
OLAF BÄR · ALISON BROWNER · MARKUS SCHÄFER · MARION ECKSTEIN · SIMONE NOLD · IVONNE FUCHS· ZORYANA KUSHPLER · WINFRIED RADEMACHER
LINOS ENSEMBLE
Founded in November 1918 by Arnold Schoenberg(1874–1951) and a few of his confidants, the Association for Private Musical Performancesconstituted perhaps the most progressive and most intensive opportunity for a select Viennese musical circle to familiarize themselves with contemporary and the latest works of the international composers' scene in the immediate aftermath of the First World War and hence at the time of a dearth of a cultural spirit of optimism and innovation. Schoenberg had a close personal tie with many of the composers performed at the association concerts and sometimes even an amical one, as in the case of Zemlinsky. The association became a nursery for the entire modern music from Richard Strauss and Debussy to Webern, as far as the instrumentation of the works allowed.


Weitere Bilder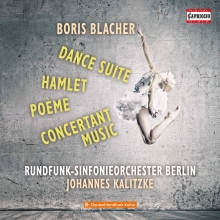 BORIS BLACHER (1903-1975)
Dance Suite · Poème · Hamlet · Concertant music for orchestra
RUNDFUNK-SINFONIEORCHESTER BERLIN · JOHANNES KALITZKE
C5349 PC: 21 UPC: 845221053493
What Boris Blacher passed on to many of his students – like Gottfried von Einem, Aribert Reiman or Isang Yun - primarily also characterizes his own music: a pronounced gestic and dance-like energy, lyrical melodies, orchestral sparkle, but also very subtle and intimately instrumented moments. The Poemeis an excellent example of the fact that for Blacher, who wrote a large number of 'genuine' ballets, movement plays a central role even in works that are to be understood as absolute music. It sounds almost a little strange that such an individualist and musician open-minded to absolute innovation had no direct problems with the conditions imposed by Nazi cultural policy also on the whole field of music, but quite the opposite, was in a position at that time to compose some of his major works. . It was probably due to the disunity of the pundits in the Third Reich that Blacher was permitted to continue his very individual course, without being disciplined too severely.
Weitere Bilder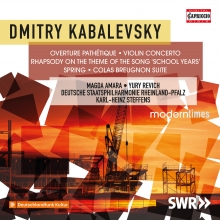 DMITRY KABALEVSKY (1904-1987)
Overture Pathétique · Violin Concerto · Rhapsody on the Theme of the Song 'School Years' · Vesna · Colas Breugnon Suite
YURY REVICH · MAGDA AMARA · DEUTSCHE STAATSPHILHARMONIE RHEINLAND-PFALZ · KARL-HEINZ STEFFENS
C5347 PC: 21 UPC: 845221053479
Many of the today distinguished Soviet composers in the second half of the 20thcentury knew how to steer a middle course, enabling them to supply what was officially desirable and yet to remain faithful to themselves, writing the music they wanted to write. Kabalevsky was a Jack of all musical trades and, as a specialist for children's music especially, cultivated a highly personal style, kept in easily comprehensible tonal aesthetics. His works are characterized by some of the features typical of Kabalesky's overall oeuvre: a cornucopia of melodious imagination, dance rhythms, above all in the fast movements, expansive slow sections and a positive, often cheerful tone.

Youtube
Weitere Bilder