cd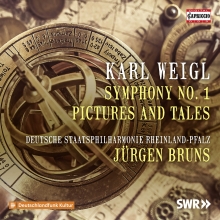 Karl Weigl: Symphony No. 1 · Pictures and Tales
DEUTSCHE STAATSPHILHARMONIE RHEINLAND-PFALZ
JÜRGEN BRUNS (conductor)
C5364 PC: 21 845221053653
KARL WEIGL (1881 – 1949)
[1] – [4] Symphonie Nr. 1 E-Dur, op. 5 (1908)
Symphony no. 1 in E major, Op. 5 (1908)
[5] – [10] Bilder und Geschichten Suite für kleines Orchester, op. 2 (1922)
Pictures and Tales Suite for small orchestra, Op. 2 (1922)

DEUTSCHE STAATSPHILHARMONIE RHEINLAND-PFALZ
JÜRGEN BRUNS (Dirigent / conductor)
'I have always viewed Dr. Weigl as one of the best composers of the old generation; one of those continuing the illustrious Viennese tradition.' - Arnold Schönberg
In terms of style, with his works linked to basic tonalities Weigl drew on the sound realm of late Romanticism, from whose aesthetics he never departed in favour of more progressive contemporary trends. The Symphony No. 1 in E major op. 5, written in 1908, is also far removed from any avant-garde experiments in the Romantic tradition, as epitomized among the Austrian composers of that time in the field of the symphony by e.g. Alexander von Zemlinsky, Emil Nikolaus von Reznicek or Franz Schmidt. In the autumn of 1938 Weigl emigrated from Vienna via France and Great Britain to the USA, where he initially had to accept musical odd jobs, gave private lessons and was finally able to work as a teacher at different musical institutes such as the Boston Conservatory and the Philadelphia Academy of Music.
Weitere Bilder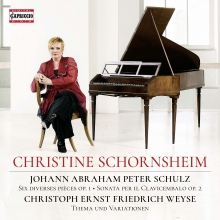 Christine Schornsheim
Johann Abraham Peter Schulz
Christoph Ernst Friedrich Weyse
C5364 PC: 21 845221053639
Johann Abraham Peter Schulz (1747-1800)
[1] – [3]
Sonata per il Clavicembalo solo (1778) E-Dur / in E flat major, op. 2
[4] – [9]
Six diverses pièces pour le clavecin ou le piano forte, op. 1
Christoph Ernst Friedrich Weyse (1774-1842)
[10]
Theme and Variations /Thema und Variationen
CHRISTINE
SCHORNSHEIM
Hammerflügel / fortepiano
(Melchior Guante, Münster / Westfalen, ca. 1800)
Christine Schornsheim has enthralled an enthusiastic audience for many years with an almost inexhaustible variety of sounds by different period keyboard instruments with which she feels at ease and with sheer unending musical imagination. Her passion an her intuition for rare repertoire presents us also on this album two composers which mostly worked and lifed in Danmark: The german composer Johann Abraham Peter Schulz, who worked for many years in Kopenhagen and became almost famous with his Folk Songs, and his danish born pupil Christoph Ernst Friedrich Weyse. Virtuos piano compositions in the style, tradition and continuation of Carl Philipp Emanuel Bach.
Weitere Bilder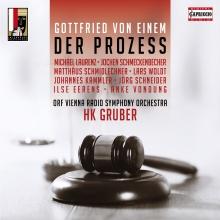 Gottfried von Einem DER PROZESS THE TRIAL
Live from Salzburg Festival
Laurenz Schmeckenbecher Schneider · Woldt · Eerens · ORF Vienna Radio Symphony Orchestra · HK Gruber
C5358 PC: 22 UPC: 845221053585
The Austrian composer Gottfried von Einem got to know the mechanism of this process himself, and it was ultimately thanks to some good fortune that he did not become one of the countless victims of the Nazi system of injustice.
He was one of those great composer personalities that played a major role in rebuilding the waste of the Austrian music scene after 1945, following the devasting cultural policies of Austrofascism, which were above all hostile to modern trends, and even more so those of the Nazis. Catchy thematic and melodic ideas, sharply accentuated rhythm, strong gestural and dance-like vigour and a pronounced feeling for differentiated timbre characterized von Einem's highly personal musical diction, which can also be discerned in the opera Der Prozess. Einem-pupil, composer and conductor HK Gruber made an amazing, by audience and press enthusiastic celebtrated concertant performance during the Salzburg Festival 2018 which is documented on this recording.


Weitere Bilder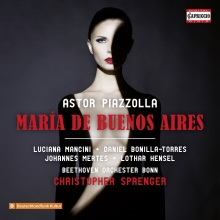 ASTOR PIAZZOLLA - MARIA DE BUENOS AIRES
LUCIANA MANCINI · DANIEL BONILLA TORRES · JOHANNES MERTES
Lothar Hensel · BEETHOVEN ORCHESTER BONN · CHRISTOPHER SPRENGER
C5305 PC: 22 UPC: 845221053059
'María de Buenos Aires brought me inner peace, a partial serenity that has changed my way of approaching music. I reached the zenith of my musical life at the time. (Astor Piazzolla)
Piazzolla himself equated María to the tango and its historical ups and downs; and this is probably also the primary aid to understanding the reception of the contents of the piece. Next to that, there is also a musical diction that is entirely unique in the second half of the 20thcentury, indeed in the New Music scene as a whole. 'I learnt something: to be patient, to be self-critical, to co-ordinate reflection with passion. Now I am told: 'That is a different Piazzolla', but that is not the case. I am the same man, but I have reached a synthesis'. (Astor Piazzolla)


Weitere Bilder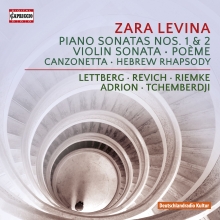 Zara Levina
Piano Sonatas · Violin Sonata · Poeme for Viola Canzonetta for cello Hebrew Rhapsody
Lettberg · Revich · Adrion · Riemke · Tchemberdji
C5356 PC: 21 UPC: 845221053561
After the great success and Grammy nominated Album of The Piano Concertosby russian composer Zara Levina (Capriccio C5269), this recording focus now on different types of chamber Music compositions by the same composer. Again, the Riga-born pianist Maria Lettberg plays the leading part on this recording and shows the high creativity of the unjustified forgotten composer.


Weitere Bilder