cd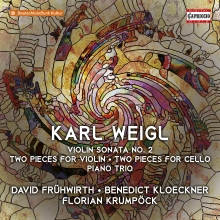 Karl Weigl
Violin Sonata No. 2 · 2 pieces for cello · 2 pieces for violin · Piano Trio
David Frühwirth · Benedict Kloeckner · Florian Krumpöck
C5318 PC: 21 21845221053189
Somewhere between the first and second decade of the "short" 20th century, the great Viennese musical tradition of Beethoven, Brahms, Bruckner, and Mahler supposedly crashed into the limits of tonality and came to a halt. Schoenberg, Webern, and Berg composed anew, now according to what was supposed to be the "historically inevitable" system of atonality. Karl Weigl went on to write marvelously traditional music. Schoenberg wrote in 1938 that "I always considered Dr. Weigl one of the best composers of the old school; one of those who continued the glittering Viennese tradition." And that is what we hear in abundance in Weigl's output throughout the genres: His symphonies , his songs , his concertos , his string quartets , and the chamber works for piano, cello, and violin in various combinations.

Weitere Bilder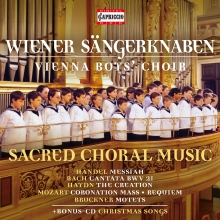 WIENER SÄNGERKNABEN VIENNA BOYS' CHOIR
Handel: Messiah (complete) · Haydn: The Creation (complete) · Mozart: Coronation Mass · Requiem · Bach: Cantata · Bruckner: Motets / Bonus-CD / Christmas Songs
MAX EMANUEL CENCIC · DEREK LEE RAGIN · GOTTHOLD SCHWARZ · Academy Of London · Symphonieorchester der Wiener Volksoper · Peter Marschik
7CD-Box · C7317 PC: 06 UPC: 845221073170
CD 1 + 2
GEORGE FRIDERIC HANDEL (1685-1759): DER MESSIAS · MESSIAH HWV 56 (Complete Recording)
CD 3 + 4
JOSEPH HAYDN (1732-1809): DIE SCHÖPFUNG · THE CREATION Hob. XXI:2 (Complete Recording)
CD 5
WOLFGANG AMADEUS MOZART (1756-1791)
MESSE C-DUR KV 317 "KRÖNUNGSMESSE"
MASS IN C MAJOR K 317 "CORONATION MASS"
JOHANN SEBASTIAN BACH (1685-1750)
KANTATE / CANTATA BWV 21 "Ich hatte viel Bekümmernis"
CD 6
WOLFGANG AMADEUS MOZART
REQUIEM KV 626 · AVE VERUM CORPUS KV 618
ANTON BRUCKNER (1824-1791): MOTETTEN · MOTETS
BONUS-CD
WEIHNACHTSLIEDER · CHRISTMAS SONGS
MAX EMANUEL CENCIC, Knabensopran / Boysoprano
CHARLES HUMPHRIES, Countertenor
DEREK LEE RAGIN, Altus / alto
CHRISTIAN BAUER, IVAN SHARPE, MICHAEL KNAPP, Tenor
GOTTHOLD SCHWARZ, ERNST JANKOWITSCH, ROBERT TORDAY, Bass / bass
WIENER SÄNGERKNABEN · VIENNA BOYS' CHOIR · CHORUS VIENNENSIS
ACADEMY OF LONDON · SYMPHONIEORCHESTER DER WIENER VOLKSOPER
STUTTGARTER PHILHARMONIKER
PETER MARSCHIK (Dirigent / conductor)

Weitere Bilder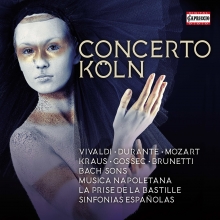 CONCERTO KÖLN
VIVALDI · MUSIC OF THE BACH SONS · MUSICA NAPOLETANA · FRANCESCO DURANTE · LA PRISE DE LA BASTILLE · SINFONIAS ESPAÑOLAS · GAETANO BRUNETTI · JOSEPH MARTIN KRAUS · FRANÇOIS-JOSEPH GOSSEC · WOLFGANG AMADEUS MOZART
Concerto Köln - Werner Ehrhardt
10CD-Set · C7305 PC: 07 UPC: 845221073057
CD 1: ANTONIO VIVALDI
Concerti: "La Tempesta di Mare" · "Concerto funébre" · "La Notte"
CD 2: MUSIK DER BACH-SÖHNE / MUSIC OF THE BACH SONS
Johann Christoph Friedrich Bach · Carl Philipp Emanuel Bach
Wilhelm Friedemann Bach · Johann Christoph Friedrich Bach
CD 3: MUSICA NAPOLETANA
Domenico Scarlatti · Leonardo Leo · Giovanni Battista Pergolesi
CD 4: FRANCESCO DURANTE: Concerti for Strings
CD 5: LA PRISE DE LA BASTILLE
Jean-Baptiste 'Citoyen' Davaux · Carl Ditters Von Dittersdorf
François Martin · François-Joseph Gossec
CD 6: SINFONIAS ESPAÑOLAS
Francisco Javier Moreno · Jose Pons · José Nonó · Juan Crisóstomo Arriaga
CD 7: GAETANO BRUNETTI: Sinfonien · Symphonies
CD 8: JOSEPH MARTIN KRAUS: Sinfonien · Symphonies
CD 9: FRANÇOIS-JOSEPH GOSSEC: Sinfonien · Symphonies
CD 10: WOLFGANG AMADEUS MOZART
Betulia liberata (Overture) · Clarinet Concerto
Symphonies Nos. 29 & 35 "Haffner"
Aufnahmen / Recordings: 1989 – 2003

Weitere Bilder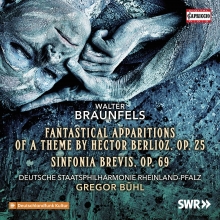 WALTER BRAUNFELS
Fantastical Apparitions Of A Theme by Hector Berlioz, Op. 25 (1914-1917) Sinfonia brevis, op. 69
DEUTSCHE STAATSPHILHARMONIE RHEINLAND-PFALZ · GREGOR BÜHL
C5354 PC: 21 UPC: 845221053547
Walter Braunfels is a composer whose music died twice: Once when the Nazis declared his music "degenerate art". Then again when post-war Germany had little use for the various schools of tonal music; when the arbiters of taste considered any form of romantic music – almost the whole pre-war aesthetic – to be tainted. This 7threlease of Capriccio's Braunfels Edition shows again his large range of colorful music and focus this time on his early great Orchestral work Fantastical Apparitions Of a Theme by Hector Berlioz, Op. 25 (1914-1917) – the first complete recording of this amazing composition, compiled with his last orchestral work, the Sinfonia brevis op. 69(1948).

Youtube
Weitere Bilder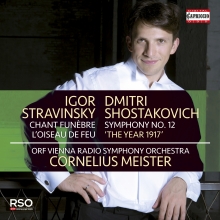 STRAVINSKY: CHANT FUNÈBRE · THE FIREBIRD / SHOSTAKOVICH: SYMPHONY NO. 12 'THE YEAR OF 1917'
ORF VIENNA RADIO SYMPHONY ORCHESTRA
CORNELIUS MEISTER
C5352 PC: 21 UPC: 845221053523
The both hailed from Russia, and they were contemporaries. But their biographies could hardly have been more different: Igor Stravinsky and Dmitri Shostakovich. The one was an urbane dandy, and the other an introverted melancholic. Both were deeply rooted in the music of their homeland, Stravinsky in the wealth of myths and folk customs of past centuries, and Shostakovich directly in the historical events that shook Russia to its very core and frequently gave rise to existential fears. Cornelius Meister, just awarded as "Conductor of the year" by the german classical music award Opus, knows again how to handle these different colours of sounds and shows them in an most transparent way. The ORF Vienna Radio Symphony Orchestra has been his best disposed partner for these recordings.

Weitere Bilder