releases
New 2012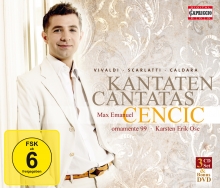 Vivaldi · D. Scarlatti · Caldara
ornamente 99 · Karsten Eric Ose
3CD+Bonus DVD: C7142 PC: 22 UPC: 845221071428
Throughout the last few years, Max Emanuel Cencic has become one of the best
countertenors of his time, who delights both audiences and experts during his
performances. At an early age, he was already a member and a soloist with the
Vienna Boys' Choir, and he began his solo career as a soprano in 1992.
In 2001, he switched his vocal fach to become a countertenor.
His first albums he has released on Capriccio Label and now we present
3 recordings of the past in a new 3CD-package including also 1 Bonus-DVD
who shows the young singer in private athmosphere, with interviews and Video
Clips. His newer CD productions include, among others, Vivaldi's Il Farnace,
with Max Emanuel Cencic performing the leading role (to be released by EMI/
Virgin Classics), Vinci's L'Artaserse (to be released by EMI/ Virgin Classics 2012)
and Händel's Alessandro with Max Emanuel Cencic performing the leading role
(to be released by Decca in 2013 ). Max Emanuel Cencic will interpret the role of
Farnace at the Théâtre des Champs Elysées in Paris, the Opéra de Lausanne,
the Concertgebouw Amsterdam, the Musikfest Bremen, the Opéra National du
Rhin in Strasbourg and Mulhouse, the Grand Théâtre in Monaco and at the
Opera Royal in Versailles, among others.

Weitere Bilder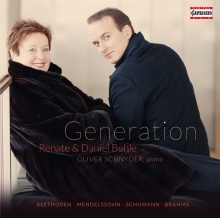 Beethoven · Mendelssohn · Schumann · Brahms · Wagner
Oliver Schnyder, piano
C5148 PC: 21 UPC: 845221051482
That the children of famous singers later become singers themselves is a phenomenon that does not occur so seldom. In this respect, Renate and Daniel Behle find themselves in an illustrious line of ancestors: Christa Ludwig's parents were both singers, and throughout her life her mother remained her sole teacher (and was also the most important mentor for Renate Behle). Similarly, Willi Domgraf-Fassbaender was the only singing teacher of his daughter Brigitte Fassbaender. The Kollo family is meanwhile singing in at least the fourth generation, and the Viennese singer Ruthilde Boesch taught not only her son Christian, but also her grandson Florian. But the way to assuming the parents' profession is different every time. Something like an 'awareness of the guild' is probably the exception in classical singing.
In the meantime Renate Behle is officially retired, as she herself says. And even if she still performs major roles on the stage, her timetable is now generous enough to revive old passions with more free time. Indeed, now she can watch and hear how the next generation goes its way. Meanwhile, her son Daniel is in great demand as a tenor on the great opera and concert stages of the world. Both singers relate how their first joint recording came about.
Renate Behle: 'I have always wanted to avoid any appearance that Daniel makes a career or derives any advantages due to me, the established singer. Indeed, sometimes it seemed to me to be rather a disadvantage for Daniel that I was so well-known. For this reason, we have deliberately eschewed joint appearances. He was to make it alone – and that is just what he has done.'

Weitere Bilder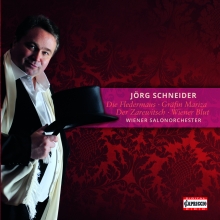 Die Fledermaus · Der Zigeunerbaron · Wiener Blut · Gräfin Maritza · Der Bettelstudent · Paganini
Wiener Salonorchester
C5109 PC: 21 UPC: 845221051093
I think that operetta has much higher demands than is often considered. If one performs this genre on a high level of quality, then it is sometimes even more demanding than opera. (JÖRG SCHNEIDER, INTERVIEW 2012)

The Austrian tenor Jörg Schneider has enjoyed a career that has flourished in Europe and especially in Italy, where he sang in almost every important operahouse. He started his career in 1995 as member of the Staatstheater Wiesbaden. From 1997 on till 2000 he was member of the Deutsche Oper am Rhein Düsseldorf. As a freelancer he sang Belmonte at the Deutsche Oper Berlin, Tamino at the Opernhaus Zürich and at the Teatro Communale Firenze.
He sang Belmonte in "Entführung" under the baton of Zubin Mehta in Tel Aviv, "Kantate auf den Tod Haydns" from Luigi Cherubini under the baton of Riccardo Muti at the Musikverein in Vienna, and Jacquino in "Fidelio" under the baton of Claudio Abbado in Ferrara, Reggio Emilia, Madrid/ Teatro Real and Baden-Baden etc. On January 1st in 2008 Mr Schneider made his debut as Alfred in "Die Fledermaus" at the Vienna State Opera (he returned meanwhile as Tamino in "Zauberflöte", Narraboth in "Salome" and as Flamand in "Capriccio" opposite Renèe Fleming) and in January 2009 he collaborated for the first time with Maestro Christian Thielemann in Baden-Baden, Munich and Paris.


Weitere Bilder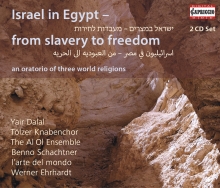 an oratorio of three world religions
YAIR DALAL · TÖLZER KNABENCHOR · THE AL OL ENSEMBLE · l'arte del mondo · WERNER EHRHARDT
C5151 (2CD-Set) PC: 22 UPC: 845221051512
"The best concert of Israel Festival 2011 – an evening of musical and human
brother hood, breaking national and relegious barriers" (Yon Feder, y net 2011)

"Israel in Egypt was a chain of climaxes –
a fantasy of a paradise (Chagai Chitron, Haaretz 2011)

This project has been created on the basis of the common history and roots of the three monotheistic religions Islam, Christianity and Judaism.
Israel in Egypt is one of the best-known and most popular oratorios by Georg Friedrich Handel. The exodus of the Jewish people and the reflections on it, as they are described in Israel in Egypt, are rendered both in the Jewish Torah and the Christian Bible (Book of Moses, Old Testament) and therefore form a substantial part of both religions. However, the role of the Torah (Judaism) and the five Books of Moses (Christianity) is also quite important in the Islamic tradition: Muslim believers are familiar with various suras of the Koran that show just how deeply the Koran itself is rooted in the Torah and the five Books of Moses; and, according to the Koran, the Prophet Mohammed's appearance is predicted in the Torah and in the five Books of Moses. The Torah and the five Books of Moses therefore form a hugely important spiritual basis for the three major monotheistic world religions.
For the musical and formal realisation of the concert project "Israel in Egypt – From Slavery to Freedom", musicians from the (Western) European Baroque tradition (Baroque orchestra and choir), and hence from a Christian background, are joined by musicians from Jewish and Muslim backgrounds. Apart from the Israeli oud player and violinist Yair Dalal, with whom the project concept is being developed, a Jewish cantor and several musicians from Arabic and Muslim cultures will also be involved. On the one hand, these musicians will enter into a musical concert dialogue with each other and, on the other hand, they will create individual musical pieces together. The idea is not so much a confrontation of musical and narrative levels, but rather a collective moulding of the story of Israel in Egypt. The basic musical form of Handel's oratorio and its nar rative structure will remain untouched, for the most parts.



Weitere Bilder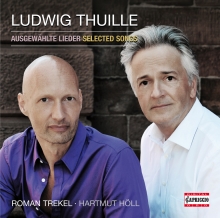 (1861-1907)
Roman Trekel, baritone Hartmut Höll, piano
C5058 PC: 21 UPC: 845221050584
For until a short time ago Ludwig Thuille was a shadowy figure encountering the reader of yellowed books. The reference to his historical importance as head of the 'Munich School' did not mean much, It is only Thuille's correspondence with Richard Strauss that has kept his erstwhile significance alive. Signs of their friendship were the almost contemporaneous settings of specific poems, how good it would have been to be present when Thuille and Strauss presented their Lieder to each other and discussed their findings.
In the meantime, the situation has changed, and an updated discography would cover recordings of many of Thuille's works. Campaigned for his Lieder, now, Roman Trekel and Hartmut Höll are for the first time presenting an album in the instrumentation for male voice and piano.

Weitere Bilder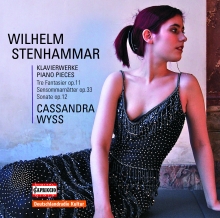 Piano Rarities: Tre Fantasier op.11; Sensommarnätter op.33; Sonate op.12
CASSANDRA WYSS, Klavier / piano
C5117 PC: 21 UPC: 845221051178
Quite a few foreign visitors of the Stockholm Konserthuset probably ask themselves whom the bust, which is placed directly next to the entrance of the royal box, depicts. It is a portrayal of Wilhelm Stenhammar, whose prominent placing absolutely reflects the central role which Stenhammar played in the musical history of Sweden, even if outside of Scandinavia he is far less well known than his colleagues and friends Carl Nielsen and Jean Sibelius.
Already at the age of 23 Stenhammar cut a dash as pianist and composer: The premiere of his first piano concert in Stockholm in 1894 was such a great success that Richard Strauss put the piece on stage with the Berlin Philharmonics and Stenhammar as soloist shortly afterwards. The pieces dating from the 1890s mirror the adoption of European music tradition, whereas since 1900 a more reflexive element can be observed. From 1909 onwards, Stenhammar eventually focused on an intensive study of the counterpoint, which should lead the way out of the compositional crisis, which had affected the whole of Europe and had caused Arnold Schönberg in Vienna to abandon the major-minor tonality.



Weitere Bilder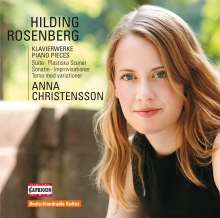 Piano Rarities: Suite (1924); Plastiska scener (1921); Sonatin (1949); Tema med variationer (1941)
ANNA CHRISTENSSON, Klavier / piano
C5116 PC: 21 UPC: 845221051161
Until the middle of the 20th century most Swedish composers refused to accept new tendencies coming from Paris, Vienna or Berlin. However, also advocates of an avant-garde tonal language existed. Of all people, the 1892 born son of a poor couple looking after the herbary of a convent of nuns in the rural idyll of Bosjökloster, should emerge as the key player of Swedish Modernity: Hilding Rosenberg. He considered himself as pioneer, even as a guiding light for others. And indeed, the composer's merits are out of all proportion to his quite low name recognition nowadays.
The performance of Schönberg's chamber symphony op. 9 in Dresden was a sort of arousal for him. He himself later described it as a "distressing experience, which seemed to turn the common understanding how to compose music upside down." From this impulse his first string quartet was born, a piece which is said to have introduced atonality to Sweden.
Hilding Rosenberg became one of the most important personalities of Swedish musical life of the 20th century. Besides composing his own music, he made contemporary music as well as old masters available to the public as a conductor – he had studied with Hermann Scherchen among others. From 1932 until 1934 he even managed the Royal Swedish Opera in Stockholm. His personal contacts were far-reaching. Among the dramatists working with him were Bertold Brecht and the elderly Thomas Mann, whom Rosenberg visited in the USA. Numerous official awards and distinctions mark the meritorious career of a man, who on paper is considered the "father of Swedish modernity", but whose fame as composer is still somewhat secret.

Weitere Bilder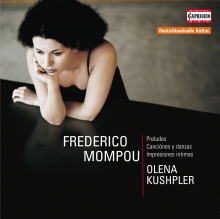 Piano Rarities: Preludes, Canciónes y danzas, Impresiones intimas
OLENA KUSHPLER, Klavier / piano
C5115 PC: 21 UPC: 845221051154
"To achieve a maximum level of expressiveness with a minimum of means" was the defined goal of the pianist and composer Frederic Mompou y Dencausse, who was born in Barcelona in 1893.
ENRIQUE GRANADOS was convinced of young Mompou's talent and wrote a letter of recommendation to the conservatoire in Paris. In Paris, the focal point of the musical avant-garde in 1900, Mompou, who was characterized by timidity and neurasthenic upsets, at first did not manage to successfully deliver his letter of recommendation. Instead – and this must be considered a stroke of luck – he met Ferdinand Motte-Lacroix, who did not only become a splendid piano teacher for him but also a close friend and later an interpreter of his compositions.
Motte-Lacroix was exited by his student's talent and introduced him to the artistic circles of the city, in which at that time the outstanding Maurice Ravel and the compositions of the Groupe des Six caused sensations. This was an environment in which the timid Mompou would have been completely lost without the help of his friend and supporter. A concert on 15th of April 1921, in which Ferdinand Motte-Lacroix presented the works of his student to the public, became a rousing success for Mompou and was his breakthrough. For the next 20 years he lived as a celebrity in the French metropolis, interrupted only by short breaks.

Weitere Bilder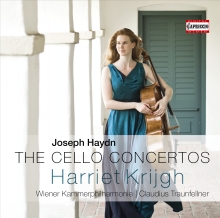 Wiener Kammerphilharmonie · Claudius Traunfellner

C5139 PC: 21 UPC: 845221051390
After her highly appraised Debut CD with French Music for cello and piano (Capriccio C5131), Harriet Krijgh presents on her 2nd CD her virtuosity and technical finesse with the new recording of both Cello Concertos by Joseph Haydn.
"…and with great joy the soloist also brought her cello concert in D-sharp: the 21 year old Dutch Harriet Krijgh, at the moment still a student in Vienna, mastered it with technical finesse, pleasantly singing tone and skilled, engaging stage presence. Remarkable is also her surety in the highest positions." Wiener Zeitung, Austria 2012 04 27

In view of her competitors, how does the merely 21 year old Dutch cellist realize the fact that her cello sounds a trace rounder, fuller and more poetic?
Der Spiegel – Kulturspiegel

"What else to wait for, when at the mere age of 20 she can already play all the pieces on her beautifully sounding Hendrik Jacobs Cello? What is more, Harriet Krijgh never shows off her virtuosity, yet is always in track with the music. Her warm, unforced and at the same time strong tone is seductive, her interpretation sensitive and thoughtful. Bravissimo!"
Mirjam Jessa – Ö1 Radio

Harriet Krijgh works with much compassion and displays that already at age 21 one can understand a great deal of passionate expression…
Radio Berlin Brandenburg 2012 03 29

Weitere Bilder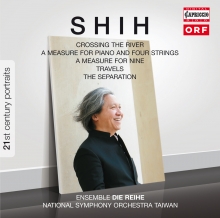 CROSSING THE RIVER · A MEASURE FOR NINE · THE SEPARATION
Ensemble "Die Reihe" · National Symphony Orchestra Taiwan
C5111 PC: 21 UPC: 845221051116
The Taiwanese-Austrian composer Shih was born in Taipei in 1950. At the age of 24 he moved to Vienna to study composition and the harp at the University of Music and Performing Arts. He graduated in 1983, was awarded the Austrian citizenship the following year and currently lives in Vienna as free-lance composer. In addition, he is actively mediating between European and Far Eastern musical culture even beyond his own compositional work. For example, as head of the Pacific Youth Orchestra Vienna, which has been founded by him, he brings together students of music from Taiwan, China and Japan.
Shih's very own mean of expression is sound, but it seems impossible to correlate his music with one of the traditional styles: his personal style, which sounds out all imaginable music-psychological processes and features an unparalleled variety of expressions, is way too individualistic. This exceptional style has its origin in the fusion of occidental music tradition and Far Eastern philosophy, which draws the attention from superficial effects to the subtle inner structure. With his work Shih wants to explore the depths of the human mind.


Weitere Bilder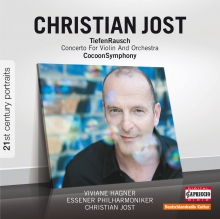 TIEFENRAUSCH – Concerto for violin and orchestra · COCOONSYMPHONY
Viviane Hagner, violin · Essener Philharmoniker · Christian Jost
C5118 PC: 21 UPC: 845221051185
I am always searching for the magical moment, which I can only achieve by complex and differentiated interconnections between structure, form and sound.
(Christian Jost)
Christian Jost was born in Trier, received his training in Cologne and San Francisco and is one of the most sought after composers of his generation. His operas are included in the repertoire of European opera houses and his compositions for orchestra have been performed repeatedly around the globe. In 2003 he was awarded the advancement award by the Ernst-von-Siemens-Foundation and in 2009 his opera Hamlet was voted "Best First Performance of the Year" in Germany, Austria and Switzerland. He was a "Composer in Residence" at the Beethoven Orchestra Bonn, the Staatskapelle Weimar, the Deutsche Oper am Rhein, the Komische Oper Berlin and the Opera Dortmund.


Weitere Bilder
(Complete Recording)
Michael Endres, piano
10 CD-Box C7125 PC: 24 UPC: 845221071251
· Re-release of the many times awarded Schubert Recordings with Michael Endres
· Now in a new 10 CD Package together with the complete recording of all Dances, Waltzes and Ecossaises
· incl. Booklet with all important informations (also in English Version)
· Special price!



Weitere Bilder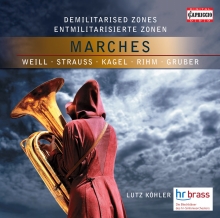 KAGEL: 10 Marches to miss the victory · H.K.GRUBER: Demilitarised Zone · WEILL: Kanonensong ...
hr brass
C5121 PC: 01 845221051215
hr-brass
is not a marching band but the brass section of one of the great German symphony orchestras. But even an ensemble like this stands in the
centuries-old tradition of music, with "trumpets and drums" which, at least quantitatively, has its centre of gravity in the military and ceremonial sphere. Therefore it attracted the Frankfurt musicians to take a stand with their
own production on the subject of marches.
The music on the present CD reflects the diverse feelings which appear thereby. Some of the 20th-century compositions assembled here are to be understood against this background: in one way or another they react musically to the political misuse of music. Central to these are the 10 Marches to miss the victory by Mauricio Kagel. The unmilitarised zones by HK Gruber are islands of peace in a
chaotic sequence of the most varied march fragments that go from the Badenweiler March via Sousa's Washington Post march to the Hungarian march of Berlioz.



Weitere Bilder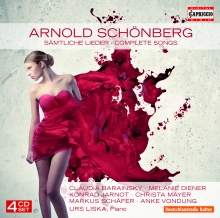 Sämtliche Lieder · Complete Songs
Claudia Barainsky · Melanie Diener ·Konrad Jarnot · Markus Schäfer · Urs Liska, piano
4CD-Box · C7120 PC: 23 UPC: 8452210571206
· First Complete Recording of the Songs For Voice And Piano by Arnold Schönberg
· Top Singers like CLAUDIA BARAINSKY · MELANIE DIENER · KONRAD JARNOT · MARKUS SCHÄFER · CHRISTA MAYER · URS LISKA, piano
· incl. Gurre-Lieder (Early Version for voice and piano) Fifteen poems from "The book of the hanging gardens · Brettl-Lieder · Early Songs

Weitere Bilder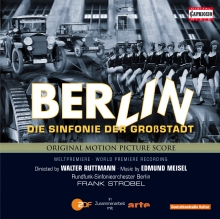 ORIGINAL MOTION PICTURE SCORE · Music: Edmund Meisel
Rundfunk-Sinfonieorchester Berlin · Frank Strobel
C5067 PC: 21 UPC: 845221050676
ORIGINAL

MOTION

PICTURE

SCORE

(World Premiere Recording)
first complete new recording of the original score
Erste vollständige Neu-Aufnahme der Originalpartitur

After the successful release of the Original Motion Picture Score "Metropolis" (Capriccio CD C5066) another Masterpiece of the "Stummfilm-Era" will be realeased. Again in Co-Operation with the German Television

ZDF

and

ARTE

this movie is now completely renewed as movie and as well with a completely new recorded soundtrack after the original score by the composer Edmund Meisel (1894-1930). Film Music Expert and conductor Frank Strobel delivers a full range and deep impressive soundtrack with the Radio-Sinfonieorchester Berlin for the new TV-, Cinema-, and CD-Version.
Weitere Bilder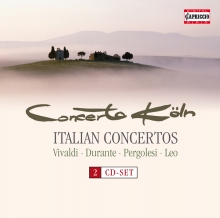 Francesco Durante · Antonio Vivaldi · Leonardo Leo · Giovanni Battista Pergolesi

2CD-Set: C5132 PC: 21 UPC: 845221051321
"The genius of the musician subjects the whole universe to his art … So if you
wish to know if any spark of this consuming fire burns in you, then fly in haste to Naples and hear the masterpieces of Leo, Durante, Jomelli and Pergolesi." (Jean-Jacques Rosseau, 1767).
Beside some matserpieces of Antonio Vivaldi, these 2CD-Set includes rarities of neapolitanian composers, like Francesco Durante or Leonardo Leo. Compositions rediscovered and recorded by the musicians of CONCERTO KÖLN with worldwide appreciation and honour.

Weitere Bilder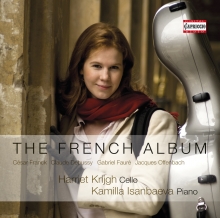 Harriet Krijgh, cello · Kamilla Isanbaeva, piano
Franck · Debussy · Fauré · Offenbach
C5131 PC: 21 UPC: 845221051314

César Franck (1822–1890): Sonata for piano and violin (cello) in A Major Op.14
Claude Debussy (1862–1918): Sonata for cello and piano in d minor
Gabriel Fauré (1845–1924): Sicilienne Op. 78 · Èlègie Op.24 · Après un rêve
Jacques Offenbach (1819–1880): Les larmes de Jacqueline Op.76 No.2

HARRIET KRIJGH, Violoncello / cello
KAMILLA ISANBAEVA, Klavier / piano

The Debut Album of a young and exciting artist:
Harriet Krijgh was born in the Netherlands in 1991. She received her first cello lessons at the age of five. In 2000 she was admitted to the class of young talents at the Utrecht School of Arts, where she was taught by Lenian Benjamins. In 2004 Harriet moved the centre of her life to Austria to study cello performance with Lilia Schulz-Bayrova and Jontscho Bayrov at the Konservatorium Wien University.
Between 2008 and 2010 Harriet participated in several competitions. Among others, she received a first prize and the audience award at the Dutch Prinses Christina Concours, a first prize with excellence at the Austrian national competition Prima la Musica, a first prize and the Nicole Janigro Prize at the international Antonio Janigro Cello Competition in Croatia, as well as a first prize at the Fidelio competition in Vienna. As soloist artist Harriet is a member of the Live Music Now Foundation, which was established by Yehudi Menuhin.
Harriet Krijgh performs on a cello built by Hendrik Jacobs in Amsterdam in 1690,
which was placed at her disposal by the Dutch Nationaal Muziekinstrumentenfonds in
2011.

Weitere Bilder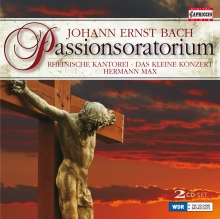 Passionsoratorium / Passion Oratorio (1764)
Rheinische Kantorei · Das Kleine Konzert · Hermann Max
2CD-Set: C5122 PC: 21 UPC: 845221051222



Passionsoratorium (1764)
für Sopran, Alt, Tenor, Bass, Chor, 2 Flöten, 2 Oboen, 2 Fagotte,
2 Hörner, Streicher und Basso continuo
Passion Oratorio (1764)
for soprano, alto, tenor, bass, chorus, 2 flutes, 2 oboes, 2 bassoons,
2 horns, strings and continuo

Das Vertrauen der Christen auf Gott
Eine Ode auf den 77. Psalm für Tenor, Chor und Orchester
An Ode on the 77th Psalm for tenor, chorus and orchestra

Meine Seele erhebt den Herrn
Motette für Soli, vierstimmigen Chor, Streicher und Basso continuo
Motet for solo voices, four-part chorus, strings and continuo

BARBARA SCHLICK, MARTINA LINS, Sopran / soprano · SILKE WEISHEIT, Alt / contralto · DAVID CORDIER, Countertenor · CHRISTOPH PRÉGARDIEN, MARTIN SCHMITZ, Tenor
STEPHEN VARCOE, HANS-GEORG WIMMER, Bass
RHEINISCHE KANTOREI · DAS KLEINE KONZERT
HERMANN MAX, Dirigent / conductor

One of the peculiarities of today's concert world is that from the rich tradition provided by the former genre of the Passion of Christ set to music, only two works have been able to establish temselves permanently – the two monumental Passions by Johann Sebastian Bach. The Passion Oratorio by Johann Ernst Bach, the nephew, godson and pupil of Johann Sebastian, is one of the lesser-known works. To this day, J.E. Bach's own vocal works have not been documented, indeed, they have not even been completely catalogued. It is possible with some difficulty to trace about 20 compositions. In order to be able to correctly assess his musical achievement, reference must also be made to the other music of Johann Ernst Bach's day and age. Despite his isolation in Eisenach in Thuringia, he was in no way cut off from the contemporary musical developments taking place in the large musical centres of Berlin, Dresden and Hamburg. With his explicit commitment to sacred music, Johann Ernst Bach occupies an extremely isolated position among the Protestant German composers of the second half of the 18th century. For Carl Philipp Emanuel and Wilhelm Friedemann Bach, for example, the production of sunday cantatas was
one of the more tiresome duties associated with their professional existence. On this point, Johann Ernst Bach took a very different view. Although the religious works of both Telemann and J. S. Bach were, in his opinion, "admirable masterpieces", he strongly criticised the decay of sacred music during his own generation and demanded that this be counteracted by "artistic and regular styles of composition".



Weitere Bilder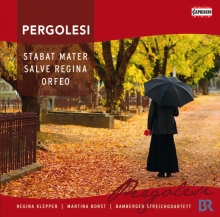 Giovanni Battista Pergolesi
Klepper · Borst · Bamberger Streichquartett
C5130 PC: 01 UPC: 845221051307


Stabat Mater
für Sopran, Mezzosopran, Streicher und Orgel (1736)
for soprano, mezzo-soprano, strings and organ
Salve Regina
für Mezzosopran, Streicher und Basso continuo (1736)
for mezzo-soprano, strings and continuo
Orfeo
Kantate für Sopran, Streicher und Basso continuo
Cantata for soprano, strings and continuo

REGINA KLEPPER, Sopran / soprano
MARTINA BORST, Mezzosopran / mezzo-soprano
BAMBERGER STREICHQUARTETT
STEFAN ADELMANN, Kontrabass / double-bass
BERTHOLD HÖPS, Cembalo & Orgel / harpsichord and organ

GIOVANNI BATTISTA PERGOLESI is one of those extraordinary musical figures who must be credited both with being outstanding creative geniuses and dying an untimely death. In his life-story, as in his epoch-making work, he has much in common with Mozart and Richard Wagner even spoke of him as a "génie supérieur". What is more, only five years in all were granted him for creative composition before he succumbed at an early age to an insidious tuberculosis. Scarcely anyone, perhaps, has described Pergolesi's vocal works more splendidly and with more understanding than the philosopher and pedagogue Jean-Jacques Rousseau, author of the Dictionnaire de musique that was extremely widespread in the 19th century, when he wrote: "Here everything contributes to deepening the effect of the text: the harmony serves only to shape it more forcefully, the accompaniment embellishes it without distorting it. in a word, the whole work of art simultaneously communicates one melody to the ear and only one idea to the mind." This CD offers 3 Masterpieces recorded by the long time Duo REGINA KLEPPER and MARTINA BORST, accompanied by the BAMBERG STRING QUARTET.



Weitere Bilder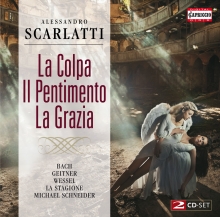 Oratorium / Oratorio (1708)
La Stagione · Michael Schneider
2CD-Set: C5126 PC: 21 UPC: 845221051260

SCHULD, REUE UND GNADE · SIN, REPENTANCE AND GRACE
Oratorio per la Passione di Nostro Signore Gesù Cristo
Text von / Libretto by: Kardinal Pietro Ottoboni (1667-1740)

In 1708 the celebration of Easter and the Passion in Rome was dominated by two
outstanding musical events: Here, within an interval of four days (from the Wednesday to the Easter Sunday) were performed two oratorios in which a remarkable amount of the most elaborate effort had been invested and which reflected sequentially the Passion and the Resurrection: the Passion oratorio composed by the Italian "doyen" Alessandro Scarlatti was followed by the "Resurrezione" by G.F. Handel, the young, talented 23-year-old Saxonian genius. Whereas the "Resurrezione" has found some new acclaim following the Handel renaissance, Scarlatti's oratorios, like all his vocal works (apart from a few uncharacteristic exeptions), has fallen into oblivion. This full-length work is among Scarlatti's most mature compositions and is certainly the most representative example of the type of passion music cultivated in Italy.
This genre is based on a totally different conception to that of Bach's passion music. His stylistical language was typical and had a determining influence on the period between the early baroque style of Monteverdi, Cesti and Cavalli and the development of the "galant" style of his pupil J.A. Hasse which leads directly into the classical period.


Weitere Bilder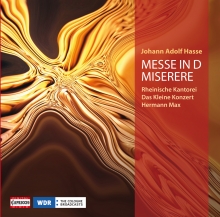 MESSE IN D · MISERERE
Rheinische Kantorei · Das Kleine Konzert · Hermann Max
C5125 PC: 21 UPC: 845221051253
Hasse's lifespan covers a period "between the epochs": he was almost a generation younger then Bach and Handel, who were born in 1685, but on the other hand a generation older than Haydn (b. 1732) and even two generations older than Wolfgang Amadeus Mozart (b.1756).
Hasse's music, however, from the outset was influenced by the new. Among his
contemporaries he was famous beyond all others. Hasse was not just any musician: he was one of the formative composers of his time, especially in the decades between 1730 and 1760. Hasse's Mass in D minor is a "number Mass" typical of its time, in which the five sections of the Ordinary of the Mass (Kyrie, Gloria, Credo, Sanctus, Agnus Dei) are subdivided into fifteen smaller passages of text with their own musically independent movements. In style the Mass displays a trend similar to the Italian but also Hasse's personal style become clear: with virtuosity, elegant melodic lines coupled with the course of the voice parts, harmony "pre-classically" two-dimensional, at the same time as rich in chromaticism, chords of the seventh and bitter suspensions.

Weitere Bilder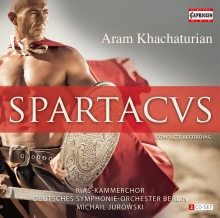 Ballet in 3 Acts (Complete Recording)
Deutsches Symphonie-Orchester Berlin · Michail Jurowski
C5112 PC: 21 UPC: 845221051123
in the

BOLSCHOI

THEATRE

MOSKOW

Version
nach der Fassung des

BOLSCHOI

THEATERS

MOSKAU




K
hachaturian's music is strongly stamped by the tradition of his Caucasian homeland, and consequently feels as much at home in Azerbaijan as in Georgia. His music is conventional, so catchy that, for example, the
BBC
chose the
Adagio
from Act 3 of his ballet
Spartacus
as title-music for the soap opera series "The Onedin Line", broadcast worldwide. First sketches for the Spartacus subject were already written in 1940, but completion of the ballet
Gayaneh
and the world war delayed their continuation. Not until 1952 was work on
Spartacus
finished, and in
1956 the first performance took place by the Kirov Ballet in the Kirov Theatre in Leningrad, in the choreography by Leonid Banyaminovich Jakobson. It was Khachaturian's last great work. soon after the Leningrad première doubts were
expressed about the choreography. For Moscow, lgor Moiseyev then mounted a new production in 1956, which also, however, failed to convince. In 1968,
again for Moscow, the ballet was completely newly constructed according to plans by Yuri Grigorovich for the Bolshoi Theatre. In this version
Spartacus
had worldwide success; it also forms the basis for the present recording.
Weitere Bilder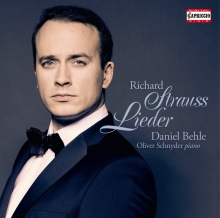 Lieder
Daniel Behle, tenor · Oliver Schnyder, piano
C5110 PC: 21 UPC: 845221051109
Seen from the outside it may seem as if everything has gone pretty fast; four CDs of songs within two years, a Zauberflöten-recording under René Jacobs and in addition, continuous opera- and concert engagements. In reality, what may now seem as a »breakthrough« has been prepared by Daniel Behle over the long term. Also, the plan to record pieces by Richard Strauss after songs by Schubert, Schumann, Beethoven, Grieg, Brittan and Trojahn has developed over the years. Thus, the singer systematically broadened his repertoire on the stages of opera houses and concert halls as well as on recordings. »I am a lyrical Tenor and as such, one just gets introduced to the Schöne Müllerin, later to the Dichterliebe and eventually to the Winterreise (although I allow myself more time for that one) in the course of one's studies. At the moment I am quite happy to have opened another page besides the lightly lyrical: to dip into the late romantic era and to discover the outgoing, active and hands-on aspects of the period.«

Weitere Bilder
Liebesfreud - Liebesleid · Caprice Viennoise · Corelli Variations
Budapest Strings · Béla Bánfalvi
C5120 PC: 01 UPC: 845221051208
For decades, Fritz Kreisler left the music world under the
misapprehension that he had found compositions by Cartier, Couperin, Dittersdorf,
Padre Martini, Porpora, Pugnani, Stamitz or Vivaldi in monasteries and castle archives and arranged these himself for violin and piano. He left questions as to the original sources unanswered. A number of friends knew all about how the public had been misled, but did not consider this to be deceitful or ruthless and had kept quiet: Efrem Zimbalist, Jascha Heifetz, Georges Enescu, and chiefly Kreisler's accompaniment on the piano, Franz Rupp, were some of these.. For they all knew the nature of this charming, almost casually relaxed violinist, who, for David Oistrach, was the "summit of violin art". At sixty, he then publicly and freely admitted that he had played a superb joke around thirty years before: he had concealed most of his own works behind the names of masters of the 17th and 18th centuries (he had generously omitted to draw the royalties payable to the author). The piano-accompanied miniatures (arranged here for strings) which caused offence to many a duped critic sixty years ago are part of the relaxing "Encores" of every great violinist today.


Weitere Bilder
Books I & II / Complete Recording
Christine Schornsheim, harpsichord
4CD · C7115 PC: 22 UPC: 845221071152
Christine Schornsheim, one of the most eminent specialists for historic keyboard instruments, has finalised her recordings of Bach's Wohltemperirtes Clavier on the Ruckers-Harpsichord at the Musée Unterlinden in Colmar this year. Only a few specimens by the celebrated harpsichord maker from 17th century Antwerp have survived and are still fully functional today.
"It is the most beautiful instrument I know, a nightingale: modest on the outside but its sound bedazzles. It is earthy, warm and singing, with a bright responsiveness; it has everything that is essential for Bach's polyphonic music."
Christine Schornsheim on the Ruckers-Harpsichord in Colmar

Weitere Bilder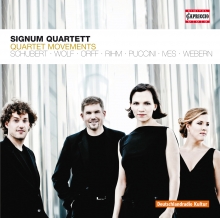 Schubert · Wolf · Puccini · Orff · Webern · Rihm · Ives

C5064 PC: 21 845221050645
SCHUBERT: Quartet Movement D 703 · WOLF: Italian Serenade
PUCCINI: Crisantemi · ORFF: Quartet Movement op.22 · WEBERN: Langsamer Satz · RIHM: Quartet Movement · IVES: Scherzo

In a single Phrase – Quartet Movements between Attempt and Perfection
Arnold Schönberg once remarked on his student Anton von Webern that he was able to "express an entire novel with a single gesture". In doing so, the composer arrived at the maximal condensation of expression through small dimensioned designs.
Hugo Wolf composed his one-movement serenade for string quartet within three days and Giacomo Puccini wrote a melancholic quartet movement in C sharp minor in a single night as he claimed himself. With this interesting Edition of musical fragments and Quartet Movements which found their ways to the concert schedules worldwide, the young SIGNUM QUARTET presents his second album after the successful release of the recording of String Quartets by Ludwig Thuille (Capriccio C5049). Again with a wide range dynamic and fresh performance.



Weitere Bilder