releases
2016releases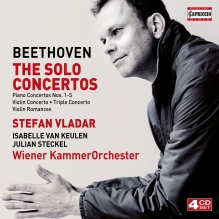 Piano Concertos Nos. 1-5 · Triple Concerto · Violin Concerto · Violin Romances
Isabelle van Keulen · Julian Steckel · Wiener KammerOrchester · Stefan Vladar, piano & conductor
4CD-Box · C7210 PC: 23 845221072104
In conjunction with his Viennese Chamber Orchestra, the Austrian pianist and conductor Stefan Vladar presents a new studio production of the solo concertos by Ludwig van Beethoven. He does so in proven twin function in the spirit of Viennese musical tradition:
"As a pianist and conductor in one person, it is possible to convey a better overall impression of these concertos and I understand this more than expanded chamber music as pure solo concertos with orchestra." (Stefan Vladar)
Supported by high-quality soloists, the virtuoso concertos experience a contemporary performance somewhere between tradition and a chamber musical interpretation: "With Beethoven, you have to have stamina as well as perfection and great vision. Actually, you have to be able to perform almost superhuman things." (Isabelle van Keulen)
This is a new and fascinating sound document from the musical metropolis of Vienna: "Of course, performing music in Vienna is something very special. Here, there is a natural understanding, an energy and a passion for music that is by no means common." (Julian Steckel)





Weitere Bilder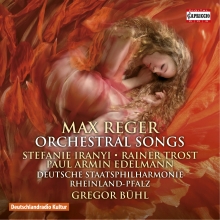 Iranyi · Trost · Edelmann
Deutsche Staatsphilharmonie Rheinland-Pfalz · Gregor Bühl
C5275 PC: 21 845221052755
Up to today, it has largely remained unnoticed that Max Reger, who enlarged his oeuvre work by work in literal 'piece work', again and again turned to arranging works by others in order 'to recuperate' from his own composition. Whereas Reger's original works for voice and orchestra are mainly related to the genre of the orchestral song with a tradition cultivated in France, but also in England, the arrangements were largely composed following performance-technical considerations.

Weitere Bilder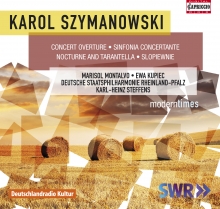 Concert Overture, op. 12 · Slopiewnie, op. 46bis · Sinfonia Concertante (Symphony No. 4), op. 60 · Nocturne and Tarantella op. 28
MARISOL MONTALVO · EWA KUPIEC · DEUTSCHE STAATSPHILHARMONIE RHEINLAND-PFALZ · KARL-HEINZ STEFFENS
C5280 PC: 21 845221052809
He ranks as one of the many lone wolves and practically outsiders in music, as one of those composers thoroughly familiar to pundits, but whose works were all too often ousted from the concert repertoire by more popular contempories. A clear 'progression' can be discerned in Szymanowski's musical development. Whereas he was influenced by late Romantcism in his earliest works, after the middle of the First World War (i.e. the time of his return home) he was particularly attracted to Impressionism. From the works of this period on, he still remained committed to tonality, but goes to its very limits. Moreover, the orchestral works are usually accompanied by a lush and beguiling ecstasy of colours paralled most likely in the music by Alexander Scriabin.

Weitere Bilder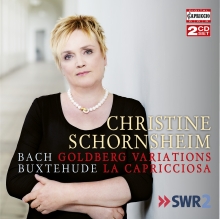 Buxtehude: La Capricciosa
Bach: Goldberg Variations
C5286 (2CD) PC: 21 (Special Price) 845221052861
'Like for many harpsichordists and pianists, for me, too, the Goldberg Variations rank among the most significant works of clavier literature. I listened to my first recording, produced 25 years ago, only to notice that over the course of the years I have remained true to myself in many respects. On the other hand a process of maturation has taken place, the outcome of which I now indeed wanted to document, simply because the variations are a part of my life. Linking the Goldberg Variations to La Capricciosa by Dietrich Buxtehude originated in an idea that had established itself in my mind for many years.'
Christine Schornsheim

Weitere Bilder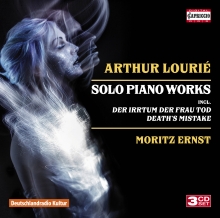 Solo Piano Works
Moritz Ernst, piano
3CD-Set · C5281 PC: 22 845221052816
COMPACT DISC 1
Cinq Préludes fragiles op. 1 (1908-1910) · Deux Estampes (1910)
Mazurkas op. 7 (1911-1912) · Quatre Poèmes op. 10 (1912-1913) · Deux Poèmes op. 8 (1912) · Masques (Tentations) op. 13

COMPACT DISC 2
Menuett (nach Gluck) (1914) · Synthèses op. 16 (1914) · Formes en l'air (1915) · Dvevnoj uzor (Tagesordnung) (1915) · Rojal'v detskoj (Klavier im Kinderzimmer) (1917) · 3. Sonatine (1917) · Upman (Smoking Sketch) (1917) Nash Mash (Our March) (1918) · Toccata (1924) · Valse (1926)

COMPACT DISC 3
Petite suite en fa (1926) · Gigue (1927) · Marche (1927) · Nocturne (1928) Intermezzo (1928) · Berceuse de la chevrette (1936) · A Phoenix Park Nocturne (1938) Ošibka baryšni smerti (Der Irrtum der Frau Tod / Death's Mistake)

MORITZ ERNST, Klavier / piano
OSKAR ANSULL, Sprecher / narrator

When we endeavour to grasp the composer Arthur Lourié, we encounter some difficulties. He was born as Naum Izrailevich Lur'ya in 1892, according to his own statements and documents, but there is also evidence for 1891. At the age of 21, the born Jew converted to Christianity; he was a charismatic bohemian and Soviet cultural politician who did not return from a so-called official journey to Berlin in 1922 and was a pioneer of Modernism in music, enjoying mingling among the poets and painters of the Silver Age and being inspired by them. His musical oeuvre is just as multi-faceted and diverse. During his years in Russia, he composed the most differing works next to one another, true to the precept of his role model Ferruccio Busoni that a composer should never repeat himself and has to find a new artistic solution for every work, as it were. But the pieces from his exile in France (1924-1941) paradoxically often sound more Russian than those written in Russia. However, Lourié's 10-year collaboration and partly also friendship with Igor Stravinsky interestingly found no expression in his piano works. Stravinsky's percussive piano style remained alien to him.

Weitere Bilder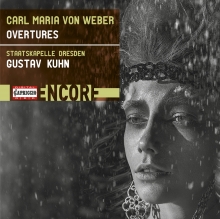 Euryanthe · Der Freischütz · Abu Hassan · Preziosa · Beherrscher der Geister · Oberon · Jubel-Ouvertüre
STAATSKAPELLE DRESDEN · GUSTAV KUHN
Capriccio encore C8009 PC: 01 (Special Price) 845221080093
CAPRICCIO Encore is a series of re-releases of the most famous recordings from CAPRICCIO's back catalogue, fully re-mastered and competitively priced. The legendary recordings of artists such as Sandor Végh, Ton Koopman, Sir Neville Marriner and the Vienna Boys' Choir also contain repertoire highlights that have a particularly special appeal, from the baroque to the present day.
Weitere Bilder
JOHANN CHRISTIAN BACH · CARL PHILIPP EMANUEL BACH · WILHELM FRIEDEMANN BACH · JOHANN CHRISTOPH FRIEDRICH BACH
CONCERTO KÖLN · WERNER EHRHARDT
Capriccio encore C8007 PC: 01 (Special Price) 845221080079
JOHANN

CHRISTIAN

BACH

(1735-1782)
Sinfonie g-moll / Sinfonia in G minor
op. VI, 6
CARL

PHILIPP

EMANUEL

BACH

(1714-1788)
Cembalokonzert g-moll / Harpsichord Concerto in G minor
Wq 6
WILHELM

FRIEDEMANN

BACH

(1710-1788)
Adagio und Fuge d-moll / Adagio and Fugue in D minor
Falk 65
Sinfonia D-Dur / in D major
Falk 64
JOHANN

CHRISTOPH

FRIEDRICH

BACH

(1732-1795)
Sinfonia d-moll / in D minor
Wfv I/3
Sinfonia Es-Dur / in E flat major
Wfv I/10
Gerald Hambitzer
,
harpsichord solo
CONCERTO

KÖLN
·
WERNER
EHRHARDT
CAPRICCIO
Encore is a series of re-releases of the most famous recordings from
CAPRICCIO
's back catalogue, fully re-mastered and competitively priced. The legendary recordings of artists such as Sandor Végh, Ton Koopman, Sir Neville Marriner and the Vienna Boys' Choir also contain repertoire highlights that have a particularly special appeal, from the baroque to the present day.
Weitere Bilder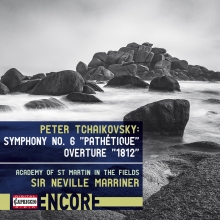 Symphony No. 6 in B minor, Op. 74 "Pathétique" · Overture Solennelle "1812", op. 49
Academy Of St Martin In The Fields · Sir Neville Marriner
Capriccio encore C8005 PC: 01 (Special Price) 845221080055
CAPRICCIO Encore is a series of re-releases of the most famous recordings from CAPRICCIO's back catalogue, fully re-mastered and competitively priced. The legendary recordings of artists such as Sandor Végh, Ton Koopman, Sir Neville Marriner and the Vienna Boys' Choir also contain repertoire highlights that have a particularly special appeal, from the baroque to the present day.
Weitere Bilder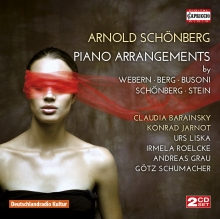 PIANO ARRANGEMENTS by Anton Webern · Ferruccio Busoni · Alban Berg
CLAUDIA BARAINSKY · KONRAD JARNOT · URS LISKA · ANDREAS GRAU· GÖTZ SCHUMACHER · IRMELA ROELCKE
2CD: C5277 (August 16) PC: 21 (Special Price) 845221052779
COMPACT DISC 1
Gethsemane (Fragment) · Text: Richard Dehmel
Piano score by / Klavierauszug von Arnold Schönberg
Gurre-Lieder (Orchestral Parts / Orchesterstücke)
Arr.: Anton Webern (1883 – 1945)
for 2 pianos with 4 players / für zwei Klaviere mit 4 Spieler
Six Orchestral Songs / Sechs Orchesterlieder, op. 8
Piano score by / Klavierauszug von Anton Webern
Piano Piece op. 11, No. 2 / Klavierstück op. 11, Nr. 2
arr.: Ferruccio Busoni (1866 – 1924)

COMPACT DISC 2
Six Little Piano Pieces / Sechs kleine Klavierstücke, op. 19
String Quartet / Streichquartett Nr. 2, op. 10
Piano Score by / Klavierauszug von Alban Berg (1885 – 1935)
5 Pieces for orchestra, op. 16
arr.: Erwin Stein (1885 – 1958) / arr.: Anton Webern
Chamber Symphony / Kammersinfonie Nr. 2, op. 38b
arr.: Arnold Schönberg
for 2 pianos with 2 players / für zwei Klaviere mit 2 Spieler

CLAUDIA BARAINSKY, Sopran / soprano
KONRAD JARNOT, Bariton / baritone
Klavier / piano:
URS LISKA · ANDREAS GRAU · GÖTZ SCHUMACHER · IRMELA ROELCKE

After the great success of the complete recordings of the songs by Arnold Schoenberg (Capriccio 4CD-Set, C7120), the pianist Urs Liska and prominent colleagues once more deal with the father figure of Modernism on this double CD. Piano arrangements with up to four players, the majority of them world premiere recordings, show large-scale orchestral works such as the Gurre-Lieder or the Orchestral Pieces op. 16 in a new and transparent light.

Weitere Bilder
Variations on a Hussar's Song · Fantasia for piano and orchestra · Chaconne for orchestra
JASMINKA STANČUL · DEUTSCHE STAATSPHILHARMONIE RHEINLAND-PFALZ · ALEXANDER RUMPF
C5274 PC: 21 845221052748
When we speak today about Schmidt's main works, his exemplary organ works and the oratorio The Book with Seven Seals will certainly come to mind first. On this recording are some rarities like the Fantasia for piano and orchestra in B flat major, presumably dating to 1899, in which Schmidt anticipates material from his successful opera Notre Dame. Considered lost for some time, the premiere of the fantasia took place only more than a century after its composition, in the Vienna Musikverein on 8 November 2013. Formally, variation works always held a special appeal for Schmidt, be it in terms of thematic elaborations or in the form of his large-scale Chaconne. In its orchestral version of 1931, it represents an arrangement of the Chaconne for Organ in C sharp minor. The premiere of the chaconne took place during a subscription concert by the Vienna Philharmonic conducted by Clemens Krauss in 1933. The distinguished conductor was also the dedicatee of the Variations on a Hussar's Song for Orchestra, composed the same year as the instrumentation of the chaconne. They were also premiered by the Vienna Philharmonic under Clemens Krauss in 1931, was repeated by the same performers at the Salzburg Festival that summer and then played by the New York Philharmonic with Bruno Walter for the first time in the USA in February 1932.

Weitere Bilder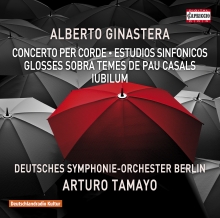 Estudios sinfonicos · Glosses sobra temes de Pau Casals · Iubilum · Concerto per corde
DEUTSCHES SYMPHONIE-ORCHESTER BERLIN · ARTURO TAMAYO
C5271 (August 16) PC: 21 845221052717
SOUND SAMPLE
https://soundcloud.com/user-592952001/alberto-ginastera-new-cd

After achieving independence from Spain an autonomous concert and opera life developed in Argentina, in many respects trained in European traditions: Astor Piazolla, the founder of the Tango Nuevo, should be mentioned here, as well as Mauricio Kagel, Carlos Gardel and finally the personality that has been considered for decades the great man of classical-style music in the South American country: Alberto Ginastera. Three of the works recorded here fall into this final period, the 'Neo-Expressionist' one. The Concerto per corde op. 33 (1965), held in the classical four movements, Estudios sinfonicos op. 35 (1967), one of Ginaster's orchestral works experimenting furthest with sytlistic devices of the avant-garde and a special position within the works of the third period is taken by the Glosses sobra temes de Pau Casals op. 48 (1976/77), as it takes recourse to very traditional material – themes by the great Spanish cellist Pablo Casals – treating it in a kind of reflection in an avant-garde mirror.

Weitere Bilder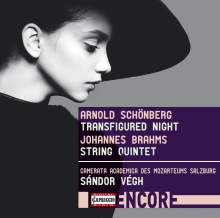 Camerata Academica des Mozarteums Salzburg
Sandor Végh
Capriccio encore C8004 PC: 01 (Special Price) 845221080048
With CAPRICCIO Encore we re-release most famous recordings from the Backcatalogue in a remastered version, new design and for a special price. Legendary recordings of artsts like Sandor Végh, Ton Koopman, Sir Neville Marriner or the Vienna Boys' Choir are also included as special repertoire highlights from the baroque to the contemporary era.

To his opponents and detractors, Brahms was for long considered a composer whose powers of invention were handicapped by excessive respect for tradition, and who, in a period of the hegemony of opera and sumptuously sonorous symphonic poems, had squandered his considerable compositional technique on old forms and genres like symphony, folksong, variations and chamber music. Then in 1933 Arnold Schönberg (in "Brahms the progressive") set against the conventional portrait of the musical conservative and imitator the image of the progressive composer who in his works had even demonstrated a new beginning. In his technique of "developed variation" (Schonberg) he formed from narrowly circumscribed material (at the extreme, from a single interval) far-reaching formal connections and replaced the "architectonic " by the "logical" form.
Weitere Bilder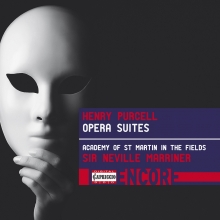 THE FAIRY QUEEN · DIOCLESIAN · KING ARTHUR · THE INDIAN QUEEN
Academy Of St Martin In The Fields · Sir Neville Marriner
Capriccio encore C8001 PC: 01 (Special Price) 845221080017
With CAPRICCIO Encore we re-release most famous recordings from the Backcatalogue in a remastered version, new design and for a special price. Legendary recordings of artsts like Sandor Végh, Ton Koopman, Sir Neville Marriner or the Vienna Boys' Choir are also included as special repertoire highlights from the baroque to the contemporary era.

Purcell 's contemporaries admiringly referred to him as an Orpheus Britannicus, and the appellation shows that they were well aware of the composer 's unique standing. The respect accorded Purcell in his own lifetime – something that would have made him the envy of many composers less fortunate in this respect – was entirely deserved, for he occupies an outstanding position in the history of 17th century English music, and remains to this day one of the very greatest of English composers. Purcell 's sets of incidental music were rearranged to form suites during the composer 's lifetime, and were then published in the collections so popular at the time.
Weitere Bilder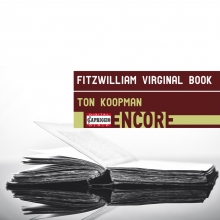 WILLIAM BIRD · JOHN BULL · GIOVANNI PICCHI · ORLANDO GIBBONS
Ton Koopman, harpsichord
Capriccio encore C8002 PC: 01 (Special Price) 845221080024
With CAPRICCIO Encore we re-release most famous recordings from the Backcatalogue in a remastered version, new design and for a special price. Legendary recordings of artsts like Sandor Végh, Ton Koopman, Sir Neville Marriner or the Vienna Boys' Choir are also included as special repertoire highlights from the baroque to the contemporary era.

The "Fitzwilliam Virginal Book" would never have been written if Francis Tregian had not been imprisoned in London's Fleet Street jail from 1609 until his death in 1619. Tregian, the offspring of a wealthy Catholic family, had been condemned for rebelling against the English crown. Friends brought him books and musical journals with which to pass the time, and Francis copied them. That is how the great collection – and other works – originated, consisting of 209 compositions for the virginal by various well-known and several lesser-known composers.
Weitere Bilder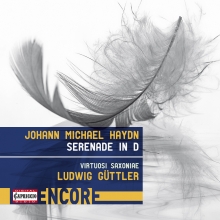 SERENADE IN D (Perger 87)
Virtuosi Saxoniae · Ludwig Güttler
Capriccio encore C8003 PC: 01 (Special Price) 845221080031
With CAPRICCIO Encore we re-release most famous recordings from the Backcatalogue in a remastered version, new design and for a special price. Legendary recordings of artsts like Sandor Végh, Ton Koopman, Sir Neville Marriner or the Vienna Boys' Choir are also included as special repertoire highlights from the baroque to the contemporary era.

In July, 1763 Johann Michael Haydn (1737-1806) arrived in Salzburg and promptly gave a performance at the prince bishop's summertime residential palace. It is noted in the court register that the table music was 'furnished by an outside composer from Vienna by the name of Michael Heiden''. Within a year's time, he had been commissioned to write a serenade. In Salzburg one had high expectations of the composer and newly-named (second) concertmaster Haydn, for it was traditionally the most respected composers of the court who received commissions by the university students to write such serenades. It was a custom in Salzburg to pay respects to the prince bishop at the conclusion of exams, usually in August or early September, by playing a serenade, sometimes called a "Finalmusik".
Weitere Bilder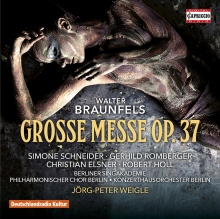 SCHNEIDER · ROMBERGER · ELSNER · HOLL
PHILHARMONISCHER CHOR BERLIN · BERLINER SINGAKADEMIE · KNABEN DES STAATS- UND DOMCHORES BERLIN · KONZERTHAUSORCHESTER BERLIN · JÖRG-PETER WEIGLE
C5267 PC: 21 UPC: 845221052670
Braunfels' hand at drama and his careful consideration of the text betrays the opera composer, not only in the Te Deum, but also in the Great Mass which he finished in 1926. Braunfels was at the height of his (from thereon never waning) musical powers and fame. The Great Mass isn't a liturgical work; the Mass speaks directly and very audibly from a sincere spiritual urge. "He is a high-romantic, solidly anchored in the German composition- culture, and yet he has a very unique language – sensationally well-orchestrated, as it happens – about him, which makes it so fascinating" (Weigle).


Weitere Bilder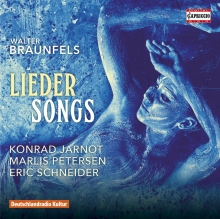 Selected Songs
MARLIS PETERSEN · KONRAD JARNOT · ERIC SCHNEIDER
C5251 PC: 21 UPC: 845221052519
Sechs Gesänge / Six Songs op. 1 (1902)
Fragmente eines Federspiels op. 7 (1904)
Sechs Gesänge / Six Songs op. 4 (1905)
Neues Federspiel op. 7 (1904)
Musik zu Shakespeares Komödie Was Ihr wollt, op. 11 (1908)
Music To Shakespeare's Comedy What You Will, Op. 11
Klärchen-Lieder op. 29 (1916)
Nachklänge Beethovenscher Musik op. 13 (1910)
Herbstgefühl (1917)
An die Parzen op. 27 Nr. 1
Zwei Lieder / Two Songs op. 44 (1932)
Walter Braunfels is a composer whose music died twice: Once when the Nazis declared his music "degenerate art". Then again when post-war Germany had little use for the various schools of tonal music; when the arbiters of taste considered any form of romantic music – almost the whole pre-war aesthetic – to be tainted. Post-war Europe had experienced (or rather: been prescribed) an aesthetic paradigm shift. Walter Braunfels had a hand at drama and his operas demonstrate his careful consideration of texts. This also shines through in his songs, with which he learned his craft and all but two of which he composed prior to The Birds. Marlis Petersen, whose fascination with Braunfels' "unique tonal language of a totally transparent structure and large late-romantic nature" began with two songs she got to sing earlier in her career, considers the Federspiele to be "real jewels of the art of Lied: simple, deeply touching airs."


Weitere Bilder
Variations On An Old French Nursery Song
PHILHARMONISCHES ORCHESTER ALTENBURG-GERA · MARKUS L. FRANK
C5250 PC: 21 UPC: 845221052502
Walter Braunfels was applauded as a pioneering representative of New Music. Leading conductors such as Hans Pfitzner, Ernst von Schuch, Bruno Walter, Arthur Nikisch and Wilhelm Furtwängler performed his orchestral works in major cities. But following the Nazi seizure of power in 1933, as a 'half-Jew' Braunfels also lost all his positions and was banned from performing or being performed. Braunfels' name was consistently deleted from musical literature and reference works. In his Classical and Romantic phantasmagoria Don Juan, in seven movements Braunfels varies themes and motifs from Mozart's opera Don Giovannni, premiered in 1787, deliberately placing himself in the tradition of German Classicism and Romanticism, which he sought to transfer into the 20th century with his own compositional means. Don Juan was premiered by Wilhelm Furtwängler in 1924.

Weitere Bilder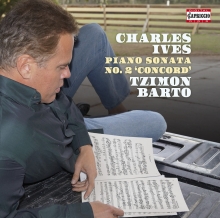 Piano Sonata No. 2, Concord, Mass.,1840–60 (1911-1915)
Tzimon Barto, piano
C5268 PC: 21 UPC: 845221052687
From weird and idiosyncratic, slightly crazy up to absolute genius – the assessment of the composer Charles Ives is today at least just as diversified as that of his main work for piano, the Concord Sonata. The four movements are based on four American writers of the 19th century who were all closely connected to the little town of Concord in Massachusetts, forming a centre of so-called Transcendentalism there. In the music, Ives does not draw musical portraits of the writers, who would hardly have inspired him to this extent in terms of their biographies. He rather allows himself to be guided by the moods that came to his mind roughly 50 years later in associations with their texts and the philosophy they advocated. Beside the difficult technical terms (complete dispensal with bar lines for long passages, also the use of clusters etc.) Tzimon Barto's interpretation is full of his well known sensitivity and shows us a new impressive access to this bombastic work of 20th century piano literature.

Weitere Bilder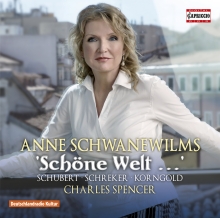 Schubert · Schreker · Korngold
Anne Schwanewilms, soprano · Charles Spencer, piano
C5233 PC: 21 UPC: 845221052335
With his personality characterized by emotional extremes, Franz Schubert was in no position to evoke a perfectly wonderful world in his songs. On the contrary, in his compositions he challenged any fine illusion with a subtle and sensual touch. Unlike Franz Schubert, for a long time Franz Schreker managed to create an idyllic, wonderful and successful world with his compositions. Sometimes, he was even more successful as a composer than Richard Strauss, to the latter's great chagrin. But then the Nazis came. Wonderful world, where are you?
Erich Wolfgang Korngold, he, too, a Jew, fled to the 'brave new world', to America.
Korngold achieved great fame with his film scores, but on the screen, everything is only a (fine) illusion.
Anne Schwanewilms

Weitere Bilder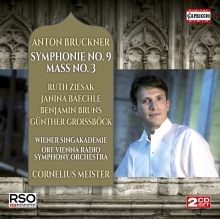 ZIESAK · BAECHLE · BRUNS · GROISSBÖCK
WIENER SINGAKADEMIE · RSO VIENNA RADIO SYMPHONY ORCHESTRA · CORNELIUS MEISTER
2CD-SET: C5247 PC: 21 (Special Price) UPC: 845221052472
What a struggle the work posed for the composer emerges from the circumstance that he already embarked on it in the late summer of 1887, but had not completed it by his death nine years later. If we take the existing music of the Ninth to hand, we will notice that only few symphonies evince such apparently 'autonomous' movements as this one – perhaps this very fact is a consequence of the absence of a finale rounding off the arch and concluding the dramaturgy. If Bruckner intended to dedicate the Ninth to 'my dear God', the Mass in F minor is a work of gratitude to God for recovery after a persistent nervous illness and physical exhaustion. Performed several times during Bruckner's lifetime, the Mass in F minor has uninterruptedly ranked ahead of its sister works in D minor and E minor among the popular church choral works of late Romanticism.

Weitere Bilder
Overture to a Chivalrous Play (1931) · 6 Bohemian Songs and Dances (1929) · Passacaglia for organ and large orchestra (1932)
JÖRG STRODTHOFF, organ · DEUTSCHES SYMPHONIE-ORCHESTER BERLIN · GERD ALBRECHT
C5272 PC: 21 UPC: 845221052724
Even it is a legend that the Prague-born composer Jaromir Weinberger committed suicide in American exile because he had not succeeded for decades in following up his opera Schwanda the Bagpiper with any of his later works. Nevertheless, the legend contains a grain of truth. It shows a 71-year-old composer far away from his beloved homeland, which he had had to leave in the course of its occupation by the Nazis and which was meanwhile ruled by the Communists under Soviet influence. But in general, Weinberger was just as little able to integrate in North American music life as he managed to draw on his earlier time in Europe after 1945. A consideration of many works by Weinberger today will have to take events of the time into account, but at the same time we will hardly be able to avoid seeing direct or indirect references to his one big success Schwanda the Bagpiper in many works.

Weitere Bilder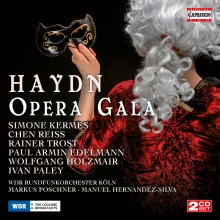 L'INFEDELTÀ DELUSA (HIGHLIGHTS) · LA VERA COSTANZA (HIGHLIGHTS)
SIMONE KERMES · CHEN REISS · RAINER TROST · THOMAS MICHAEL ALLEN · WOLFGANG HOLZMAIR PAUL ARMIN EDELMANN · JÜRGEN SACHER · IVAN PALEY WDR RUNDFUNKORCHESTER KÖLN MARKUS POSCHNER · MANUEL HERNANDEZ-SILVA
2CD-Set: C5255 PC: 21 (Special Price) UPC: 845221052557
Haydn Opera Rarities with Top Stars!
Although Joseph Haydn is still regarded above all as a master of instrumental music, he was also a contemporary of the future as an opera composer. For a not unsubstantial length of his life, he chiefly devoted himself to this genre; as the opera director of Prince Esterházy, he headed over a thousand opera productions in Esterháza including the 'hits' of the time as well as stage works of his own. It is unusual and a pointer to the future that women take control in both operas presented here. In addition, these female protagonists are people of flesh and blood, strong and pragmatic; the spirit of the Enlightenment can be sensed.

Weitere Bilder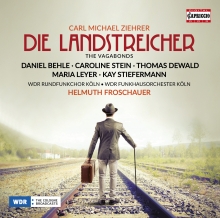 DIE LANDSTREICHER · THE VAGABONS
DANIEL BEHLE · THOMAS DEWALD · MARIA LEYER · KARL FÄTH · ANNELI PFEFFER · WDR RUNDFUNKCHOR KÖLN · WDR FUNKHAUSORCHESTER KÖLN · HELMUTH FROSCHAUER
C5261 PC: 21 UPC: 845221052618
In the field of entertainment music, Ziehrer's name was soon a quality brand in Vienna, especially as Carl Haslinger, Johann Strauss Jr.'s publisher, provided him with valuable assistance. Unlike Strauss, Ziehrer came from the piano, so he was not a standing leading violinist, but availed himself of a baton. He wrote countless orchestral compositions, above all waltzes, but also marches and polkas, including many that would be termed 'hits' today – as well as more than twenty stage works. Most of these operettas are almost forgotten today, and merely Die Landstreicher (1899) comes to mind. It is a merry and graceful work in a popular tone and with a slightly sentimental mood. This recording is another juwel for the Capriccio Operetta Edition who takes care of these unjustly forgotten composers and pieces.

Weitere Bilder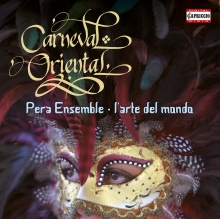 LULLY · CAMPRA · CESTI · ALLEGRI · CORELLI · SCARLATTI · HÄNDEL
PERA ENSEMBLE · l'arte del mondo · WERNER EHRHARDT
C5263 PC: 21 UPC: 845221052632
JEAN BAPTISTE LULLY: Passacaille (from the Opera "Armide", 1686) · Canaries (from "Bourgeois gentilhomme", 1670) ANDRÉ CAMPRA: Carnaval de Venise (Ballett-Oper / Ballet Opera, 1699 / Excerpts) · ANTONIO CESTI: Alma mia (from the Opera "L'Argia") · ANTONIO SARTORIO: Quando voglio / Ogni bella (from the Opera "Giulio Cesare") · LORENZO ALLEGRI: Canario, Il Primo Libro Delle Musiche · MARCO UCCELLINI: Aria Quinta: Sopra la Bergamasca · CLAUDIO MONTEVERDI: Lidia Spina del Mio Core · ARCANGELO CORELLI: La Follia · ANTONIO CESTI: Orontea · ALESSANDRO SCARLATTI: Se il mio dolor t'offende (from the Opera "Griselda") · GEORG FRIEDRICH HÄNDEL: Se teco vive il cor (from the Opera "Radamisto")

Francesca Lombardi Mazzulli, Sopran / soprano
Charlotte Quadt, Mezzosopran / mezzo-soprano
PERA ENSEMBLE
Mehmet C. Yeşilçay, Musikalische Leitung
l'arte del mondo
WERNER EHRHARDT, Dirigent / conductor

After the final siege of Vienna and the Turkish defeat, the Ottoman Empire had no longer been a threat. In private circles, pantaloons, caftans and turbans were now worn, the Turkish drink was appreciated and hookahs were smoked. The Alla Turca fashion found expression in Turkish operas. Il Seraglio by Mozart is probably the best-known work on this topic. However, since the early 17th century there have been dozens of operas, arias and instrumental compositions on the subject. The project Carneval Oriental receives its inspiration from this melting-pot of cultures, an exclusive blend of musical worlds. We celebrate carnival as it was probably held in the 16th and 17th centuries. The Pera Ensemble, which has been rediscovering these encounters between the Orient and the Occident as well as the turqueries and Alla Turca music for many years, meets up with the ensemble l'arte del mondo and offers Baroque music from France and Italy refined with oriental spices, arias and instrumental music in a new understanding of sound

Weitere Bilder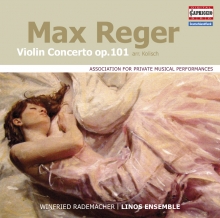 arranged for chamber ensemble by Rudolf Kolisch (1896-1978)
WINFRIED RADEMACHER · LINOS ENSEMBLE
C5137 PC: 21 UPC: 845221051376
'In my view, Reger must be played often; 1. Because he wrote a lot;
2. Because he is dead and we still do not have any clarity about him.
(I consider him a genius)
' Arnold Schönberg,1922
As little as it was perceived by the general public during its short existence, in accordance with its genesis, all the more remarkable were the effects and the aftereffects of the
Society for Musical Private Performances
, founded by Arnold Schoenberg in Mödling near Vienna in November 1918, especially as it was associated with the intention 'to give Arnold Schoenberg the opportunity personally to carry out his intention of providing artists and art lovers with a veritable and precise knowledge of Modern Music' (Alban Berg 1919). Special emphasis was placed on performing works by Mahler and
Max Reger
. The arrangement for the Association for Private Musical Performances was written by the violinist Rudolf Kolisch (1896–1978), a pupil of Schreker and a private student of Schoenberg after 1919, later also the latter's brother-in-law.
Weitere Bilder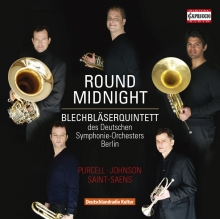 PURCELL · JOHNSON · BÖHME · SAINT-SAENS · FAURÉ
BLECHBLÄSERQUINTETT des Deutschen Symphonie-Orchesters Berlin
C5202 PC: 21 UPC: 845221052021
HENRY PURCELL: The Fairy Queen (Overture) · ROBERT JOHNSON: The Satyr's Dance · OSKAR BÖHME: Night Music Op. 44 · CAMILLE SAINT-SAENS: Danse macabre op. 40 · ROBERT BEASER: Brass Quintet · J. MARK SCEARSE: Enchanted Forest Suite · THELONIUS MONK & COOTIE WILLIAMS: Round Midnight · BURTON LANE: Old Devil Moon · GABRIEL FAURÉ: Requiem op. 48 (Pie Jesu)
BLECHBLÄSERQUINTETT
des Deutschen Symphonie-Orchesters Berlin
FALK MAERTENS & RAPHAEL MENTZEN, Trompete / trumpet
PAOLO MENDES, Horn / horn · ANDREAS KLEIN, Posaune / Trombone · JOHANNES LIPP, Tuba
When Round Midnight was published, Thelonius Monk was an outsider due to the extravagant harmony and the complexity of his music; he cultivated this image. With this elaborate polyphony, Monk ingeniously managed to translate the Romantic 'midnight piece' into the sphere of expression of jazz. Does the music of the night not really sound tender, seeming to come from afar or surfacing from the depths of dreams? Do brass instruments present a suitable medium for such subtle adjustments of the hearing sensitivity? On their instruments, today's virtuosos even in an ensemble, attain an ease and agility that sweeps away any prejudices about the massive nature of their appearance. They show themselves to be versatile as virtuosos of mimicry, no less appropriate for fairy-like magic than for gloomy abysses and the cutting acrimony of the macabre and horrific.

Weitere Bilder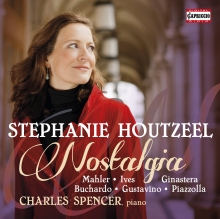 Ginastera · Ives · Mahler · Buchardo · Gustavino · Piazzolla
Stephanie Houtzeel, mezzo-soprano · Charles Spencer, piano
C5262 PC: 21 UPC: 845221052625
'I am neither an Athenian, nor a Greek, but a citizen of the world', Socrates is said to have uttered. He described himself as a cosmopolitan. A cosmopolitan was somebody who wanted to annul the dichotomy between being a polis member and a polis non-member by positioning himself in the overarching order of the cosmos. Along these lines, the mezzo-soprano Stephanie Houtzeel may, of course, describe herself as a cosmopolitan. Born in Kassel, she was raised in the vicinity of Boston, where she initially studied political science and French, then music at the New England Conservatory and the Juillard School in New York (she was the first winner of Juilliard's Vocal Arts Debut Award). Since the autumn of 2010, she has been a member of the ensemble of the Vienna State Opera. So, the dramaturgically meticulously composed programme of her first recital should be viewed as being cosmopolitan. It is a journey through three stations, three world metropolises, Vienna, New York and Buenos Aires.

Weitere Bilder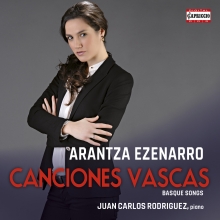 JOSÉ GONZALO ZULAIKA (Aita Donostia) (1886-1956) · FRANCISCO DE MADINA IGARZABAL (Aita Madina) (1907-1972)
ARANTZA EZENARRO, soprano · JUAN CARLOS RODRIGUEZ, piano
C5209 PC: 21 UPC: 845221052090
The pairing on this album is unquestionably apt, bringing together as it does works by perhaps the two most famous "aitas" – priests – in Basque music: Father José Antonio de Donostia and Father Francisco de Madina. Whatever the similarities and differences between the two men, the former born twenty-one years earlier than the latter, both composers succeeded in incorporating, with exquisite elegance, a profound sense of local folk traditions into their music, creating works that have since earned classic status in Basque culture. The soprano Arantza Ezenarro was born in San Sebastián in the Basque Area of Spain. With this Album she presents most sensitiv songs of her homeland.

Weitere Bilder