releases
2021 Releases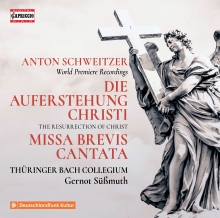 THE RESURRECTION OF CHRIST (1776) · CANTATA · MISSA BREVIS IN C MAJOR (1780)
Thüringer Bach Collegium · Gernot Süßmuth
2CD-Set · C5425 PC: 22 UPC 845221054254
Only few testimonies provide us any details about this now little known but once esteemed composer. Born in Coburg, 1735, Anton Schweitzer died 1787 in Gotha, where he had settled following the Weimar palace fire in 1774. Regrettably, only relatively few manuscripts have survived. Some of the works recorded here (which comprise almost the entire existing church music) have been preserved in several copies, which were recently found in different archives in Thuringia. This recording shows us a colorful virtuoso music of an unjustly forgotten composer.

Weitere Bilder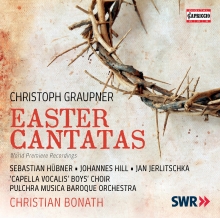 EASTER CANTATAS (World Premiere Recording)
Hübner · Johannes Hill · Jan Jerlitschka · capella vocalis Boys' Choir · PULCHRA MUSICA BAROQUE ORCHESTRA · CHRISTIAN BONATH
C5411 PC: 21 UPC: 845221054117
Die Furcht des Gerechten
Kantate zum Gründonnerstag,
GWV
1126/33 (1733) / Cantata for Holy Thursday
Eröffnet euch ihr Augenquellen
Kantate zum Karfreitag,
GWV
1127/25 (1725) / Cantata for Holy Friday
Der Sieg ist da
Kantate zum 1. Ostertag,
GWV
1128/43 (1743) / Cantata for the 1
st
Day of Easter
Ihr werdet traurig sein
Kantate zum 2. Ostertag,
GWV
1129/19 (1719) / Cantata for the 2
nd
Day of Easter
In 1711 Graupner was already appointed court conductor and he would continue to work in Darmstadt for the rest of his life. Graupner's focus shifted to sacred vocal music, which explains the sheer abundance of the 1,400-plus cantatas he composed. In 1723 the Leipzig city magistrates were looking for a new cantor at the Thomas School – and wanted him, above all. Alas, Graupner's patron did not release him from his contract an so they had to hire Bach. Graupner, famous and widely celebrated during his lifetime, was soon thereafter forgotten. As we rediscover and hear more and more of his works, however, the judgement of his contemporaries would appear to us as increasingly germane. The present recording spans the liturgical arc from Maundy Thursday via Good Friday and Easter Sunday to Easter Monday and presents one liturgical work for each of the festive days – and each of them a world premiere recording!
Weitere Bilder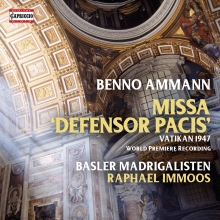 MISSA DEFENSOR PACIS ad 6–12 voces inaequales in honorem Sancti Nicolai Helvetii Eremitae (1946)
BASLER MADRIGALISTEN · RAPHAEL IMMOOS
C5415 PC: 21 UPC: 845221054155
Benno Ammann's oeuvre reveals influences from impressionism to free tonality, yet he belongs to no stylistic school. The Swiss composer wrote Missa Defensor Pacis ('Defender of the Faith') in 1946 for the official canonisation, at St Peter's in Rome, of Nicholas of Flüe, patron saint of Switzerland. This prestigious commission, with its complex polyphony, countless variations, and use of the cantus firmus technique, is one of the most important and extensive Masses by a Swiss composer for a cappella choir.

Weitere Bilder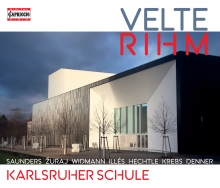 WOLFGANG RIHM · EUGEN WERNER VELTE · JÖRG WIDMANN · REBECCA SAUNDERS · JOACHIM KREBS
with: Reinhold Friedrich · Frank Dupree · Benedict Kloeckner · Sontraud Speidel · Martin Ostertag · Radiophilharmonie Saarbrücken
3CD-Set · C7367 PC: 23 UPC: 845221073675
The composers and educators Eugen Werner Velte and Wolfgang Rihm as well as alumni whose music is presented here demonstrate the characteristics of a school. The main function of an institution such as the University of Music Karlsruhe is first and foremost as a site for studies and second, a place for individual composition and pedagogic work. The Karlsruhe School is in no way a forced stylistic unit stubbornly passed along simultaneously as a solidified traditional framework. For 50 years, the University of Music Karlsruhe has radiated as a living,
recreative phenomenon of this artistic freedom, extending far into a shared future. In the music of alumni taught by Wolfgang Rihm, ideals of musical freedom and openness continue to resound in concrete form. Jörg Widmann, Rebecca Saunders and Markus Hechtle, among others, contribute to the further development of the unique Karlsruhe School at their professional homes.
Weitere Bilder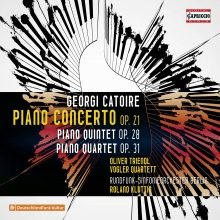 (1861-1926) Piano Concerto in A flat major, Op. 21 · Piano Quintet, Op. 28 · Piano Quartet, Op. 31
Oliver Triendl · Vogler Quartett · Rundfunk-Sinfonie-Orchester Berlin · Roland Kluttig
C5403 PC: 21 UPC: 845221054032
"Now I have come across someone who really has a great creative talent." (Peter Tchaikovsky)
Although the originality of his musical language paved the way for Russian modernism, Catoire's work still followed the artistic ideals of Russia and not the new culture of the Soviet Republic. His work is highly expressive and of enormous polyphonic density, greatest expressiveness, fine colors, rhythmic and harmonious scope. Catoire's music was almost never performed and his name remained almost unknown also to expert circles. He left behind 36 works including some symphonic pieces, a piano concerto, chamber music, songs and piano cycles. This music was written in the "fin de siecle", with its shine and nobility, but also with its fragility.
Weitere Bilder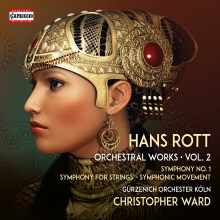 Symphony No.1 in E major · Symphony for strings · Symphonic Movement
GÜRZENICH ORCHESTER KÖLN · CHRISTOPHER WARD,
C5414 PC: 21 UPC: 845221054148
'Yes, he is so related to my very self that he and I are like two fruits from the same tree, produced by the same soil and fed by the same air.' (Gustav Mahler)
The premiere of the Symphony No. 1 in E major by Hans Rott, written more than 100 years earlier, in 1989 introduced the international music world to a composer who had been unknown or known only by name even to most pundits. His colleagues and friends included the one or two-year younger composers Gustav Mahler and Hugo Wolf. Besides Wagner, Bruckner was the most important model for Rott's first symphonic work. The symphony is the summum opus the not quite twenty-year-old left behind. It is his first and final finished major work. It is the synthesis of what he had written to date and a proclamation of what might have come.
Weitere Bilder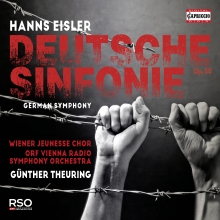 TARGLER · FAHLBUSCH-WALD · EBBECKE · ŠTAJNC · WIENER JEUNESSE CHOR
ORF Vienna Radio Symphony Orchestra · Günther Theuring
C5428 PC: 21 UPC: 845221054285
Of particular importance to Eisler was the principle of synthesis, working with a variety of musical aesthetics, and merging them to an autonomous whole… albeit always with an eye to also wanting to "change the world" with his music. The October Revolution of 1917 and the assumption of power by the Bolsheviks in Russia shaped young Hanns Eisler already for the rest of his life. Later on, in the 1930s after all, there was no topic that preoccupied him more, during the years of exile, than the sustained protest against National Socialism. Eisler wanted to make a musical stance against Fascism with his Opus 50; he wanted to show – together with his collaborating librettist Brecht – that there was not just a Germany Nazis but another, better Germany… driven into Exile or interned in concentration camps. The Deutsche Sinfonie is arguably Eisler's most important composition; she is unique in its ingenious combination of symphony, cantata, and oratorio.
Weitere Bilder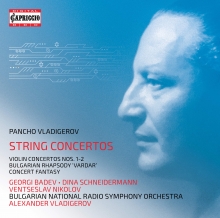 Violin Concertos 1 & 2 · Bulgarian Paraphrases, Op. 18 · Concert Fantasy, Op. 35 · Burlesque, Op. 14
Badev · Schneidermann · Nikolov · BULGARIAN NATIONAL RADIO SYMPHONY ORCHESTRA · ALEXANDER VLADIGEROV
2CD-Set · C8064 PC: 21 UPC: 845221080642
From the diversity of Bulgarian musical culture Pancho Vladigerov stands out as undoubtedly the most important composer for the musical self-conception of modern Bulgaria. Apart from the piano, which was Pancho Vladigerov's primary, expertly mastered instrument (see Capriccio CD C8060 – The Piano Concertos), the violin was second nearest and dearest to him. Undoubtedly the most popular and most often performed composition of Vladigerov's is his Bulgarian Rhapsody op.16 "Vardar" (1922) – presented here, for violin solo and orchestra. It appears to genuinely tap into the character of Bulgarian life and absolutely nails a specific aspect of the entire country's culture.
These recordings, produced in the 1970s in Bulgaria, comprise Capriccio's 18-disc Vladigerov Edition that will preserve this colourful music for future generations. Conductor Alexander Vladigerov is the son of Pancho Vladigerov.
Weitere Bilder
Phädra (1985) · Piano Quintet, Op. 72 (1981)
ELISAVETA BLUMINA · VOGLER QUARTETT
C5389 PC: 21 UPC: 845221053899
His monodrama The Diary of Anne Frank (1968) put Grigori Frid on the musical map, beyond the borders of Soviet Russia. Frid was born in the Petrograd (St. Petersburg) of 1915 and had to witness early on how his family fell victim to the seemingly indiscriminate (and in fact deliberately arbitrary) rounds of suppression, arrest, and deportation of the Stalin Regime. His music stands in the aesthetic realm of Dmitri Shostakovich on the one hand, and that of his younger contemporaries Edison Denisov, Sofia Gubaidulina, and Alfred Schnittke on the other. His works finds itself influenced by the great Russian tradition but yearning to find new, modern ways – more in line with international trends in music – of expressing itself.
Weitere Bilder