releases
2014Releases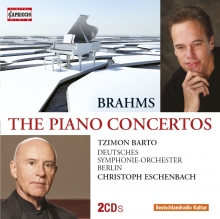 Johannes Brahms: The Piano Concertos
Tzimon Barto · Deutsches Symphonie-Orchester Berlin · Christoph Eschenbach
2CD-Set C5210 PC: 21 (Special Price) 845221052106



COMPACT DISC 1
Konzert für Klavier und Orchester Nr. 1 d-moll op. 15
Concerto for piano and orchestra no. 1 in D minor op. 15
Ballade op. 10 No. 1 d-moll / in D minor
Ballade op. 10 No. 2 D-Dur / in D major

COMPACT DISC 2
Konzert für Klavier und Orchester Nr. 2 B-Dur op. 83
Concerto for piano and orchestra no. 2 in B flat major op. 83
Ballade op. 10 No. 3 h-moll / in B minor
Ballade op. 10 No. 4 H-Dur / in B major

The american pianist Tzimon Barto and the world famous conductor Christoph Eschenbach have a very long and close friendship together. After their successful recording of Tchaikovsky's B flat Minor Concerto (Capriccio C5065) they follow up now
with the Brahms Concertos and give us again a sample of their close and interesting work together. Brahms concertos had bad critics in the time of their first performance but today they are one of the most performed and beloved masterpieces of piano literature. Barto and Eschenbach shows their own very special interpretation which might be sometimes strange listening but gives a new focus on these masterpieces.

Weitere Bilder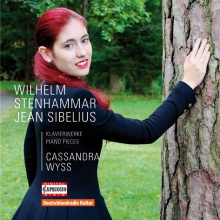 Piano Sonata No. 4 · Impromptu-Valse · Valse triste · Finlandia
Cassandra Wyss, piano
C5229 PC: 21 UPC: 845221052298
With the pianistic talent of the young artist Cassandra Wyss the compilation of works by Wilhelm Stenhammar and Jean Sibelius on one CD emerges as a gateway into the world of Nordic sound gems. With her artistic courage to be stubborn – to be understood in the spirit of Hermann Hesse –, namely to select precisely those works that suit her as a pianist, Cassandra Wyss enables the careful listener to take a new and very personal view of the rich repertoire of Scandinavian music.

Weitere Bilder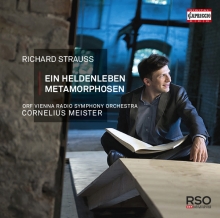 Ein Heldenleben Metamorphosen
ORF Vienna Radio Symphony Orchestra Cornelius Meister
C5208 PC: 21 845221052083
Ein Heldenleben op. 40 was written in 1898, so to speak at the end of a decade, in which Strauss with orchestral works such as Don Juan, Macbeth, Tod und Verklärung, Till Eulenspiegel's lustige Streiche, Also sprach Zarathustra and Don Quixote had highly intensively and successfully set to music extra-musical stories with purely instrumental means. In the popular genre of programme music, he could justifiably count on a positive response on the part of his public.
The ORF Vienna Radio Symphony Orchestra under the direction of his chief conductor Cornelius Meister did a lot of performances of Richard Strauss works during the Jubilee year 2014. The Highlight of this concert series at the Vienna Konzerthaus was the "Heldenleben" performance, enthusiastic acclaimed by press and audience.

Weitere Bilder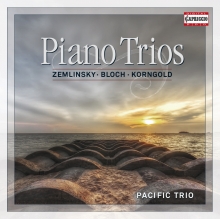 Zemlinsky · Bloch · Korngold
Pacific Trio
C5221 PC: 21 845221052212
ALEXANDER VON ZEMLINSKY (1871-1942)
Trio for Piano, Violin and Cello in D Minor, op. 3

ERNEST BLOCH (1880-1959)
Three Nocturnes for Piano, Violin and Cello

ERICH WOLFGANG KORNGOLD (1897-1957)
Trio for Piano, Violin and Cello in D Major, op. 1

PACIFIC TRIO
Roger Wilkie, Violine / violin · John Walz, Violoncello / cello
Edith Orloff, Klavier / piano

Zemlinsky, Korngold and Bloch also shared the fate of so many other important musical voices of the early twentieth century when their music was banned, and their lives and careers upended, by the Nazi regime. All three names can be found in the infamous Lexikon der Juden in der Musik, first published under the auspices of the Nazi Party in 1940. These policies, and others, created a rupture in the seamless heritage of German music, removing thousands of worthy works from performance, from publication and—for many— from posterity. It is the hope that musicians and music-lovers everywhere will hear these three works, and be intrigued to listen to—and to play—these and other chamber works by the many composers whose fortunes were curtailed by unfortunate timing on the stage of twentieth-century Europe. James Conlon


Weitere Bilder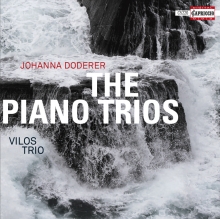 World Premiere Recording · The Piano Trios
Vilos Trio
C5220 PC: 21 845221052205
Trio for piano, violin and cello No. 3 DWV 64 (2009)
"For the Gustav Mahler Jubilee 2010 and 2011"
Trio for piano, violin and cello No. 2 DWV 52 (2008)
"Dedicated to Haydn"
Trio for piano, violin and cello No. 1 DWV 31 (2002)
Trio for piano, violin and cello No. 4 DWV 79 (2013) "Morning"
VILOS TRIO
Dalia Dedinskaite, Violine / violin · Gleb Pyšniak, Violoncello / cello
Ole Christian Haagenrud, Klavier / piano

"I have the good fortune that I always really live in music"
Johanna Doderer studied composition in Graz with Beat Furrer (composition), later in Vienna with Klaus Peter Sattler (composition for film and media) and with Erich Urbanner (composition).
Her current work ranges broadly from Chamber Music to orchestral work and to meanwhile 6 operas.
"The classical instrumentation of a piano trio is a demanding task. It's like a small orchestra. In terms of artistry, technique and knowledge, you have to be good enough to meet the sound a piano trio can produce. It's absolute music."
"…Doderer cares about content, not about cheap effect. As she perfectly masters her writing, she is able to prove convincingly in her very densely written score, that even today you can still create intense music by using sound models deriving from the late romantic period, and which can be combined in an ideal way with forms of 'minimal music'…" (Die Presse)



Weitere Bilder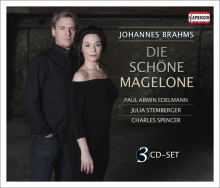 Romances op. 33 and Audiobook
Paul Armin Edelmann Julia Stemberger Charles Spencer
3CD-Set: C5225 PC: 22 845221052250
The Magelone cycle is full of strange contrasts. As an artistic edifice, it has a striking singularity. Brahms took his source from the true beginning of literary Romanticism. He sought a text that, for its part, pointed back further into the past, paying reverence to a folk tone steeped in tradition. Brahms composed trend-setting music for the piano, but in vocal terms considered proximity to the folk song appropriate. 'Brahms, the progressive musician', as Arnold Schoenberg termed him in an eponymous essay, showed himself from his typical side in the Magelone Songs.
The rising austrian star for Lied Recitals, Paul Armin Edelmann, take intensive care of this song cycle. Together with the famous austrian Theater- and Movie actor Julia Stemberger these CDs includes beside the Brahms Romances also the complete
literarly text by Ludwig Tieck.

Weitere Bilder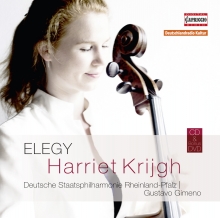 Ernest Bloch: From Jewish Life - No. 1 Prayer · Max Bruch: Kol Nidrei · Jules Massenet: Élégie · Jacques Offenbach: Les larmes de Jacqueline etc.
Deutsche Staatsphilharmonie Rheinland-Pfalz · Gustavo Gimeno
1CD + Bonus DVD: C5222 PC: 21 845221052229

VIDEO TRAILER
https://www.youtube.com/watch?v=2I29iiwSeds

Ernest Bloch: From Jewish Life - No. 1 Prayer · Max Bruch: Kol Nidrei, op. 47
Jules Massenet: Élégie · Jacques Offenbach: Les larmes de Jacqueline, op. 76/2
Gabriel Fauré: Élégie in C Minor | c-moll op. 24 · Pablo Casals: Song of the birds

Bonus – DVD
Harriet Krijgh
The Cello and the Rainbow | Das Cello und der Regenbogen
The Portrait – Das Portrait
Subtitles: English · Picture Format: NTSC / Colour / 16:9 · DVD Format: DVD 5
YouTube:
https://www.youtube.com/watch?v=2I29iiwSeds&list=UUr7KYgaquRN-_lVg-nlonHQ

Euripides interprets "Elegy", the grand ancient song of lament, as a "barbaric, Asian cry of sorrow". To some extent an exotic sound coloration also infuses the elegiac compositions of the European masters of romantic and early modern music that have been assembled for this CD.
Twenty-three year old Dutch cellist Harriet Krijgh is one of today's most exciting and promising young cellists. Harriet has been invited on to the "Rising Star" series of the European Concert Hall Organisation (ECHO) for the 2015/16 season, she was nominated by Musikverein and Konzerthaus Vienna.
The included Bonus-DVD shows for the first time a documentary about life and career of the young cellist Harriet Krjigh.

Weitere Bilder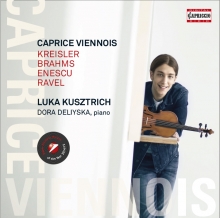 Bank Austria Artist Of The Year
Kreisler · Brahms · Enescu · Ravel · Dora Deliyska, piano
C5215 PC: 21 845221052151
FRITZ KREISLER (1875-1962)
Miniature Viennese March (1925) · Old Viennese Dance Melodies (1905)
Caprice Viennois, op. 2 (1910)
JOHANNES BRAHMS (1833-1897): Hungarian Dance No. 1
MAURICE RAVEL (1875-1937): Rhapsody for Violin and Piano 'Tzigane' (1924)
GEORGE ENESCU (1881-1955)
Sonata for Violin and Piano No. 3 in A Minor op. 25 (1926)
dans le caractère populaire roumain
In recent years, the focus of the cultural sponsoring of Bank Austria has continuously shifted
towards the support of young and talented artists – both nationally in Austria and internationally.
The winner of the season 2014/15 is the young violinist Luka Kusztirch. Now Capriccio presents his debut album which was recorded as part oft he "Bank Austria Artist Of The Year" prize. The program shows us a big range from austria, hungary to romania where the difficult violin sonata of George Enescu close the interesting musically trip.

Weitere Bilder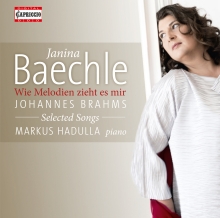 Brahms: Selected Songs
Markus Hadulla, piano
C5216 PC: 21 845221052168
JOHANNES BRAHMS (1833-1897)
Wie Melodien zieht es mir op. 105,1
9 Lieder op. 32
Dein blaues Auge op. 59,8
Es träumte mir op. 57,3
Meine Lieder op. 106,4
Abendregen op. 70,4
Regenlied WoO posth 23
Regenlied op. 59,3
5 Lieder der Ophelia WoO posth 22
4 ernste Gesänge op. 121
Sapphische Ode op. 94,4
JANINA BAECHLE, Mezzosopran / mezzo-soprano
MARKUS HADULLA, Klavier / piano
(Original Historic Brahms Piano, Brahms-Museum Mürzzuschlag, Austria)

If the German Lied is 'Romantic', it is not so either because it expresses the effusions of a nostalgic heart or because it embodies the perfection of the union between music and poetry or because it goes back in the annals of our cultural historians. No, the Lied is Romantic because it sets an endless dialectic in motion between fragments and totality, between perfect closure and infinite opening. Unlike Wolf (his inimical counterpart), for instance, Brahms was not tormented by the issue of the union between music and poetry, as he was confident of his own practices and did not postulate the problem in such terms. In this sense, 'Wie Melodien zieht es mir' (op. 105/1, 1886) is a kind of discrete manifesto: the melody seems to confirm the closed eyes that Klaus Groth's lines attribute with the magic of poetry and the heady fragrance of music. The art accomplished by Janina Baechle and Markus Hadulla does not solely consist of an intelligence afflicted with Brahmsian structures, but, in addition, of one constituting a tissue of infinite network, uniting in the very form of their 'programme' the true essence of Brahms' 'Romanticism', group by group, from one isolated song to the other. A song recital like the one presented here by these two exceptional musicians is Ariadne's thread guiding us to infinity.
Dorian Astor

German mezzo-soprano Janina Baechle, many years a member of the Vienna State Opera, will be invited in the near future as Brangäne (Tristan und Isolde) to the Opéra de Bordeaux, Jezibaba (Rusalka) to the Opéra de Lyon and the Wiener Staatsoper. Fricka she will sing at the Canadian Opera, Toronto, Erda (Rheingold) at the Semperoper Dresden and in a concert version with the Bavarian Radio Munich (under Simon Rattle), Mutter (Hänsel und Gretel) in a new production of the Wiener Staatsoper.
Important concerts: Schoenberg's Gurre-Lieder in Paris, Recitals f.e. at the Opéra de Bastille, Paris, at the Musée d'Orsay, at the Hugo Wolf Academy Stuttgart, in Montoire and Braunschweig, Mahler's 8. Sinfonie in Graz, Oedipus Rex, Dvorak Requiem as well as Wagenaar's Aveux de Phèdre with the Nederlands Radio Philharmonic Orchestra.





Weitere Bilder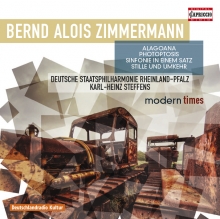 Orchesterwerke · Orchestral Pieces
Deutsche Staatsphilharmonie Rheinland-Pfalz · Karl-Heinz Steffens
C5213 PC: 21 845221052137

BERND ALOIS ZIMMERMANN (1918-1970)
Alagoana. Caprichos Brasileiros – Ballett (ca. 1940-50)
Sinfonie in einem Satz (1947-52/rev. 1953)
Photoptosis. Prélude für großes Orchester (1968)
Stille und Umkehr. Orchesterskizzen (1970)
DEUTSCHE STAATSPHILHARMONIE RHEINLAND-PFALZ
KARL-HEINZ STEFFENS, Dirigent / conductor

Among the German avant-garde composers after the Second World War, he was the great outsider. Despite all ruthless innovation, his creative ethos was characteristic of the German tradition in the dimensions of idealistic and philosophical complexity and bitter and disjointed tragedy. Zimmermann was initially strongly influenced by the polyphonic currents of neo-Classicism and Expressionism in the wake of Hindemith, Jarnach and Stravinsky, but his own voluminous and daring characteristics quickly crystallized. It was not to be an easy position for him over the next two decades, as he felt himself to be the eldest among the young composers and at best saw companions in his elder colleagues Luigi Dallapiccola and Karl Amadeus Hartmann. It was only the premiere of his opera Die Soldaten that brought him broad and undisputed recognition, and Die Soldaten was soon considered the most important German opera since Alban Berg. As start for the upcoming CD edition "modern times" the conductor Karl-Heinz Steffens and his orchestra, the Deutsche Staatsphilharmonie Rheinland-Pfalz, take care of the most unknown orchestral pieces of this composer.

Weitere Bilder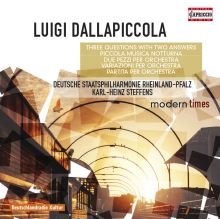 Orchesterwerke · Orchestral Pieces
Deutsche Staatsphilharmonie Rheinland-Pfalz · Karl-Heinz Steffens
C5214 PC: 21 845221052144
LUIGI DALLAPICCOLA (1904 – 1975)
Partita per orchestra (1930-32)
Due Pezzi per orchestra (1946-1947)
Piccola Musica Notturna (1954)
Variazioni per orchestra (1952-1954)
Three Questions with Two Answers per orchestra (1962)
ARANTZA EZENARRO, soprano (Partita)
DEUTSCHE STAATSPHILHARMONIE RHEINLAND-PFALZ
KARL-HEINZ STEFFENS, Dirigent / conductor

VIDEO TRAILER
https://www.youtube.com/watch?v=Fu-wg4oD9Bw

Together with Giorgio Federico Ghedini and Goffredo Petrassi, who was also born in 1904, Luigi Dallapiccola was the most significant composer of the second generation of Modernism in Italy, following Ottorino Respighi, Ildebrando Pizzetti, Alfredo Casella and Gian Francesco Malipiero, and undoubtedly the most successful and famous among them. He first became internationally well-known with the Partita per orchestra, written at the beginning of the 1930s, which was premiered on 22 January 1933. His music now became increasingly more chromatic and, fascinated by Anton Webern and Alban Berg throughout his life, he discovered the twelve tone technique, which he as an Italian explored in a way of his very own, deliberately retaining strongly diatonic links and lyrical naturalness. With this second CD of the new CD-Edition "modern times", Karl-Heinz Steffens and the Deutsche Staatsphilharmonie Rheinland-Pfalz take care of the still not very famous orchestral pieces of this composer.

Weitere Bilder
Norbert Sterk (*1968)
Ensemble Kontrapunkte · Oslo Sinfonietta · Haydn Trio Eisenstadt
C5164 PC: 21 845221051642

NORBERT STERK (*1968)
[1] Die Ankunft des Atemzugs. The Arrival of Breath (2005
[2] "…wenn die Vögel die Nacht aufritzen – "
,when the birds rip open the night' (2007)
[3] Vertigo. Saxophon. Desaster (2010)
[4] "…aus Finsternissen losgelöst" / ,Released from Darkness' (2007)
[5] land der wachen spiegel. land of sleepless mirrors (2007/11)
[6] Hôtel de la Paix (2005)
CHRISTIAN HILZ, /bass-baritone (6) . VERA KLUG,flute (5)
GERALD PREINFALK, soprano saxophone (3) . KARI RONNEKLEIV, violin (1)
ENSEMBLE KONTRAPUNKTE . PETER KEUSCHNIG, Dirigent/ conductor (3)
ENSEMBLE LUX (4) . HAYDN TRIO EISENSTADT (6) · OSLO SINFONIETTA . ANDREA PESTALOZZA, Dirigent/ conductor (1) · ENSEMBLE STIMMWERCK (2)

'Composing is the attempt to bring the tranquillity – and the noise – in me to life'
(Norbert Sterk)
He is one of the many individualists on the contemporary Austrian music scene. No adherent of any group or school, positioning within stereotypes between aesthetic ideologies, such as characterized the 1970s and 1980s, is completely alien to him.
At the Conservatoire of the City of Vienna, he studied piano, double bass, music theory and composition with Karl Heinz Gruber, and at Vienna University he studied philosophy, musicology and theatre studies. He also attended seminars held by Iván Eröd, Karl Heinz Füssl, Alfred Schnittke and Kurt Schwertsik. The different approaches of his teachers stand symbolically for Sterk's formation of his own style. Expressive melodic development, on the one hand, and primarily acoustically targeted musical processes, on the other, are just as important components of his work as original reorchestrations of classics of the 20th century, especially in an early period of his development. This compilation combines works of the years 2005-2011, thus presenting the composer with temporally very close works.
Weitere Bilder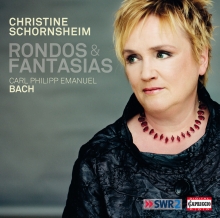 Carl Philipp Emanuel Bach: Rondos & Fantasias
Christine Schornsheim, Tangentenflügel
C5201 PC: 21 845221052014
Christine Schornsheim about her recording:
"I found it more exciting to concentrate only on a larger number of the Rondos and Fantasias, as the imaginative and improvisatory component interests me particularly. Moreover, every individual piece is a valuable and unique specimen…… I opted for a Tangentenflügel because Carl Philipp Emanuel Bach's music is decidedly diverse in character. It is difficult to present it on only one of the possible instruments harpsichord, fortepiano or clavichord. In my view, what characterizes a Tangentenflügel is that it unites all the timbres of stringed period keyboard instruments, so to speak. It can sound as gentle as a clavichord, even the harpsichord can almost be imitated, and the sound of an early fortepiano can similarly be produced."


Weitere Bilder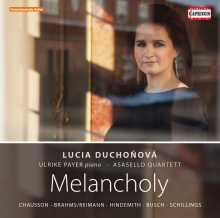 CHAUSON: Chanson Perpétuelle · HINDEMITH: Melancholy · BRAHMS/REIMANN: 
5 Ophelia-Lieder · GRETCHANINOW: Tote Blätter · SCHILLINGS: Abenddämmerung CANTELOUBE: Colloque sentimental · LEKEU: Nocturne

Lucia Duchonová, mezzo-soprano · Ulrike Payer, piano · Asasello Quartett
C5144 PC: 21 845221051444
Melancholy, that wavering mood Heinrich Heine aptly captured in the line 'I don't know what it means that I am so sad' in his poem Lorelei, has inspired countless artists, especially poets and musicians. Above all in the genre of song. This recital now presents a splendid selection, and the programme offers many a find that is rather on the periphery of the customary song repertoire. Moreover, the palette of colour is expanded by the fact that the accompaniment is not only entrusted to the piano, but is also in a chamber music version. Mezzo-soprano Lucia Duchoňová hails from Trnava in western Slovakia. Her first solo CD featuring compositions by Joaquin Turina was nominated for a Grammy Award in the category 'The Best Vocal Performance' in 2010.


Weitere Bilder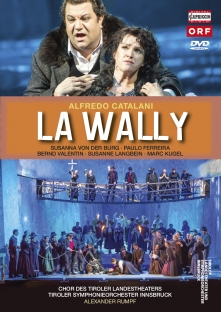 World Premiere Recording On DVD
MARC KUGEL · SUSANNA VON DER BURG · PAULO FERREIRA · BERND VALENTIN · CHOR und EXTRACHOR DES TIROLER LANDESTHEATERS · TIROLER SYMPHONIEORCHESTER INNSBRUCK · ALEXANDER RUMPF
C9005 · 1DVD Video NTSC PC: 31 845221090054
ALFREDO CATALANI (1854-1893)
LA WALLY
Oper in vier Akten / Opera in four Acts
Libretto: Luigi Illica (1857-1919)
after the Novel "Die Geier-Wally" by Wilhelmine von Hillern (1836-1916)
MARC KUGEL · SUSANNA VON DER BURG · PAULO FERREIRA · BERND VALENTIN
CHOR und EXTRACHOR DES TIROLER LANDESTHEATERS
TIROLER SYMPHONIEORCHESTER INNSBRUCK
ALEXANDER RUMPF (Dirigent / conductor)
INSZENIERUNG / PRODUCTION: Johannes Reitmeier
BÜHNE / STAGE SETTING: Thomas Dörfler
KOSTÜME / COSTUMES: Michael D. Zimmermann
Co-Produktion
TIROLER LANDESTHEATER & ORCHESTER GmbH – ORF Landesstudio Tirol – CAPRICCIO

PICTURE FORMAT: NTSC / Colour / 16:9
SOUND FORMATS: 2.0 Stereo · 5.1 Surround
SUBTITLES: Italian / Deutsch / English
DURATION: 119min.
DVD FORMAT: DVD 5 · REGION CODE: 0 (Worldwide)

A powerful woman – powerful material
"Once upon a time there was a young woman who was more courageous than all the men in her mountain village". What sounds like a fictitious story really happened. The young woman was Anna Stainer-Knittel, born as a gunsmith's daughter in the Lech Valley in Tyrol on 28 July 1841. She proved her courage and independence of mind time and again in later life. For in her preparations for the novel, Wilhelmine von Hillern concerned herself not only with Anna Stainer-Knittel's experiences, but also intensively with people's lives in the mountains at that time. Her Geier-Wally also integrated motifs from Tyrolean legends. The material reached the opera stage via the publication of the novel as a serial in the Milan paper La Perseveranza. It was there that the Italian composer Alfredo Catalani became aware of it. He was able to obtain Luigi Illica as the librettist. La Wally was first staged in La Scala in Milan on 20 January 1892 and met with a great deal of approval. After the third performance, Catalani wrote to: 'The house was wonderful and the prelude to Act II was repeated. At the end of the opera, I received general, long (and I must really say so) enthusiastic ovations. The impresario is very happy and says the opera will make its way through all the theatres'.




Weitere Bilder
Brasil Pandeiro · Imperador Do Samba 
Um Calo · De Estimação · Tempo De Amor
Cristiane Roncaglio · André Bayer · Hartmut Preyer · Mariano "Habib" da Costa
C5195 PC: 21 845221051956
Whoever watches the Samba Schools parading in Rio de Janeiro nowadays many times does not perceive the Samba's musical richness both as a musical and literary genre. This is due to the Samba Schools percussions rhythmic power that "submerges" the harmonic accompaniment and also the grandiose visual appeal. The Samba is, however, in its origins a very sophisticated musical form from a poetic, instrumental and harmonic viewpoint. A typical expression of urban popular culture whose origins go back to the most popular styles among Rio de Janeiro's inhabitants, then the country's capital city. Born in Blumenau, Brazil, Cristiane Roncaglio studied Classical Voice and also Photography. German as well as Italian opera, oratorios, and lieder belong to the wide scope of Cristiane Roncaglio´s repertoire. And yet, she is enthusiastic about Brazilian music, Bossa Nova as well as Música Popular Brasileira.
Weitere Bilder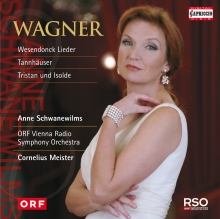 Wesendonck-Lieder · Tannhäuser · Tristan
Vienna Radio Symphony Orchestra · Cornelius Meister
C5174 PC: 21 845221051741
,She sent him 'cute poems about angels and dreams, even in the manner of Schopenhauer; he added a cautious melody, so as not to destroy the slender, little girl's dreams of anguish and its beauty'. This is how Ludwig Marcuse in Das denkwürdige Leben des Richard Wagner portrays the emerging love between Mathilde and Richard and the songs associated with it. ,Take all my soul as a morning greeting!' the composer rhapsodized in a written message to his beloved. It was a fatal letter, for Minna intercepted it and subsequently undermined the idyll.
One of the most interesting voices of our time presents her first Wagner Album: Anne Schwanewilms, who just had her very sucessful Debut at Metropolitain Opera New York sings the Wesendonck-Lieder, Elisabeth Aria from Tannhäuser and first time ever her debut as Isolde for this CD Recording.

Weitere Bilder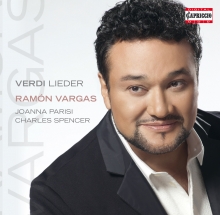 Ramón Vargas, tenor · Joanna Parisi, soprano
Charles Spencer, piano
C5170 · 1CD PC: 21 UPC: 845221051703
For Giuseppe Verdi 'the song had about the same significance that the sketch has for the painter'. It gave him the opportunity 'to sketch emotions and characters in a smaller, more improvised form, genre pictures of passions and destinies he otherwise placed in the wide space of the stage'. Hence, his songs are, as it were, the forerunners of his theatre music, 'they also possess the clout of characterization, the magnificent objectivity of portrayal we admire in the opera arias.' (W. Oehlmann)
After his successful album with opera arias (C5165), the famous tenor Ramón Vargas takes care of these beautiful miniatures from the world
famous italian opera composer.




Weitere Bilder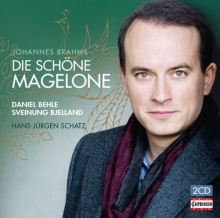 Daniel Behle, Tenor · Sveinung Bjelland, Klavier
Hans-Jürgen Schatz, Erzähler
2CD · C5203 PC: 21 (Special Price) UPC: 845221052038
This double CD for the first time combines two possible views of the song cycle with Romances from L. Tieck's 'Magelone' op. 33 by Johannes Brahms. On the one hand, the first CD offers the opportunity to listen to the song cycle without the prose text, and the second CD presents a version, in which before each of the songs a sensitive abridgement of Tieck's text by Hans-Jürgen Schatz can be heard. The unabridged text by Ludwig Tieck would result in an overweight of the text, and the music would clearly move into the background. This was probably also a thought that Johannes Brahms had, and for this reason he may have preferred a performance without the prose text, especially as the story by Tieck was well-known in the 19th century. With the 15 romances, Brahms reaches a new level in compositional terms. The songs seem to be uninfluenced by contemporary works, and merely Schubert's songs might have been models in many passages. Here, the declamation close to the text must be mentioned in particular. Otherwise, Brahms moves completely independently of external influences, creating a new, almost symphonic style that is particularly seen in the preludes and postludes. Sometimes, people even speak freely about 'Brahms' sole opera'.

Weitere Bilder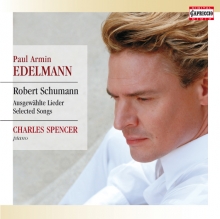 Schumann: Selected Songs
Charles Spencer, piano
C5172 PC: 21 845221051727





ROBERT SCHUMANN (1810 – 1856)
Zwölf Gedichte von Justinus Kerner (1786-1862), Op. 35
Es leuchtet meine Liebe, Op. 127 No. 3 (Heinrich Heine, 1797-1856)
Mein Wagen rollet langsam, Op. 142 No. 4 (Heinrich Heine)
Belsazar Op. 57 (Heinrich Heine)
Sechs Gedichte (Nikolaus Lenau, 1802-1850)
und Requiem Op. 90 (Leberecht Dreves, 1816-1870)

PAUL ARMIN EDELMANN, Bariton / baritone
CHARLES SPENCER, Klavier / piano

Although Robert Schumann was always very keen on literature, as a young man he did not show very much interest in the genre of the song. As a student in Leipzig, he composed a few songs, including five by the Swabian poet Justinus Kerner. But afterwards he mainly devoted himself to instrumental music. But a year later, he composed 138 songs in a feverish fit of work. 'Composing and playing music,' he wrote to Clara, 'almost kills me. Ah, Clara, what a bliss it is to write for song; I had missed it for a long time.
"Paul Armin Edelmann is the perfect song-poet with a wonderfully balanced and seamless voice; a dreamy, soft legato binding every phrase, text and music in an exemplary manner into a single unit of song and story. A feast for the ears." (FonoForum)


Weitere Bilder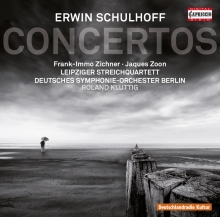 Concertos
Frank-Immo Zichner, piano · Jaques Zoon, flute · Leipziger Streichquartett · Deutsches Symphonie-Orchester Berlin · Roland Kluttig
C5197 · 1CD PC: 21 UPC: 845221051970
[1] – [3] Concerto for piano and small orchestra, op. 43 WV 66 (1923)
[4] – [6] Concerto Doppio for flute and piano, string orchestra and 2 horns
[7] – [9] Concerto for string quartet and wind ensemble WV 97 (1930)
Beethoven / Arr.: Schulhoff: Rondo a capriccio op. 129
[10] "Rage over a lost Penny"
Erwin Schulhoff, born in 1894 as the son of a rich businessman in Prague, already knew as a small child that music was to become the most important thing in his life. As an internationally successful pianist and composer, he was one of the most important Czech artists in the first half of the 20th century. The young composer abruptly became aware of the earnestness of life with the outbreak of the First World War. Schulhoff felt disgust at the horrors of combat he experienced first-hand as a soldier. He could not compose during this period. In 1918, he noted in his diary in profound disillusion: 'It is an atmosphere in which it can frequently happen that you lose faith in yourself'. In Dresden Schulhoff came first into contact with a young artistic generation of Dadaists. For the artists scarred by the war, Dadaism was an expression of their attitude towards life: rage, helplessness and nihilism found expression in word and image as glaring derision, scorn and shameless provocation. In this climate, Schulhoff discovered the jazz that was spilling over from America. This, too, can absolutely be seen as a provocation in the Dadaist sense. The Concerto for Piano and Small Orchestra WV 66 is a wild blend of Impressionist, late-Romantic and jazz-inspired sounds and rhythms.

Weitere Bilder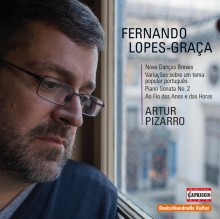 Piano Works
Artur Pizarro, piano
C5196 PC: 21 UPC: 845221051963
FERNANDO LOPES-GRAÇA (1906 – 1994)
Nove Danças Breves (1938-1948)
Variações sobre um tema popular português, op. 1 (1927)
Piano Sonata No. 2, op. 26 (1939)
Ao Fio dos Anos e das Horas
Classical Modernism Meets Portuguese Folklore
Among the masters of classical Modernism, there are three Portuguese composers who are considered greats today: Luís de Freitas Branco (1890-1955), Fernando Lopes-Graça (1906-94) and Freitas Branco's most gifted pupil Joly Braga Santos (1924-88). At the same time, these three composers stand for three basic currents in the music of their time. Lopes-Graça integrated Portuguese folklore especially in his oeuvre by combining it with the achievements of atonal, dissonance-spiced contemporary harmony like other modern national composers such as Bartók, Saygun or Ginastera. He advocated Communist ideals and was a convinced opponent of the Fascist Prime Minister António de Oliveira Salazar, who as leader of his movement Estado Nuovo ruled the country with an iron hand from 1932 to 1968. This led to Lopes-Graça being imprisoned several times and to many obstacles being placed in his way as a composer and teacher. There is no doubt that Lopes-Graça was a subtle and independent master not only in orchestral and chamber music, but also especially in his piano works, which are idiomatically and effectively written for the instrument.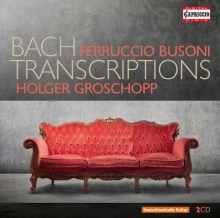 Bach Transcriptions
Holger Groschopp, piano
2CD · C5198 PC: 21 (Special Price) UPC: 845221051987
BACH TRANSCRIPTIONS
Prelude and Fugue in D major · Toccata in D minor · Choral Preludes for the organ by Bach · Toccata in C major · Choral Prelude · Capriccio on the departure of his most beloved brother · »Floh-Sprung«-Canon (Premiere recording) · Improvisation on the Bach Chorale 'O friend of souls, how well is me' (Premiere recording)
Three transcriptions from Busoni's circle
Anna Weiß-Busoni (1833–1909): »Ferruccio« OP. 9 (Premiere recording)

The present album is to be understood as a complement to the box of four CDs (CAPRICCIO 7015) containing transcriptions and paraphrases based on seventeen different composers. It features Bach arrangements not yet represented in that collection but does not include those works that Busoni published without exercising significant changes in his capacity as an editor.
The program also includes some world premiere recordings of transcriptions the Berlin Pianist Holger Groschopp could find in the archives, and the arrangement of works by Bach also enjoyed great popularity in Busoni's circle of pupils – as some of the world premiere recorded pieces demonstrate.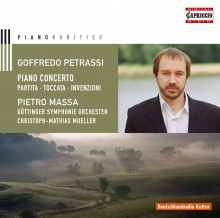 Concerto per pianoforte e orchestra · Partita · Toccata · Invenzioni
Pietro Massa, piano · Göttinger Symphonie Orchester · Christoph-Mathias Mueller
C5155 PC: 21 845221051550

Concerto per pianoforte e orchestra (1936/39)
Concerto for piano and orchestra · Konzert für Klavier und Orchester

Partita (1926) · Toccata per pianoforte (1933)
Invenzioni per pianoforte (1942/44)

In addition to Luigi Dallapiccola (1904-1975), the Roman composer Goffredo Petrassi (1904–2003) represents a salient figure in the development of Italian music history in the 20th century. His career as a composer began in 1934, when Alfredo Casella conducted his Partita for orchestra at the Festival of the International Society for New Music in Amsterdam. Petrassi's ensuing recognition led to him taking over central positions in Italy's music scene of the time. From 1937 to 1940, he was the general director of the Teatro La Fenice in Venice; from 1947 to 1950, he directed the Accademia Filarmonica Romana and from 1954 to 1956 he was head of the International Society for New Music. He commenced his teaching as a member of the Accademia S. Cecilia, and after 1939 he worked as a composition teacher at the conservatoire, where he finally took over the master class for composition in 1960. He died in Rome in 2003 at the age of 98.


Weitere Bilder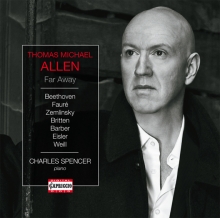 Beethoven · Fauré · Zemlinsky · Britten · Barber · Eisler · Weill
Charles Spencer, piano
C5194 PC: 21 845221051949





Ludwig van Beethoven: An die ferne Geliebte Op. 98
Gabriel Fauré: Mélodies de Venise Op. 58
Alexander von Zemlinsky Walzer-Gesänge nach Toskanischen Volksliedern von
Ferdinand Gregorovius Op. 6
Benjamin Britten: Seven Sonnets of Michelangelo Op. 22
Samuel Barber: Mélodies passagères Op. 27
Hans Eisler: Songs from the Hollywood Songbook
Kurt Weill: Street Scene: "Lonely House" · Lady in the Dark: "My Ship"
Love Life: "Here I'll Stay"

THOMAS MICHAEL ALLEN, Tenor / tenor
CHARLES SPENCER, Klavier / piano

"The general theme of this recording," observes tenor Thomas Michael Allen, "is of things far away and a sense of being out of place, especially in terms of composers setting texts in languages not their own, or texts about places far from them; a longing for, or fascination with, foreign things or foreign styles." Indeed, Far Away includes songs by four European composers who were living, or would live, in the United States; an American setting French poems written by an Austrian; a French composer imagining eighteenth-century Italy; and a German in Vienna writing of a man's longing for his distant beloved. Mr. Allen, too, is "far away." The American singer has lived and worked in Germany since 1995. The funny thing is that I don't really feel like I completely fit in here either, but at least here my role is clear: I'm a foreigner." Estrangement takes many forms.

Weitere Bilder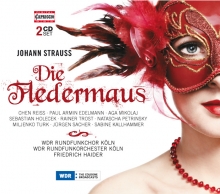 AGA MIKOLAJ · CHEN REISS · PAUL ARMIN EDELMANN · RAINER TROST SEBASTIAN HOLECEK
WDR RUNDFUNKCHOR KÖLN WDR RUNDFUNKORCHESTER KÖLN · FRIEDRICH HAIDER
2CD-Set: C5167 PC: 21 845221051673
Operette in drei Akten · Operetta in Three Acts
Libretto: Carl Haffner & Richard Genée
nach der Komödie / after the comedy "Le Réveillon"
- Complete Musical Recording , sung in German –
Johann Strauss' Die Fledermaus, the Waltz King's main work, is still abreast of the time today. Or to put it better: it is once more. The situation in 1874, when the operetta was premiered was considerably more dramatic than the current crisis: the collapse and the closure by the police of the Vienna stock exchange on 9 May 1873 with more than a hundred bankruptcies in a single day. Millionaires suddenly became beggars. So, even at that time there were good reasons for saying 'Glücklich ist, wer vergisst, was doch nicht zu ändern ist' ('Fortunate is he who can forget what cannot be changed'), which flutters like a flag over Die Fledermaus: examples of positive thinking in times of crisis.