releases
2015releases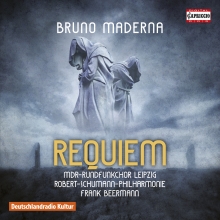 Requiem (1946) World Première Recording
Tomsche · Göring · Berchtold · Mészár · MDR Rundfunkchor Leipzig · Robert-Schumann-Philharmonie Frank Beermann
C5231 PC: 21 845221052311
Bruno Maderna's Requiem was long considered lost and was indeed only premiered in the Teatro la Fenice in Venice in November 2009 – about 36 years after his death.
In 1943, Maderna was called up for military service and fought as a partisan against Italy's erstwhile allies, the Germans. He was taken prisoner by the SS, who interrogated him in Dachau and released him shortly afterwards. 'At that moment, it was the only possibility to write a requiem and then to die', Maderna said later. The Requiem suggests an intensive study of the models in the genre, e.g. those by Giuseppe Verdi and Hector Berlioz. At the same time, as a 'War Requiem' the work is a pacifist manifesto.

Weitere Bilder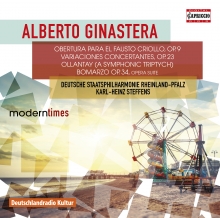 Obertura para el Fausto Criollo, op. 9 · Variaciones Concertantes, op. 23 · Ollantay · Bomarzo op. 34 (1967) Opera Suite
Deutsche Staatsphilharmonie Rheinland-Pfalz · Karl-Heinz Steffens
C5244 PC: 21 UPC: 845221052441
Within the breadth evinced by music life in Argentina, there were mainly three personalities in the 20th century that gave the republic, independent since 1816, an international voice: Alberto Ginastera, Carlos Gardel und Astor Piazzolla. Whereas Gardel, as a singer and composer, was the most popular representative of the 'Tango Argentino' and Piazzolla an outstanding bandoneon player, composer and founder of the 'Tango Nuevo', Alberto Ginastera is considered the most important Argentinian composer of classical stamp. For Ginastera, three periods can be differentiated, clearly delimited in time. In the period of 'Objective Nationalism' (1934–47), he employed direct musical elements of Argentinian folk music, including Obertura para el Fausto Criollo op. 9 (1943) and the Symphonic Triptych Ollantay op. 17, written after his return from the USA (1947). The Variaciones Concertantes for chamber orchestra op. 23 (1953) derive from the middle of Ginastera's second period. Finally the opera Bomarzo op. 34 (1966/67) represents a main work of Ginastera's third, 'Neo-expressionist' period. Although he subsequently made great career strides also in the country of his birth, the external circumstances there remained untenable for him. In 1971, he moved with his second wife to Geneva, where he died in 1983.

Weitere Bilder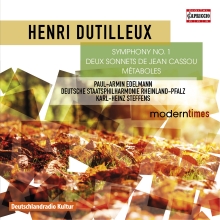 Symphony No. 1 · Deus sonnets de Jean Cassou · Métaboles
Paul Armin Edelmann· Deutsche Staatsphilharmonie Rheinland-Pfalz · Karl-Heinz Steffens
C5242 PC: 21 845221052427
Henri Dutilleux, named as "van Gogh of classical music" (Die Welt), has been a long time of his artistic life a maverick, dreamy and stubborn man, looking for his own style between tradition and modernism orientated to his great paragons Dukas, Ravel and Roussel. 'I'm composing colours' he always pointed out and admit his work not only to impressionism but also to his great reverence to van Gogh.
This colourful music finaly helps for a much to late success and tribute of his compositions, especially his orchestral works. This CD Production offers the rarely performed 1st symphony, the nearly unknown two orchestral songs by poems of Jean Cassou and finally the much better known Métaboles.

Weitere Bilder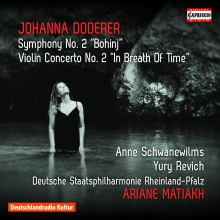 Symphony No. 2 "Bohinj" (2014/15) · Violin Concerto No. 2 "In Breath Of Time" (2012)
ANNE SCHWANEWILMS, soprano · YURY REVICH, violin · DEUTSCHE STAATSPHILHARMONIE RHEINLAND-PFALZ · Ariane Matiakh
C5245 PC: 21 UPC: 845221052458
At the beginning of the 1960s, the Austrian writer Heimito von Doderer (1896–1966) wrote his since best-known novel Die Wasserfälle von Slunj. More than half a century later, in her 2nd Symphony 'Bohinj', his great-niece erected an artistic memorial to Lake Bohinj in Slovenia, around 300 km away from that Croatian natural beauty. "I was fascinated above all by the superb scenery. In the course of time, I found out what happened there during the First World War. In short, the idyll utters a silent scream. My three-movement work also touches on this sound.'
The issue as to whether women can compose music has been obsolete since Hildegard von Bingen's work in the 12th century at the latest. With her work, Johanna Doderer fortunately stands above such criteria. She is commissioned with work and her work is performed because she and her music are appreciated. Even the fact that her musical diction is not in keeping with what is usually understood as 'progressive', need not bother her. In comparison with her youthful oeuvre, she has long discovered tonally coloured aesthetics that meet with broad acceptance in the repertoire.

Weitere Bilder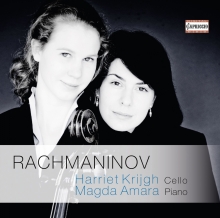 SERGE RACHMANINOV
Harriet Krijgh, cello Magda Amara, piano
C5258 PC: 21 UPC: 845221052588
Sonata for cello and piano in G minor, Op. 19
Élégie (from "Morceaux de fantaisie", Op. 3 No. 1)
Vocalise (from "Songs", Op. 34 No. 14)
Romance op. 4 No. 3 (In the silence of the secret night)

"To record music is a very intimate, personal process for which I have utmost respect", begins Harriet Krijgh. "Balance between emotion and self-restraint is an essential theme. Especially with such emotionally charged music like that of Sergej Rachmaninov the point is to bring in the correct amount of emotion." The Sonata for cello and piano op.19 and the 2nd piano concerto op. 18 likewise evolved after a rather epic phase of depression and compositional resignation. After the failure of his first symphony Rachmaninov had fallen into a critical, 3 year long creative pause, which finally demanded a hypno therapeutic treatment to end it. "With Rachmaninov I sensed an extremely sensitive artist. Such a long creative break must have caused very difficult emotional processes. The works that developed immediately after that time therefore are so much the richer in emotion or atmosphere because of it", says Harriet Krijgh.

Weitere Bilder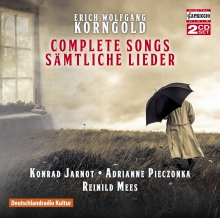 COMPLETE SONGS
ADRIANNE PIECZONKA · KONRAD JARNOT · REINILD MEES
C5252 (2CD) PC: PC 21 UPC: 845221052526
COMPACT DISC 1: So Gott und Papa will · Sechs einfache Lieder op. 9 · Lieder des Abschieds op. 14 · Drei Lieder op. 18 · Nachts · Unvergänglichkeit op. 27 COMPACT DISC 2: aus: 6 einfache Lieder op. 9 Sommer (2nd version) · aus "Die tote Stadt" op. 12: Marietta's Lied · Tanzlied des Pierrot · Drei Lieder op 22 · Songs of the Clown op. 29 · Four Shakespeare Songs op. 31 · Fünf Lieder op. 38 · Sonett für Wien op. 41 · Einzelne Lieder
From his first attempts at composition, Erich Wolfgang Korngold wrote songs. The earliest surviving example – Der Knabe und das Veilchen - dates from early 1905 when Korngold was just seven years old. It reveal the nascent style of the mature composer and is recorded here for the first time, together with a number of individual songs, only recently published.
Little songs for family birthdays, the Shakespeare lieder, written for various theatre productions by Max Reinhardt, the Kaiserin Zita-Hymne, up to Korngold's final song Sonett für Wien Opus 41, composed in 1950, as a tribute to Vienna, the city of Korngold's youth, then in ruins after the war. As one of the last exponents of the Austro-Germanic lied which lasted almost two centuries, Korngold occupies a special place in that tradition, and his exceptional contributions are finally being rediscovered, after decades of neglect. This comprehensive recording is a further welcome step in the process.


Weitere Bilder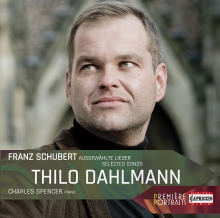 Franz Schubert: Selected Songs
Thilo Dahlmann, baritone · Charles Spencer, piano
C3001 PC: 01 UPC 845221030012
With "Première Portraits" CD-Edition Capriccio set an example for the support of young and talented artists and invite them to release their première CD for a worldwide audience. The bass baritone Thilo Dahlmann won the first prize at the North Rhine-Westphalia State Competition and was a member of the International Opera Studio of the Zurich Opera House, where he performed many roles. The young bass baritone has guested at the German Opera of the Rhine in Duesseldorf, Wuppertal Buehnen, Koblenz Theater and St. Gallen Theater. He has sung important bass baritone roles in Germany and abroad under conductors such as Helmuth Rilling, Franz-Welser-Moest, Philippe Jordan, Helmut Müller Brühl, Andreas und Christoph Spering, Masaaki Suzuki und Ralf Otto.
Weitere Bilder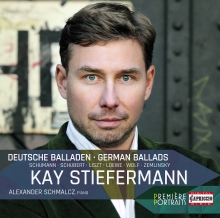 GERMAN BALLADS: Schumann · Schubert · Loewe · Wolf · Zemlinsky
Kay Stiefermann, Baritone · Alexander Schmalcz, piano
C3002 PC: 01 UPC 845221030029
With "Première Portraits" CD-Edition Capriccio set an example for the support of young and talented artists and invite them to release their première CD for a worldwide audience.
Kay Stiefermann completed his studies with distinction in the class of Kammersänger Kurt Moll at the Academy of Music in Cologne. Since his first commitment in the ensemble of the Hamburg State Opera from 1997 to 2001, where his roles included Papageno (Die Zauberflöte), Schaunard (La Bohème) and Danilo (The Merry Widow), he has sung many great roles of the baritone repertoire. In recent years, he has increasingly sung roles from the German field, such as Amfortas (Parsifal), Kurwenal (Tristan and Isolde), the Dutchman (The Flying Dutchman), Simone (Eine Florentinische Tragödie), Gyges (King Candaules), Mandryka (Arabella) and Don Pizarro (Fidelio). He has been a guest at the State Opera in Berlin, the Comic Opera in Berlin, the State Theatre in Hanover, the German Opera on the Rhine, the State Theatre in Darmstadt, the Ruhr Triennale, the Lincoln Centre Festival in New York, the Teatro Municipal in Rio de Janeiro, the Teatro Massimo in Palermo, the Teatro Regio in Turin, the Volksoper in Vienna, the Opera in Graz, the Opéra national du Rhin, the De Nederlandse Opera in Amsterdam or the Bayreuth Festival.

Weitere Bilder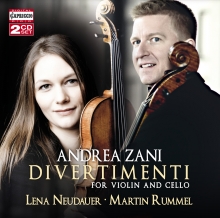 Divertimenti for violin and cello
Lena Neudauder, violin · Martin Rummel, cello
2CD-Set: C5264 PC: 21 (Special Price) UPC: 845221052649
With great likelihood – at least as far as it can be said almost 300 years later – these twelve duos for violin and cello without accompanying continuo of 1734 are the earliest works with this instrumentation in which the violin and cello parts enjoy equal rights. The fact that Zani is largely forgotten today is probably due to the circumstance that his music has mainly been preserved in handwritten form and has hardly been accessible through recordings. Recently, the cello concertos (Capriccio CD C5145) and a few violin concertos have been re-discovered, but a large number of other treasures are still slumbering in different monastery and palace libraries throughout Europe. In these duos, we can experience the minimal form of chamber music with the maximal entertainment value. Andrea Zani is a composer whose name is worth noting and from whom it is to be hoped that many more treasures can be recovered.

Weitere Bilder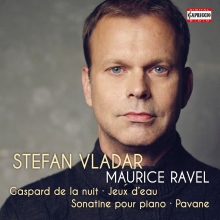 Gaspard de la nuit · Jeux d'eau · Sonatine pour piano
Stefan Vladar, piano
C5260 PC: 21 845221052601
'It is with certainty one of the most virtuoso pieces of all', Stefan Vladar says about the piano suite Gaspard de la nuit, which constitutes, so to speak, the main work on this CD. The pianist has worked on the three movements of the work for more than two decades and also consistently studied Ravel's other piano compositions, which seem to belong to highly different styles, reflecting completely different aspects of technical virtuosity on the piano as well as differing compositional problems. As one of the most eminent artistic personalities in Austria Stefan Vladar has both as a pianist and a conductor an excellent international reputation for many years, and the journal Fono Forum speaks of him as 'one of the most remarkable pianists of our age'.


Weitere Bilder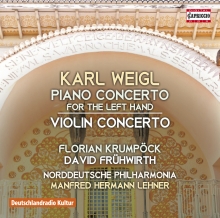 Concerto for Piano (Left Hand) and Orchestra (1924) · Violin Concerto (1928)
Florian Krumpöck · David Frühwirth Norddeutsche Philharmonie
C5232 PC: 21 845221052328
Since the revival of so-called Entartete Musik in the 1990s, interest in Karl Ignaz Weigl's music has grown but he still remains a largely unknown figure to most listeners. Weigl was born in Vienna in February 1881 and had private composition lessons with Alexander Zemlinsky, a family friend. By the early-1920s, Weigl was an established figure in the musical landscape of Vienna and it was probably for this reason that he was approached by the one-armed pianist Paul Wittgenstein to compose a left-hand piano concerto. Paul's family fortune enabled him to commission some of the most eminent composers of the day to write works specially for him: Korngold, Britten, Hindemith, Prokofiev, Ravel, Franz Schmidt, Richard Strauss and Karl Weigl.
Unfortunately, for reasons unknown, Wittgenstein failed to perform Weigl's concerto. Thus it was that the concerto received its belated premiere in 2002 in Vienna by Florian Krumpöck, the soloist on the present recording. Despite his no doubt discouraging experience with Wittgenstein, Weigl returned to the concerto medium four years later with a violin concerto.
It can be hoped that recordings such as the present one will help to further draw attention to his large and varied output which may yet contribute to the repertoire it was designed to enrich.

Weitere Bilder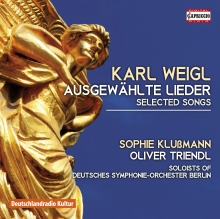 Selected Songs
Sophie Klußmann · Oliver Triendl · Soloists of Deutsches Symphonie-Orchester Berlin
C5259 PC: 21 845221052595
Fünf Lieder aus "Phantasus" op. 9 für hohe Stimme und Klavier (1905)
Five Songs from "Phantasus" op. 9 for high voice and piano (1905)

Fünf Lieder für Sopran und Streichquartett op.40 (1934)
Five Songs for soprano and string quartet op. 40 (1934)

Drei Mädchenlieder op.12 (1909) für Sopran und Klavier / for soprano and piano

Sechs Kinderlider für hohe Stimme und Klavier (1932-1944)
Six Children Songs for high voice and piano (1932-1944)

Das Rosenband (from Liebeslieder op. 22) (1908, rev.1944)

Fünf Duette für Sopran, Bariton und Klavier (1909)
Five Duets for soprano, baritone and piano (1909)
The Invisible Light (1939) für Singstimme und Klavier / for voice and piano

Ein Stelldichein op.16 (1904) für Sopran und Streichsextett / for high voice and string sextet

Sophie Klußmann, Sopran / soprano
Sebastian Noack, Bariton / baritone (21-25)
Oliver Triendl, Klavier / piano
Soloists of Deutsches Symphonie-Orchester Berlin
By the late 19th and early 20th centuries, the Lied genre had arguably reached a peak with such late-Romantic masters as Mahler, Strauss and Wolf in their song-writing prime. Composers of a younger generation such as Zemlinsky, Schoenberg, Schreker and Joseph Marx cultivated the medium no less enthusiastically. This was the musical environment into which Karl Ignaz Weigl was born in Vienna in February 1881. Already at the age of 15 he had composition lessons with Alexander Zemlinsky, a family friend. It was clear from an early stage that the writing of vocal music was a particular passion of Weigl's. With the Nazis rise to power in the 1930s, Weigl, as a prominent public figure of Jewish descent, found himself in an increasingly precarious position. Sensing the writing on the wall following Hitler's annexation of Austria in 1938, he and his family fled for the United States. Weigl died there in August 1949 at the age of 68 with much of his large output lying neglected and rarely performed. One can hope that recordings such as the present one will help to raise consciousness among performers and their public of these highly individual and very beautiful songs of which can stand comparison with those of any of Weigl's contemporaries.


Weitere Bilder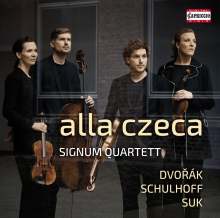 Dvorak · Schulhoff · Suk
Signum Quartett
C5257 PC: 21 845221052571
ERWIN SCHULHOFF (1894-1942)
Five Pieces for String Quartet WV 68 (1923)

JOSEF SUK (1874-1935)
Meditation on the Old Czech Chorale 'St. Wenceslaus' op. 35a

ANTONÍN DVOŘÁK (1841-1904)
String Quartet in G Major op. 106 (B 192)

SIGNUM QUARTETT
Kerstin Dill, Violine / violin · Annette Walther, Violine / violin
Xandi van Dijk, Viola / viola · Thomas Schmitz, Violoncello / cello

'The Bohemians [were] the most musical among all the nations,
indeed perhaps in the whole of Europe'.
Charles Burney, 1773
Short after the most successful album "sound escapes" (Capriccio C5239) the young and aspiring Signum Quartet take care of the Bohemian Music Culture. Beside the famous String Quartet Op. 106 by Antonín Dvořák ('I am very satisfied with everything I have accomplished in this quartet.') and the Meditation on the Old Czech Chorale 'St. Wenceslaus', full of impressions of the beginning of the 1st World War, by Josef Suk, are finally the 1923 composed Five Pieces for String Quartet by Erwin Schulhoff, which all experiment with dance forms, a very virtuosity challenge. 'Music is never philosophy' (Erwin Schulhoff). The succinct statement conceals what was capable of so lastingly impressing Charles Burney already in his time: direct, if possible, spontaneous expression in music.

Weitere Bilder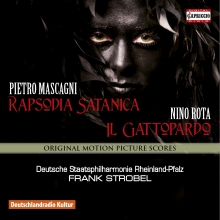 NINO ROTA: IL GATTOPARDO
Deutsche Staatsphilharmonie Rheinland-Pfalz · Frank Strobel
C5246 PC: 21 845221052465
Pietro Mascagni's single work for the early days of cinema was composed in winter time 1914/15.
The idea of the film director Nino Oxilia was to create a "Poema cine-musicale", a synthesis of the arts with music, poetry and finally cinematography. The plot is something like a female version of "Faust", based on a poetry by Fausto Maria Martini. Mascagni itself conducted the first performance in July 1917 and orientated his composition near to Richard Wagners musical language.
The French-German TV channel Arte restored this treasure of early cinema in 2006 and recorded the
complete film music score which is now available also on CD.

Weitere Bilder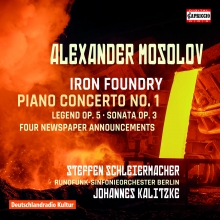 Iron Foundry · Piano Concerto No. 1 · Four Newspaper Announcements
Steffen Schleiermacher · Rundfunk-Sinfonieorchester Berlin · Johannes Kalitzke
C5241 PC: 21 845221052410
With Irony against Realism
Among his contemporary countrymen, the Russian Alexander Mosolov certainly underwent one of the most individual developments. However unknown most of his compositions have remained both in the Soviet Union and abroad, a single piece has ensured that his name has stayed lastingly present – the Iron Foundry from the ballet ,Steel' (1926/27). It clearly ran contrary to the demands of 'Socialist Realism' gradually becoming established in the post-revolutionary Soviet Union and finally declared the official dogma by the authorities in 1932. Whereas the state demanded a kind of music that was easy to receive and could be directly accepted by broad sections of the population, some young composers saw themselves facing the challenge of keeping pace with the international avant-garde and adding a separate Russian and Soviet form. Also active as a music official, Mosolov quickly found recognition in the young Moscow music scene. He soon worked in the Association of Contemporary Music (ASM) and got to know many foreign colleagues, whose works were performed in Russia at the time not least due to his efforts, including Alban Berg, Paul Hindemith, Alfredo Casella, Darius Milhaud and Arthur Honegger.

Weitere Bilder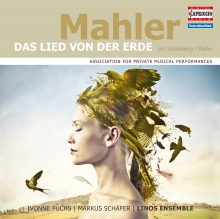 Arr.: Schönberg / Riehn
Ivonne Fuchs · Markus Schäfer · Linos Ensemble
C5136 PC: 21 845221051369
'… a veritable and precise knowledge of Modern Music' (Alban Berg)
As little as it was perceived by the general public during its short existence, in accordance with its genesis, all the more remarkable were the effects and the aftereffects of the Society for Musical Private Performances, founded by Arnold Schoenberg in Mödling near Vienna in November 1918,
especially as it was associated with the intention to keep away unpopular and malicious critics and 'to give Arnold Schoenberg the opportunity personally to carry out his intention of providing artists and art lovers with a veritable and precise knowledge of Modern Music', as Alban Berg described in a leaflet in 1919. A speciality of the society concerts was that within the framework of the means available by no means exclusively chamber music, solo pieces and songs were performed, but to a great extent also originally large-scale orchestral works, for which topical, artistically top-quality were produced. Among Mahler's works, Symphonies Nos. 4, 6 and 7 and the Lieder eines fahrenden Gesellen could be presented this way. In autumn 1921, he embarked on the arrangement of Mahler's Das Lied von der Erde, which, however, he broke off in the middle of the first movement. The continuation was to be taken over by Webern, but this did not happen, evidently as a consequence of the end of the society. It was only in 1982/83 that the German composer, conductor and musicologist Rainer Riehn (b. 1941) was prepared to continue what had been begun.

Weitere Bilder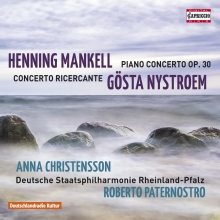 Anna Christensson
Deutsche Staatsphilharmonie Rheinland-Pfalz · Roberto Paternostro
C5240 PC: 21 845221052403
World Premiere Recording
HENNING MANKELL (1868-1930)
Concerto for piano and orchestra, op. 30 (1917)
Konzert für Klavier und Orchester, op. 30 (1917)
GÖSTA NYSTROEM (1890-1966)
Concerto ricercante (1959)
for piano and chamber orchestra / für Klavier und Kammerorchester (1959)
Henning Mankell (1868-1930), whose grandson and namesake has become one of Sweden's most successful authors of crime novels, was himself a modest person, not very interested in a public career. Mankell earned his livelihood as a private teacher of piano and music theory in Stockholm, as a music critic and as a member of the board of the Academy of Music. If Mankell's life was a tranquil one, his compositions were all the more colourful, at least those from the last two decades of his life. His works were given labels such as 'Impressionism' or 'Futurism' by the critics of the age. He was probably interested in French Impressionism, but he did not identify with it. Many of Mankell's works, and especially the bolder ones, remained unpublished for a long time, but were still occasionally performed by musicians who recognized their value.
Gösta Nystroem (1890-1966) had an obvious talent both for pictorial art and music. He had a lifelong fascination for the sea and loved to be among fishermen, sometimes even taking part in their work at sea. Two composers had a special influence on him in Paris: Stravinsky and Honegger. For a few years, Nystroem used dissonance extensively, influenced by the style of The Rite of spring. Nystroem followed Vincent d'Indy's historically oriented teaching, which was of great importance to him, but his most inspiring teacher in Paris was the Russian music theorist Leonid Sabaneyev, with whom he worked for several years. The composer later declared himself to be both 'a great lover of absolutely pure music' and 'an incurable romantic', a description that is relevant for this recording and also for his instrumental music in general.

Weitere Bilder
GOLDBERG VARIATIONS
Tzimon Barto, piano
C5243 PC: PC: 21 UPC: 845221052434
The Goldberg Variations' alternation of connection and freedom, fantasy and strict form, was able to lead in a hitherto unknown way to a higher unity and raise them to the rank of a real compendium of the art of variation, which particularly strongly influenced Beethoven, Brahms and Reger. The american pianist Tzimon Barto shows us his own fascinating interpretation. A new focus to this masterwork with Barto's well known sensibility.
Weitere Bilder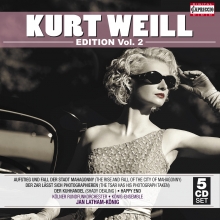 THE RISE AND FALL OF THE CITY OF MAHAGONNY · THE TSAR HAS HIS PHOTOGRAPH TAKEN · DER KUHHANDEL · HAPPY END
Anja Silja · Anny Schlemm · König-Ensemble · WDR Rundfunkorchester · Jan Latham-König
C7184 (5CD) PC: PC04 (Special Price) 845221071848
In the framework of Capriccio's Kurt Weill edition the present second CD-Box now offers a collection of the prestigious recordings of well known and mostly unknown stage works of the composer. Beside the complete recording of Rise And Fall Of The City Of Mahagonny we also included some rarities like his first comical opera The Tsar Has His Photograph Taken and in the spirit of Offenbach, witty and with a socio-political background, composed operetta Der Kuhhandel (Sheady Dealing).

Weitere Bilder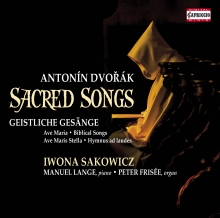 Biblické Písně op. 99 / Biblical Songs · Ave Maria · Hymnus ad laudes in festo Sanctae Trinitatis
IWONA SAKOWICZ · MANUEL LANGE · PETER FRISÈE
C5207 PC: 21 845221052076
Testimony to fervent piety
The Biblical Songs op. 99 were written in 1894 during Dvořák's time in America (1892-95), when he was working as artistic director and professor of composition at the New York Conservatory of Music. His 9th Symphony, appositely termed 'From the New World' was to be followed by a further symphony, but Dvořák opted for treating the Biblical Songs, which, in their austerity, hardly allow scope for American scent but are rather reminiscent of the composer's Czech homeland, if of anything concrete at all.
The fact that the composer so intensively studied the psalms of the Old Testament was not least connected to external circumstances, e.g. to the economic crisis of 1893, which also affected the New York Conservatory. He was also suffering from the death of Hans von Bülow, was grieving for Gounod and Tchaikovsky and in addition, he learnt about the grave sickness of his father, who died two days after the Biblical Songs had been completed. Dvořák, the Catholic, had long demonstrated his faith with numerous works of fervent piety: Stabat Mater (1876), Requiem (1890), the Mass in D major as well as the pieces for solo voice and organ, for instance, the works that can be heard on this CD – Ave Maria, Ave Maris Stella and Hymnus ad laudes in festo Sanctae Trinitatis (1877-79) as well as the preludes and fugues for organ of 1859 by the then 18-year-old.

Weitere Bilder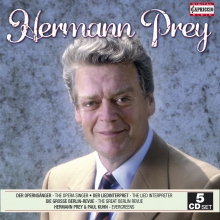 CD 1+2: The Opera Singer (Mozart / Lortzing / Kreutzer / Wagner) · CD 3: The Lied Interpreter (Beethoven / Brahms / Loewe) · CD 4: The Grat Berlin Revue (Operetta) / CD 5: Hermann Prey & Paul Kuhn - Evergreens

C7202 (5CD) PC: 04 (Special Price) 845221072029
PAMELA COBURN · REGINA KLEPPER · FRANZ HAWLATA
PAUL KUHN · GEOFFREY PARSONS · WDR RUNDFUNKCHOR KÖLN
WDR RUNDFUNKORCHESTER KÖLN
HELMUTH FROSCHAUER · HEINZ GEESE
'I am an EU singer', Hermann Prey always said about himself. However, by that he did not mean so much his citizenship of a country of the European Union as the fact that he felt at home in the fields of 'E' and 'U', i.e. in 'serious' and entertainment music alike. For Prey, this distinction never existed, but only the issue of the quality of music, and he found this not only in the opera and Lied, but also in the operetta, the musical and the well-made hit. For forty-six years, from the time of his first commitment in Wisebaden in 1952 onwards, Prey always convinced his audience: in opera, art and folksong, operetta and musical alike. This collection of 5CDs shows us his fascinating wide range of repertoire and interpretation.

Weitere Bilder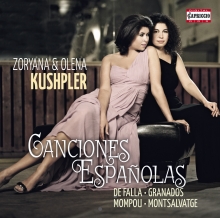 DE FALLA · GRANADOS · MOMPOU · MONTSALVATGE
ZORYANA KUSHPLER, mezzo-soprano · OLENA KUSHPLER, piano
C5193 PC: 21 845221051932
After the successful album release "Slavonic Souls" (Capriccio C5039) the Vienna State Opera Singer Zoryana Kushpler takes care with her twin sister Olena to famous spanish songs and has also included some rarities in her program of this rich musically culture.
Weitere Bilder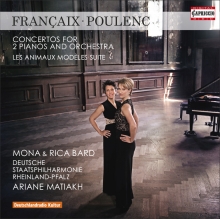 Concertos for two pianos and orchestra Les Animaux modèles
Mona & Rica Bard, pianos Deutsche Staatsphilharmonie Rheinland-Pfalz Ariane Matiakh
C5237 PC: 21 845221052373
JEAN FRANÇAIX (1912-1997)
Concerto for two pianos and orchestra (1965)
FRANCIS POULENC (1899-1963)
Concerto for two pianos and orchestra in D Minor FP 61 (1932)
Les Animaux modèles FP 111 (1941)
Ballet after Jean de la Fontaine (Orchestral Suite)
MONA & RICA BARD, piano
DEUTSCHE STAATSPHILHARMONIE RHEINLAND-PFALZ
ARIANE MATIAKH, conductor
Writing a concerto for two pianos is a complex procedure. Jean Françaix wanted his own one to be brilliant and cheerful, with numerous technical 'acrobatics. The challenge it represents has been brilliantly resolved by Mona and Rica Bard directed by Ariane Matiakh. The three musicians have realized the composer's hope throughout his life: making music 'that gives pleasure'. Claude Françaix, 2014 (Pianist and composers daughter)
In his musical aesthetics, Françaix was close to the 'Groupe des six' from the outset, and in the connection between cheerfulness and elegance so typical of him to Poulenc in particular. This applies especially to the Concerto for Two Pianos and Orchestra, written in 1965, which the composer premiered in Maastricht with his daughter Claude on 26 November of the same year.It is not difficult to discern that Françaix was well acquainted with Poulenc's Double Concerto when he composed his piece. Of the six, the Paris-born Poulenc was probably the 'most French'. Influenced by Surrealism and Apollinaire, on the one hand, and then to a large degree by Catholicism after roughly the middle of his life, he derived his stylistic elements from the greats of music history – from Mozart to Stravinsky. Most striking is surely the second movement of the concerto representing a dialogue of the composer with Mozart.

Weitere Bilder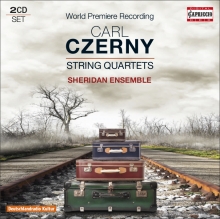 Sheridan Ensemble

C5234 (2CD) PC: 21 (Special Price) 845221052342
Known as a piano teacher, with whose works almost every piano pupil should be familiar and possibly also as a pupil of Beethoven, Carl Czerny enjoys practically no fame as a composer today. The composing maniac (round about 800 published works) acquired a great reputation (and wealth) from piano teaching and writing educational works for the piano and compositions the market expected from him and from which he earned a lot of money. At the moment, seven quartets are recorded, four of which were probably intended for publication. Czerny composed in the tradition of Haydn and Beethoven. Echoes of Mendelssohn can be discerned as well as a romantic style full of drama and profundity of expression. The quartets have only been passed down as manuscripts from Czerny's estate, which can be found in the archives of the Society of Friends of Music in Vienna.

Weitere Bilder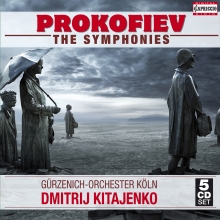 Gürzenich-Orchester Köln · Dmitrij Kitajenko
5CD-Box: C7190 PC: PC04 (Special Price) UPC: 845221071909





CD 1 Symphony No. 1 in D major, Op 25 'Classical'
Symphony No. 7 in C sharp minor, Op 131
CD 2 Symphony No. 2 in D minor, Op 40
Symphony No. 3 in C minor, Op 44
CD 3 Symphony No. 4 in C major, Op 47 (Original 1930 version)
Symphony No. 4 in C major, Op 112 (Revised 1947 version)
CD 4 Symphony No. 5 in B flat major, Op 100
CD 5 Symphony No. 6 in E flat minor, Op 11
Gürzenich-Orchester Köln
DMITRIJ KITAJENKO
Prokofiev enjoyed relative freedom in the symphonic medium. Symphonies allowed him to create dancing rhythms that need not be strictly danceable, as well as singing melodies beyond the limitations of human vocal chords. He worked on symphonies – a part from earlier, unrealized student works – from 1916 until 1952, the year before his death. A complete set of Prokofiev's symphonies provides a satisfyingly all-encompassing look at the composer's creativity throughout the years of his mastery.


Weitere Bilder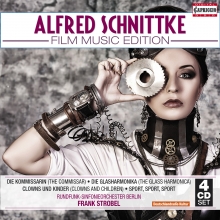 The story of an unknown actor · The Commissar · The Fairytale oft he Wanderings · Clowns and Children ...
RUNDFUNK-SINFONIEORCHESTER BERLIN · FRANK STROBEL
4CD-Box · C7196 PC: PC04 (Special Price) UPC: 845221071961
CD 1
Die Geschichte von einem unbekannten Schauspieler
The story of an unknown actor (Alexander Sarchi / Mosfilm 1976)
Die Kommissarin / The Commissar (Alexander Askoldow / Mosfilm 1967/87)
CD 2
Clowns und Kinder / Clowns and Children (Alexander Mitta, Mosfilm 1976)
Der Walzer / The Waltz (Viktor Titow / Mosfilm 1969)
Die Glasharmonika / The Glass Harmonica (Andrei Khrzhanovsky, 1968)
Der Aufstieg / The Ascent (Larissa Schepitko / Mosfilm 1976)
CD 3
Das Märchen der Wanderungen / The Fairytale oft he Wanderings
(Alexander Mitta, Mosfilm 1982/83)
Rikki-Tikki-Tavi (Alexander Sguridi / ZentrNaútschFilm, 1976)
CD 4
Sport, Sport, Sport (Elem Klimow, Mosfilm 1970) / Die Abenteuer eines Zahnarztes / The adventures of a dentist (Elem Klimow, Mosfilm 1965) RUNDFUNK-SINFONIEORCHESTER BERLIN · FRANK STROBEL
Alfred Schnittke as a composer of film music – that is a fact well known to anyone who has ever been concerned with Alfred Schnittke. However, only very few people are familiar with his actual work in the film music genre. This is all the more surprising since on the one hand, Alfred Schnittke wrote more than 60 film scores during the years between 1961 and 1984, and on the other hand, his poly-stylistic techniques found a nearly perfect equivalent in film. Since Alfred Schnittke suffered from the artistic regimentations like many contemporary composers in the USSR, and his works could often only be performed under difficult circumstances, his work for the film to a large extent contributed to his livelihood.

Weitere Bilder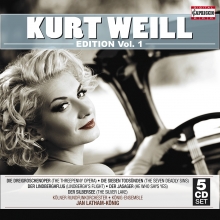 DIE DREIGROSCHENOPER · DIE SIEBEN TODSÜNDEN · MAHAGONNY SONGSPIEL · DER LINDBERGHFLUG · DER SILBERSEE
Doris Bierett · Trudeliese Schmidt · Ulrike Steinsky · WDR Rundfunkorchester Köln · Jan-Latham König
5CD-Box: C7178 PC: PC04 (Special Price) UPC: 845221071787
CD 1: DIE DREIGROSCHENOPER / THE THREEPENNY OPERA
(Text: Bertolt Brecht)
CD 2: DIE SIEBEN TODSÜNDEN / THE SEVEN DEADLY SINS
MAHAGONNY SONGSPIEL
(Text: Bertolt Brecht)
CD 3: DER LINDBERGHFLUG / LINDBERGH'S FLIGHT
DER JASAGER / HE WHO SAYS YES (School Opera, 1930)
CD 4 + 5: DER SILBERSEE / THE SILVER LAKE
Ein Wintermärchen / A Winter's Tale (Text: Georg Kaiser)
DORIS BIERETT · TRUDELIESE SCHMIDT · ULRIKE STEINSKY
WOLFGANG SCHMIDT · WALTER RAFFEINER
KÖNIG-ENSEMBLE
WDR RUNDFUNKORCHESTER KÖLN · JAN LATHAM-KÖNIG
In the framework of Capriccio's Kurt Weill edition the present CD-Box now offers a collection of the prestigious recordings of well known and mostly unknown stage works of the composer. Beside the famous "Threepenny Opera" and "The Seven Deadly Sins" we also included some rarities like the radio cantata "Lindbergh's Flight", the School Opera "He Who Says Yes" and the romantic Winter Tale "The Silver Lake". An additional 5CD-Set is in preparation.

Weitere Bilder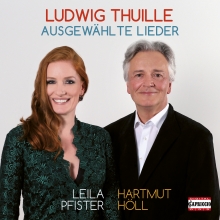 Selected Songs
Leila Pfister, mezzo-soprano Hartmut Höll, piano
C5238 PC: 21 845221052380
op. 12/3: Die stille Stadt (Richard Dehmel) · aus / from op. 19: 1 Die Kleine (Joseph von Eichendorff) · 2 Sommermittag (Theodor Storm) · 4 Frau Nachtigall · 5 Spinnerlied (aus »Des Knaben Wunderhorn«) · aus / from op. 15: 1 Mädchenlied · 3 Lied der jungen Hexe (Otto Julius Bierbaum) · op. 5: 1 Klage · 2 Sommermorgen · 3 Es klingt der Lärm (Karl Stieler) · op. 24: 1 Wenn die Sonne · 2 Die Spinnerin · 3 Ich wollt' ein Sträußlein (Clemens Brentano) · op. 26,3: Seliges Vergessen (Joseph von Eichendorff) · o.op.: Urschlamm- Idyll (Theodor von Vischer)
Leila Pfister, Mezzosopran / mezzo-soprano
Hartmut Höll, Klavier / piano
Ludwig Thuille was a comprehensively and multifariously educated musician: a composer, pianist, choir director, singer, music teacher (composition and piano) and music theorist.
For until a short time ago Ludwig Thuille was a shadowy figure encountering the reader of yellowed books. The reference to his historical importance as head of the 'Munich School' did not mean much, It is only Thuille's correspondence with Richard Strauss that has kept his erstwhile significance alive. Signs of their friendship were the almost contemporaneous settings of specific poems. Campaigned for his Lieder, now, after the first release with Roman Trekel (Capriccio CD C5058) Hartmut Höll presenting an additional album with the mezzo-sopranist Leila Pfister of these unknown songs.
Weitere Bilder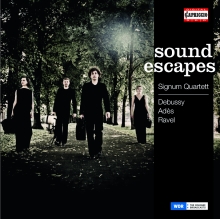 Debussy: String Quartet in G minor · Thomas Adès: Arcadiana · Maurice Ravel: String Quartet in F Major
Signum Quartett
C5239 PC: 21 UPC: 845221052397
'Music must be freed from all learned bombast. It must endeavour with modesty to give joy;
Claude Debussy, 1910
It is a plea for the direct experience of a music that had become fed up with the constraints of traditional forms. Debussy's music especially reveals characteristics that justifiably move it into the proximity of Impressionist painting, as it produces moving paintings, landscapes of sound, soundscapes in the narrowest sense of the word that can draw the listener into the middle of the picture. Maurice Ravel's String Quartet, completed in 1903, had to be and was compared with Debussy's quartet. At the same time, it can be seen here how Ravel's musical diction – based on Debussy's – prepared the way for French Modernism. Like only few of his colleagues, the Briton Thomas Adès, born in 1971, is capable of fusing traditional elements from music history, including obvious references to existing compositions, with modern sound production into an individual style appealing directly to the listener.
SIGNUM QUARTETT
Kerstin Dill, Violine / violin · Annette Walther, Violine / violin
Xandi van Dijk, Viola / viola · Thomas Schmitz, Violoncello / cello

Weitere Bilder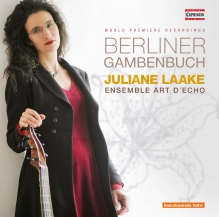 Suite in G · Passions Suite · Easter Suite Suite in D minor
Juliane Laake · Ensemble Art d'Echo
C5239 PC: 21 UPC: 845221052069


Suite G-Dur / in G major
Weihnachts-Suite I / Christmas Suite I
Weihnachts-Suite II / Christmas Suite II:
Suite d-Moll / in D minor
Suite G-Dur / in G major (Skordatur)
Passions-Suite g-Moll / in G minor (Skordatur)
Oster-Suite / Easter Suite
Suite B-Dur / in B flat major (Skordatur)

Ensemble Art d'Echo:
Kai Roterberg, Gesang / Vocal · Ophira Zakai, Theorbe / theorbo
Klaus Eichhorn, Truhenorgel / organ
Juliane Laake
Viola da gamba – Leitung / Director
At the Bibliothèque Nationale in Paris there exists a very unusual 17th century manuscript of music for solo viola da gamba (lyra viol), known only by its shelf number Réserve 1111. This tiny leather-bound book is elongated and has 270 pages. Compiled by at least eight different individual hands, the music is notated almost entirely in tablature and reflects a variety of scordatura tunings. It was acquired by the Berlin library in 1880 and is generally thought to originate from the Brandenburg region that is part of northern Germany. Near the end of the Thirty Years War, Brandenburg started to regain its prosperity and stability under the leadership of Frederick William, known as the "Great Elector" (reigned 1640-1688). Quite a number of the finest viola da gamba players of the day are known to have visited or spent time there. Frederick William himself played the treble viol. Rés. 1111 has never been published in a facsimile or modern edition. Not only were there a great number of pieces with which to come to grips, but Juliane Laake also had to find some way to organize them into a coherent and presentable narrative. What you hear now is a record of her exploration and sleuthing and discovery.

Weitere Bilder