releases
2013 Releases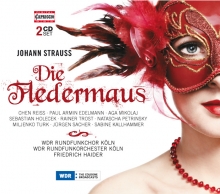 AGA MIKOLAJ · CHEN REISS · PAUL ARMIN EDELMANN · RAINER TROST SEBASTIAN HOLECEK
WDR RUNDFUNKCHOR KÖLN WDR RUNDFUNKORCHESTER KÖLN · FRIEDRICH HAIDER
2CD-Set: C5167 PC: 21 845221051673
Operette in drei Akten · Operetta in Three Acts
Libretto: Carl Haffner & Richard Genée
nach der Komödie / after the comedy "Le Réveillon"
- Complete Musical Recording , sung in German –
Johann Strauss' Die Fledermaus, the Waltz King's main work, is still abreast of the time today. Or to put it better: it is once more. The situation in 1874, when the operetta was premiered was considerably more dramatic than the current crisis: the collapse and the closure by the police of the Vienna stock exchange on 9 May 1873 with more than a hundred bankruptcies in a single day. Millionaires suddenly became beggars. So, even at that time there were good reasons for saying 'Glücklich ist, wer vergisst, was doch nicht zu ändern ist' ('Fortunate is he who can forget what cannot be changed'), which flutters like a flag over Die Fledermaus: examples of positive thinking in times of crisis.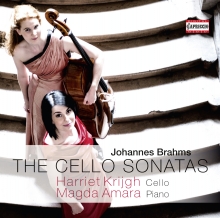 Harriet Krijgh, cello Magda Amara, piano
C5173 PC: 21 UPC: 845221051734
After the first album with french cello music and the very successful recording of the Haydn Cello Concertos the young cellist Harriet Krijgh continues now with the pearls of german-romantic cello literatur: the recording of boht cello sonatas by Johannes Brahms.
'I used to play the fiddle myself', Johannes Brahms once told his Viennese composer colleague Richard Heuberger, 'but my instrument was the cello. I played concerts on it'. That Brahms' two cello sonatas were 'miraculous pearls of chamber music', as a critic wrote in the Neue Berliner Musikalische Zeitung in 1873, was sadly not recognized by all contemporaries at once. Some listeners were simply floored by the dense texture of the compositions. But a short time later, they were to establish themselves everywhere and have ranked among the outstanding works in the cello repertoire up to today.
Weitere Bilder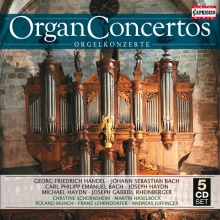 Handel · J.S. Bach · C.Ph.E.Bach · J. Haydn · M. Haydn · Rheinberger
Christine Schornsheim · Martin Haselböck · Roland Münch · Wiener Akademie
5CD · C7172 PC: 22 (Special Price) UPC: 845221071725
CD 1: GEORG FRIEDRICH HÄNDEL (1685-1759)
Organ Concertos No. 6 in B flat major HWV 294 · No. 3 in G minor HWV 291
No. 4 in F major HWV 292 · No. 2 in B flat major HWV 290 · No. 5 in F major
HWV 293 · No. 13 in F major HWV 295 "The Cuckoo and the Nightingale"
CD 2: JOHANN SEBASTIAN BACH (1685-1750)
Concerto for organ, oboe, strings and continuo in D minor
Reconstruction after BWV 146 1&2, BWV 188,1
CARL PHILIPP EMANUEL BACH (1714-1788)
Concerto for organ, strings and continuo in G major Wq 34/H 444 · in E flat
major Wq 35/H 446
CD 3: JOSEPH HAYDN (1732-1809)
5 Concertos for organ and strings in C major,
Hob. XVIII:1 · Hob. XVIII:5 · Hob. XVIII:8 · Hob. XIV:11 · Hob. XIV:12
CD 4: MICHAEL HAYDN (1737-1806):
Concerto for organ, viola, strings and continuo in C major
JOSEPH HAYDN: Concerto for organ and strings in C major, Hob. XVIII:10
WOLFGANG AMADEUS MOZART: Church Sonata in C major for strings and
organ KV 336 (336d) · 3 Church Sonatas for two solo violins, bass and organ
K.224 (241a) K. 67 (41h) · K. 328 (317c)
CD 5: JOSEPH GABRIEL RHEINBERGER (1839-1901)
Concertos for organ and orchestra op. 137 & op. 177 · Suite for violin and
organ op.166
CHRISTINE SCHORNSHEIM · MARTIN HASELBÖCK · ROLAND MÜNCH
WIENER AKADEMIE · NEUES BACHISCHES COLLEGIUM MUSICUM

This 5CD-Set includes some of the most important and most impressive concertos for organ with instrumental accompaniment and shows us also the interesting development of this concert genre from Baroque periode to the romantic era. One of the most famous virtuoso performers of his day and age on the organ and the piano, George Frideric Handel was the first composer in the history of music to liberate the organ from its liturgical context and turn it into a concert instrument. At the first performance of his oratorio "Deborah", on March 17th, 1733, he also for the first time played one of his organ concertos as interval music on a small instrument without any pedals. Two years later, the official announcements of performances of his spiritual works were already referring to these "incidental pieces" as a special attraction for audiences seeking musical diversification. In the 18th century, particularly in its second half, very basic changes in musical life and far-reaching shifts in style occurred, having a lasting effect also on the area of organ music. The fortepiano began its victorious advance, bringing to an end the earlier predominance of the harpsichord and the organ. Pieces that are rich in harmony and full of affect changes causing tension can be more graphically presented on a pianoforte with its wider range of dynamic means than on a harpsichord. Other pieces more deliberately placing emphasis on a splendid sound and representation suggest a performance on the harpsichord whose wealth of harmonic overtones are better suited to hold their own against an orchestra and in larger halls than the comparatively intimate sound of an early Viennese pianoforte. Against this background, the organ presents itself as a moderator between both instruments. Because of its many registers, it has tonal versatility available and is able to effortlessly make itself heard due to its acoustics.Haydn definitely cannot have envisaged the type of an opulent church organ, but rather a smaller "cabinet organ" as it was found in the music rooms and small chapels of the wealthy bourgeoisie or nobility. The soloist, accompanied by a small circle of instrumentalists, was, very likely, the composer Haydn himself.
Weitere Bilder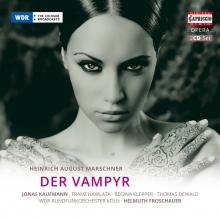 Romantic Opera Complete Recording
Jonas Kaufmann · Regina Klepper · Franz Hawlata · Thomas Dewald · WDR Rundfunkorchester Köln · Helmuth Froschauer
2CD · C5184 PC: 21 (Special Price) UPC: 845221051840
HEINRICH AUGUST MARSCHNER (1795-1861)
DER VAMPYR
Romantische Oper in 2 Aufzügen · Romantic Opera in 2 Acts
Text: Wilhelm August Wohlbrück
- Gesamtaufnahme / Complete Recording -
JONAS KAUFMANN
FRANZ HAWLATA · REGINA KLEPPER · THOMAS DEWALD
WDR RUNDFUNKORCHESTER KÖLN · HELMUTH FROSCHAUER
Something demonic and ghostly fills the air: we find ourselves in the age of Dark Romanticism, which cast its shadow on the opera. The fateful drama is of Scottish origin, whose essence consists of inherited curses, dark, guilty entanglements and bloody props, in order to wake fatalistic shivers. Among the audience at the premiere performance of the "Vampire" in 1828 at the Sächsisches Hoftheater in Leipzig was 15-year-old Richard Wagner. Marschner's opera crosses the path of the theatre novice many times. In 1833 the fledgling répétiteur Wagner in Würzburg got involved in:
"However, soon the Marschner score interested me sufficiently to make it worth while to have my bitter work published. I contributed a new allegro movement to Aubry's tenor aria in Marschner's 'Vampire', which I also wrote the text to. My resulting work was demonic and effective, registering the acclaim of the audience and encouraging recognition from my brother".
Wagner could still get worked up about the "loathsomeness of the thematic"; even Hans Pfitzner had to placatingly defend and emphasise the 'gruesomeness' of the text, the 'shivering' was the "best part of Marschner's music". Edgar Istel also captured his theatrical impression in creepy gothic words: "Whoever saw how the once-bitten vampire returns to life rises up by moonlight to the sounds of Marschner's ghostly music, they will never forget this impression."
Weitere Bilder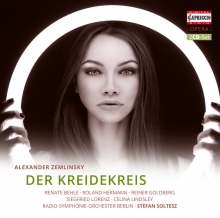 Opera Complete Recording
Renate Behle · Reiner Goldberg · Roland Hermann · Radio-Symphonie-Orchester Berlin · Stefan Soltesz
2CD · C5190 PC: 21 (Special Price) UPC: 845221051901
ALEXANDER ZEMLINSKY (1871-1942)
DER KREIDEKREIS
THE CHALK CIRCLE
Oper in drei Akten · Opera in three acts
Text: Klabund
- Gesamtaufnahme / Complete Recording -
RENATE BEHLE · ROLAND HERMANN · REINER GOLDBERG
SIEGFRIED LORENZ · CELINA LINDSLEY
RADIO-SYMPHONIE-ORCHESTER BERLIN
STEFAN SOLTESZ
The old Chinese drama of courtroom and customs was usable only as raw material. In its original version it is a fairly dull, wooden affair, handled extremely clumsily from the dramatic
point of view. It is in effect inventing a Chinese fairy-tale. No strict Chinoiserie: it had
to be as if in a dream of China. Klabund (1925)
Two years after the death of Klabund, Zemlinsky decided to use his Chalk circle as the basis for an opera. He recast the five-act "play after the Chinese" first into a two-act, later into a three-act version, and composed his Chalk circle in 1931/32. This blend of a fairy-tale Utopia, social criticism and inwardness makes itself felt in Zemlinsky's music, which seeks to combine varied stylistic components: Chinese coloration appears in the orchestral scoring, which is enriched with gongs and other exotic-sounding instruments: the melody often avoids semitonal steps and so takes on a pentatonic character. It was the seventh and also his last completed opera, from which the then 61-year-old Zemlinsky hoped for the definitive breakthrough as an operatic dramatist.
Weitere Bilder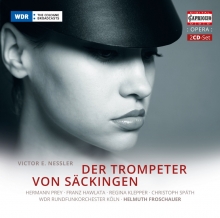 Opera Complete Recording
Hermann Prey · Franz Hawlata · Regina Klepper · WDR Rundfunkorchester Köln · Helmuth Froschauer
2CD · C5187 PC: 21 (Special Price) UPC: 845221051871
VICTOR E. NESSLER (1841-1890)
DER TROMPETER VON SÄCKINGEN
THE TRUMPETER OF SÄCKINGEN
Opera in a prologue and three acts
Text: Rudolf Bunge, Joseph Victor von Scheffel
UA: Leipzig, 1884
- Gesamtaufnahme / Complete Recording -
HERMANN PREY · FRANZ HAWLATA · REGINA KLEPPER
WDR RUNDFUNKORCHESTER KÖLN · HELMUTH FROSCHAUER

The first performance of "The Trumpeter of Säckingen" on May 4, 1884 at the Stadttheater in Leipzig was an unprecedented success. For the hundredth Leipzig performance there was a procession with flaming torches in honour of the composer. "The Trumpeter" then began its triumphant conquest of the entire German theatre scene; within a few years the opera had been performed several thousand times and, by the turn of the century, had established its place in the repertoire of all the major opera houses. That great critical authority Eduard Hanslick showed most restraint, making an attempt to analyze the "popular force, the winning something" in Nessler's "musical mediocrity", and concluding: "The most remarkable thing in this unprecedentedly successful opera is precisely its success." In 1884 – the year following Wagner's death, the year which saw the premieres of Massenet's "Manon" and Puccini's first work, "Le Villi", the year in which Bruckner's seventh symphony and Mahler's "Lieder eines fahrenden Gesellen" were composed, – the tastes of the Biedermeier period and quaint romanticism had made their second conquest of the German opera world.
Weitere Bilder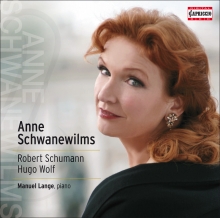 Schumann: Liederkreis op.39 · Wolf: Mörike-Lieder
Manuel Lange, piano
1CD · C5166 PC: 21 UPC: 845221051666
Anne Schwanewilms ranks among the greatest Strauss and Wagner interpreters today, but her secret love still belongs to the Lied. 'Up to now I insist on my song recitals, that means pursuing the path of my soul, then I am the orchestra, the singers, the driving force with all together. The pianist is my most important partner, and it is quite simple communication to produce pure music, in the simplest form.'
For her new album, the soprano celebrated worldwide quite deliberately chose songs by Robert Schumann and Hugo Wolf. 'It is the conception of a 'somnambulist's gait', enlivened by memories, dreams and steps back into the past – for the tranquillity that can emerge with Schumann and Wolf is for me incredibly intensive and fascinating.' Anne Schwanewilms is accompanied by the pianist and song expert Manuel Lange.
Weitere Bilder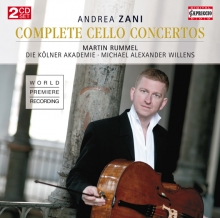 Complete Cello Concertos
Martin Rummel, cello Die Kölner Akademie Michael Alexander Willens
2CD · C5145 PC: 21 UPC: 845221051451
The rumour that the solo concerto repertoire for cellists is limited has probably been sufficiently refuted in the meantime. But it was in the first half of the 18th century that the alternatives to Antonio Vivaldi's many concertos were scant. Hence the discovery of twelve 'new' cello concertos from this period is correspondingly exciting. The fact that the discovery of these works by Andrea Zani is the success of a musicologist who wrote her Ph.D. thesis at the University of Canterbury in Christchurch (New Zealand) is one of the positive miracles of modern communications technology. Dr. Jill Ward has presented a comprehensive complete edition of all the currently known works by Andrea Zani and written an impressive biography. Only few detailes are known about the life of Andrea Zani. Born in Casalmaggiore on 9 September 1696 his way took him from Mantua, Milano to Vienna where Antonio Caldara was vice maestro da cappella at the imperial court. Zani's death through the over-turning of a coach on a journey to Mantua in September 1757 cut short the career of a musician still in his prime, highly regarded by his contemporaries, and a not insignificant figure as instrumental music moved into the pre-classical era.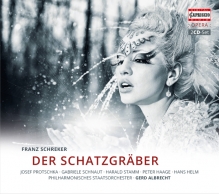 Opera Complete Recording
Protschka · Schnaut · Stamm · Haage · Philharmonisches Staatsorchester · Gerd Albrecht
2CD · C5175 PC: 21 UPC: 845221051758
LIVE FROM HAMBURG STATE OPERA
FRANZ SCHREKER (1878-1934)
DER SCHATZGRÄBER
Opera with a Prologue, 4 Acts and an Epilogue
- Gesamtaufnahme / Complete Recording -
JOSEF PROTSCHKA · GABRIELE SCHNAUT · HARALD STAMM
PETER HAAGE
PHILHARMONISCHES STATTSORCHESTER
GERD ALBRECHT

Franz Schreker's operas were among the most played works of the Weimar Republic. And, in fact, Der Schatzgräber was to become one of the most performed of all contemporay operas during the years of his time: in all 385 performances of the work are between 1920 – the year of the premiere – and 1932 in 50 different cities and productions. If these figures are compared with the 166 performances given to Alban Berg's Wozzeck between 1925 and 1936 in 29 different productions, then the popularity of schreker's opera is to be clearly recognized. Franz Schreker was almost exclusively a composer of operas – an almost singular case in the history of twentieth-century music – the reasons for which are to be found in his technique of musical composition. Schreker accepted and extended the independence of the individual harmonic (chordal) combination as a sonorous value in its own right as was first realized in Wagner's Tristan and Isolde. This is programmatically formulated in the Tristan - quotation occurring in the Interlude of Act III of Der Schatzgräber. As is also the case in the dramatic works of Wagner – certain tonal centres are utilized as "sonorous ciphers" for differing levels of dramatic meaning. Thus, in Der Schatzgräber the tone c sharp denotes the realm of illusion – the world of the treasure – while the tone d implies its opposite, the realm of reality or real life.
The work was however not only Schreker's most successful opera but also his last successful opera. Its later sudden loss of popularity coincides with the change in cultural climate of the year of 1924, a change which is documented in the fine arts by the transition from Expressionism to so-called New Objectivitiy (Neue Sachlichkeit) and on the political scene by the initial phase of economic consolidation in the young Republic.
Also available:
Weitere Bilder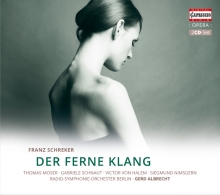 Opera Complete Recording
Moser · Schnaut · Von Halem · Nimsgern · RSO Berlin · Gerd Albrecht
2CD · C5178 PC: 21 UPC: 845221051789
FRANZ SCHREKER (1878-1934)
DER FERNE KLANG
Opera in 3 Acts · Text: Franz Schreker
- Gesamtaufnahme / Complete Recording -
THOMAS MOSER · GABRIELE SCHNAUT
VICTOR VON HALEM · SIEGMUND NIMSGERN
RADIO-SYMPHONIE-ORCHESTER BERLIN
GERD ALBRECHT
"Der ferne Klang came into being from a twofold need. As a young man I was in a ferment: youth and longing clamoured for self-expression. Longing – to attain an artistic ideal, fame, joy in life, a woman, love! And I wanted to create, wanted to mould everything into sound pictures […] Then in the nick of time I thought of myself, of the drama of growing up, of the folly of this life with its uncertain issue, of all the tragedies that harshly befall us and now and again – often only fleetingly – involve us in their confusion of scene. And I wrote Der ferne Klang out of myself, out of my own youthful experience. (Franz Schreker)
The sensational reception of Der ferne Klang at its first performance on 18 August 1912 in Frankfurt set on foot Schreker's unusually successful career as an opera composer: his works often achieved a higher number of performances than the music-dramas of Richard Strauss. His appointment as teacher at the Vienna Academy of Music enabled him to concentrate on further operas: Das Spielwerk und die Prinzessin (1909 -1912), Die Gezeichneten (1912 -1915) and Der Schatzgräber (1916 -1919). In 1920 Franz Schreker took over the direction of the Berlin High School for Music. He appointed lecturers there of the rank of Arthur Schnabel and Paul Hindemith. Violent political attacks forced Schreker in 1932 to resign his position as director. His work was suppressed and still remained largely forgotten for decades after the war.
Also available:
Weitere Bilder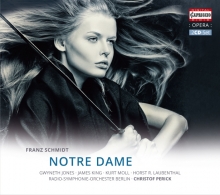 Opera Complete Recording
Jones · King · Moll · Laubenthal · RSO Berlin · Christof Perick
2CD · C5181 PC: 21 UPC: 845221051819
FRANZ SCHMIDT (1874-1939)
NOTRE DAME
Romantic Opera in 2 Acts
Text: Leopold Wilk, Franz Schmidt
- Gesamtaufnahme / Complete Recording -
GWYNETH JONES · JAMES KING · KURT MOLL
HORST R. LAUBENTHAL
RADIO-SYMPHONIE-ORCHESTER BERLIN
CHRISTOF PERICK
"Notre Dame" immediately evokes the hunchbacked bellringer, Quasimodo, and the films with C. Laughton and A Quinn; one remembers a gruesome, bloodthirsty tale from the late Middle Ages about deformed people, gypsies, villains, knights and priests. With their percise feel for the psychology of the plot, Franz Schmidt and his librettist Leopold Wilk condensed and modified the story and shifted its emphasis. In his novel The Hunchback of Notre Dame, Victor Hugo's prime intent was to portray 19th century Paris (with Notre Dame Cathedral as the symbolic main character) and to express his social concern for outcasts and the aesthetic and moral worth of ugliness. The opera is dominated not by Paris, not by Quasiomodo (of the five main characters, he has the smallest part), but by Esmeralda. She is at the centre oft the web of stories which make up the plot. The four principal male characters, Phoebus, Gringoire, the Archdeacon, and Quasimodo, have one thing in common – their love for Esmeralda. Men seem to be irresistibly attracted to her, even "bewitched". The lives of these four men are changed, and later destroyed, by their passion for Esmeralda. Meeting Esmeralda has disastrous consequences for all people involved. In her effect on men and the ensuing events, Esmeralda reminds one of Lulu. She is the innocent sister of child-woman Lulu. – However, Alban Berg was not to write his opera for another thirty years.
Also available:
Weitere Bilder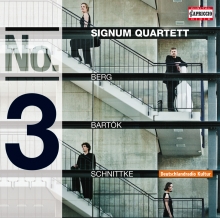 BERG: String Quartet Op. 3 · Bartók: String Quartet No. 3 · Schnittke: String Quartet No. 3

C5163 PC: 21 UPC: 845221051635
Believing that an elaborate construction of the score and beauty of sound stand in each other's way is a myth rooted in the 18th century. What links Beethoven and Schubert to the generation of composers around 1900 is their quest for a new sound at a time that the genre of the string quartet seemed to have reached the end of its development.
'One thing is certain,' Schoenberg commented about Alban Bergs Op.3, 'that his string quartet has surprised me unbelievably with the wealth and freedom of its musical diction, the energy and assuredness of its presentation, its meticulous elaboration and its remarkable originality.'
Unlike Berg, who developed his form of atonality as a radicalized continuation of tonality, Béla Bartók's style resulted from a return to the folk music of South-East Europe. Bartók's six string quartets show these changes as in a mirror. He wrote the String Quartet No. 3 in Budapest in 1927, at a time when he was discovering the characteristic severity of his musical diction.
A third route in the quest for a new sound was taken by Alfred Schnittke, born in the German enclave on the Volga in 1934. His course is characterized less by radicalism than by reconciliation. Schnittke's so-called polystylism employs as a matter of course direct or alienated stylistic quotations from bygone centuries, embedding them in a modern and atonal context.
Weitere Bilder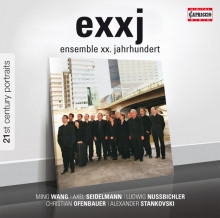 ensemble xx. jahrhundert
Compositions by: Ming Wang · Axel Seidelmann · Ludwig Nussbichler · Christian Ofenbauer · Alexander Stankovski
C5171 PC: 21 845221051710
In the course of its more than forty years in existence, the ensemble xx. jahrhundert has constantly and successfully championed aesthetically diverse contemporary Austrian music: with commissions for compositions, world premieres in Austria and abroad, with radio productions and with the treatment of traditional cultural principles – in recent years particularly intensively in co-operation with the Austrian Composers' Society (ÖKB). In the course of five years, up to now 36 works by 35 composers have been performed in the jointly held concerts – not just a few of them were world premieres. The concentrated acquisition of new listening experiences and the exchange of impressions and opinions in personal contacts between the audience and the composers and performers take place in a communicative and casual environment.
Weitere Bilder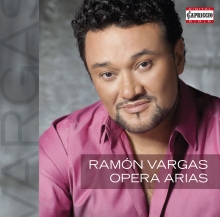 Ponchielli: La Gioconda · Verdi: Simon Boccanegra · Boito: Mefistofele · Puccini: Tosca · Massenet: Werther · Gounod: Faust
Budapest Symphony Orchestra · Riccardo Frizza
C5165 PC: 21 845221051659
Music can do much, much more than politics, religion or sport. Where they separate, music unites; music encourages harmony in every respect. – Ramón Vargas

A reviewer once wrote that his voice was like two elements flowing into each other: the elegance and the technical sovereignty of a 'Tenore di grazia' like Alfredo Kraus and the silver core and the 'tears' of a Fritz Wunderlich.
Having sung more than 40 roles, Ramón Vargas is recognized as one of the leading lyrical tenors of the present. His interpretations of Mozart, Bellini and Donizetti are celebrated throughout the world.
In recent years, he has turned to the French repertoire with success: e.g. Werther, Manon, Romèo and La damnation de Faust. He has also devoted himself to Puccini and new Verdi operas such as La Bohème, Un Ballo in maschera, Simone Boccanegra, I due Foscari, La traviata, Rigoletto, Ernani etc. which some of them he presents the first time on CD on this new album!
Weitere Bilder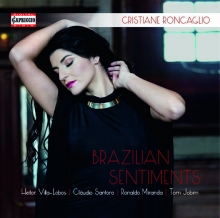 Songs by HEITOR VILLA-LOBOS · CLAUDIO SANTORO · TOM JOBIM · RONALDO MIRANDA
André Bayer, guitar · Cristian Peix, piano
C5159 PC: 21 845221051598
Brazilian song has a long history whose origin can be established from the end of the 18th century with the rise of "modinha". This kind of song was already widely known among the urban bourgeoisie around 1775, both in Rio de Janeiro and Lisbon. The precise origin of "modinha" is still controversial. It has being widely accepted that it was introduced by the Portuguese. At the beginning of the 20th century, the composer Alberto Nepomuceno reacted to what he considered an excessive use of foreign languages in all art songs composed in Brazil, notably French and Italian. He claimed that a People that did not sing in its own language had no motherland. But it was definitely after the 1922 Week of Modern Art, in São Paulo, that the genre found its better defined form. Many songs on texts by the modernistic poets have then emerged.
Villa-Lobos used poems by Manuel Bandeira and Ronald de Carvalho still back in the 1920s for his songs. He gradually found a balance between popular song style and chamber song's refinement. The "Canção de Amor" as well as "Cair da Tarde" and "Veleiro", belong to one of his last works. "Minha Terra" of 1923 was the first hit song by Waldemar Henrique.
Cláudio Santoro's output as a composer is very large and covers all genres. In the 50's, he embraced the cause of nationalist music and began writing music inspired by the folk traditions of São Paulo state's countryside and the Brazilian Northeast. "Aquarela do Brasil", by Ary Barroso, became famous worldwide thanks to American cinema through the film "Você já foi à Bahia?" (Have you been to Bahia?), by Walt Disney, in 1944. This is a typical samba with a very positive message, which was once considered by many as propaganda for the "Estado Novo" dictatorship that had settled in Brazil, through the figure of Getulio Vargas in the 1930s.
Bossa Nova developed from the late '50s on as an essentially urban music, in Rio de Janeiro. Unlike the nostalgic country life's approach so common before in popular music until then, this new rhythm had a more direct appeal to the everyday city life. It evolved somehow from samba, although much less rhythmic. And the bridge between pop song and art song could not have been more evident than in the music of Tom Jobim.
Weitere Bilder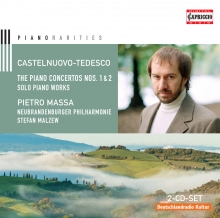 Solo Piano Works
Pietro Massa, piano Neubrandenburger Philharmonie · Stefan Malzew
2CD-Set C5156 PC: 21 (Special Price) UPC: 845221051567
Mario Castelnuovo-Tedesco (Florence 1895 – Beverly Hills 1968) was a composer and humanist. His life was characterized by a lasting tendency to discover himself as a component of ancient cultural traditions, first the Tuscan and then the Jewish one. On the other hand, he showed an inclination to withdraw from the historical present, on the one hand, due to his reserved disposition and, on the other, because of the tragic events that rocked his existence.
In 1939, he took his leave of his country and emigrated to the USA to safeguard the future of his own family and above all protect the lives of his two children. Arturo Toscanini and Jascha Heifetz, who had already performed his music several times, supported him in this difficult period and made a substantial contribution to him obtaining a position as the composer of film music with Metro Goldwyn Mayer.
The Piano Concertos in G major No. 1 op. 46 and in F major No. 2 op. 92 were written in 1927 and 1936/37 respectively; the latter presumably while preparing for exile.

Weitere Bilder
Mozart; Coronation Mass · Mass in C Minor SCHUBERT: German Mass BEETHOVEN; Missa solemnis · HAYDN: Harmony Mass CHERUBINI: Coronation Mass · GOUNOD: St. Cecilia Mass ...

10CD-Box C7161 PC: 23 (Special Price) UPC: 845221071619
This 10 CD-Set offers a collection of the most popular Mass compositions from the Viennese Classics up to the romantic period. It includes famous masterpieces like Mozart's "Coronation Mass", Beethoven Missa solemnis, Haydn "Harmony Mass", Gounod St. Cecilia Mass but also rarities like "Missa Sancti Joannis Nepomuceni" by Michael Haydn, the "Coronation Mass" by Cherubini, "Missa sacra" by Robert Schumann and the "Misa solemnis" of the german romantic composer Friedrich Kiel. Performed by well known artists like the Vienna Boys' Choir, RIAS Chamber Choir, Tölzer Boys' Choir, Wiener Akademie and last but not least also includes the spectacular recording of Beethoven's Missa solemnis with conductor Michael Gielen.

CD 1: WOLFGANG AMADEUS MOZART: Messe C-Dur / in C K 317 "Krönungsmesse" / "Coronation" · Missa solemnis c-moll / in C minor K 139 "Waisenhausmesse" / "Orphanage Mass"

CD 2: WOLFGANG AMADEUS MOZART: Messe c-Moll / in C minor K 427 "Grosse Messe" / "Great Mass"· Missa brevis C-Dur / in C major K 259 "Orgelsolo-Messe" / "Organ Solo Mass"

CD 3: JOSEPH HAYDN: Messe B-Dur / B flat major "Harmoniemesse" / "Harmony" MICHAEL HAYDN: Missa Sancti Joannis Nepomuceni MH 182

CD 4: LUIGI CHERUBINI: MISSA PER L'INCORONAZIONE CARLO X. (1825) · Messe zur Krönung Karls X. · Mass for the coronation of Charles X. · MICHAEL HAYDN: Te Deum in D MH 829

CD 5: LUDWIG VAN BEETHOVEN: Missa solemnis op.123

CD 6: FRANZ SCHUBERT: Messe Nr.5 As-Dur / in A flat major D 678 · Deutsche Messe D 872

CD 7: FRANZ SCHUBERT: Messe Nr.2 G-Dur / in G major D 167 · Messe Nr.6 Es-Dur / in E flat major D 950

CD 8: ROBERT SCHUMANN: Missa sacra c-Moll / in C minor op.147 (1852) CARL MARIA VON WEBER: Missa sancta G-Dur / G major "Jubelmesse" (1819)

CD 9: FRIEDRICH KIEL: Missa solemnis op.40

CD 10: CHARLES GOUNOD:Messe solennelle De Sainte-Cécile · Cäcilienmesse · St. Cecilia Mass · ANTON BRUCKNER: Te Deum

WIENER SÄNGERKNABEN (VIENNA BOYS' CHOIR) ·TÖLZER KNABENCHOR ALTENBURGER SÄNGERKNABEN · RIAS-KAMMERCHOR · EUROPA CHOR AKADEMIE · KAMMERCHOR CANTEMUS · WIENER AKADEMIE – MARTIN HASELBÖCK · RADIO-SYMPHONIE-ORCHESTER BERLIN – MARCUS CREED DEUTSCHE KAMMERAKADEMIE NEUSS AM RHEIN – WERNER EHRHARDT ORCHESTRE PHILHARMONIQUE DU LUXEMBOURG – MICHAEL GIELEN



Weitere Bilder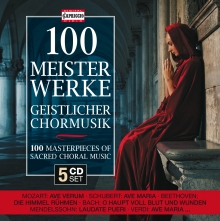 Ave verum · Ave Maria Laudate Dominum · Salve Regina · Ich bete an die Macht der Liebe ...
Wiener Sängerknaben · Thomanerchor Leipzig · Regensburger Domspatzen ....
5CD-Set C7155 PC: 22 (Special Price) UPC: 845221071558
"Singing is the foundation of everything in music", wrote Georg Philipp Telemann, and this basic musical truth still holds good today. This 5CD-Set with 100 Masterpieces can be an incentive to reflect once again on the foundation of music and, additionally, to become acquainted with the diversity of sacred choral compositions. For precisely in this sphere the most compositionally lavish, musically captivating choral works were written. This particularly applies to J.S.Bach, Mozart, Schubert, Mendelssohn, Brahms and Bruckner. Specially recordings by these and others have been assembled here, partly in the original scoring with a boys' choir. What earlier was current practice is today almost a rarity.

CD 1:
SCHUBERT: Ave Maria · MOZART: Laudate Dominum · SILCHER: So nimm denn meine Hände · HAYDN: Die Schöpfung / The Creation (Chorus) · MENDELSSOHN: Ave Maria · BACH: Jesu meines Herzens Freud · TRADITIONAL: Meerstern ich dich grüße….

CD 2:
HÄNDEL: Hallelujah · MOZART: Ave verum · BEETHOVEN: Die Himmel rühmen · SCHUBERT: Salve Regina · TRADITIONAL: Maria, Mutter unsres Herrn · MOZART: Orgelsolomesse · VERDI: Requiem (Lacrymosa) …

CD 3:
MENDELSSOHN: Vom Himmel hoch · BACH: Messe h-moll / Mass in B Minor (Gloria) · BRAHMS: Täublein weiß · BRUCKNER: Virga jesse · SCHUBERT: Chor der Engel …

CD 4:
BRUCKNER: Te Deum · SCHUBERT: Heilig, heilig · TRADITIONAL: Glorwürd'ge Königin · MENDELSSOHN: Veni Domine · VERDI: Ave Maria …

CD 5:
BORTNJANSKY: Ich bete an die Macht der Liebe · BACH: O Haupt voll Blut und Wunden · SCHUBERT: Stabat Mater · BRUCKNER: Ave Maria · BRAHMS: Ein Deutsches Requiem / German Requiem (Selig sind)….

WIENER SÄNGERKNABEN (VIENNA BOYS' CHOIR) · THOMANERCHOR LEIPZIG · DRESDNER KREUZCHOR · REGENSBURGER DOMSPATZEN · RIAS-KAMMERCHOR · MÄNNERCHOR DES RUNDFUNKCHORES LEIPZIG
WIENER AKADEMIE – MARTIN HASELBÖCK · RADIO-SYMPHONIE-ORCHESTER BERLIN – MARCUS CREED

Weitere Bilder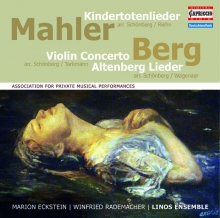 Marion Eckstein Winfried Rademacher
LINOS ENSEMBLE
C5135 PC: 21 UPC: 845221051352
ASSOCIATION FOR PRIVATE MUSICAL PERFORMANCES: "Every glance can be expanded into a poem, and every sob into a novel' – Arnold Schoenberg's words on the works of the Expressionist period of the Viennese School describe the diction in the atonal works of his pupil Alban Berg. In 1918, a novel and up to today conceptionally exciting form of event was established with the Association for Private Musical Performances in Vienna. A dominant practice in the cultivation of repertoire was the artistically high-quality arrangement of large orchestral works for piano and smaller ensembles. These historical conditions served as the inspiration for this production with works by Gustav Mahler and Alban Berg, here in new interpretations by three composers of our time. Due to his supplements to Schoenberg's arrangements of Mahler orchestral songs, Rainer Riehn has gained a wealth of experience with the arrangement practice of the association and reinterprets Mahler's Kindertotenlieder. Alban Berg's Violin Concerto, a musical epitaph, was rearranged for the Linos Ensemble by the composer and arranger Andreas N. Tarkmann. Finally, the arrangement for chamber orchestra of Berg's Altenberg-Lieder goes back to the Danish composer and music theorist Diderik Wagenaar.
Weitere Bilder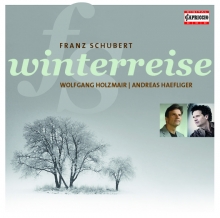 Wokfgang Holzmair
Andreas Haefliger, piano
C5149 PC: 21 UPC: 845221051499
For Schubert, the winter cold was less the expression of directly physical discomfiture than one of the mental state of inner isolation. Schubert seems personally to have identified with the fate of a wanderer full of restlessness.
This depression is not just melancholy or even sentiment. 'He was certainly not born a melancholic, but became one in this world, which he called miserable and had been poor and empty for him since his days at boarding school', Hans J. Fröhlich writes in his Schubert biography.
Wolfgang Holzmair performs in recitals throughout the world, including London, Lisbon, New York, Washington, at the Risör Festival (Norway), Bath Festival (UK), Menuhin Festival (Switzerland), Bregenz Festival and Carinthian Summer Festival (Austria), and in 2012 again in London, New York and Washington, as well as in Baltimore, Berkeley, Moscow, Oxford, Liège, etc.

Weitere Bilder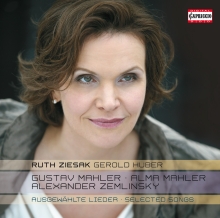 Gustav Mahler · Alma Mahler · Alexander Zemlinsky
Ruth Ziesak, soprano Gerold Huber, piano
C5119 PC: 21 UPC: 845221051192
Wherever she goes and looks in the male world, she is the mistress and ruler', reports Gustav Klimt, with whom Alma, just 20 years old, fell in love in 1898, much to the chagrin of her mother. The list of admirers that accumulated in the course of Alma's following life reads like a 'Who's who' of the intellectual life of the time. In Heine's poem Ich wandele unter Blumen, which Alma set to music at a young age, she saw a mirror of her effect on the strong sex: 'Ich wandle unter Blumen/ Und blühe selber mit .. ('I stroll amongst flowers/And blossom myself, too…). One of those that were strolling along was Alexander Zemlinsky. Enraptured by Alma's lively charm, he spontaneously decided to give a present to the almost stranger: 'Miss, […] a booklet of songs is being published. May I dedicate it to you?' The presentee was 'rigid with joy' at the Five Songs op. 7 dedicated to her and requested the composer to become her teacher.
When she presented him some of her songs – sadly, only a tiny fraction of her compositions is preserved today – Zemlinsky saw 'a lot of talent but little skill'.
Caught in the dichotomy between defiant rebellion and yearned-for submission – it was no coincidence that Alma felt attracted to dominant and usually considerably older men – she ultimately opted for Gustav Mahler and against composition.
'Und unter ihren Zweigen,/ da bin ich ganz allein,/ da bin ich ganz mein eigen,/
ganz nur dein' ('And under its branches/ there I am completely alone/ there I am completely myself/ utterly yours') are the final words of the song Waldseligkeit.


Weitere Bilder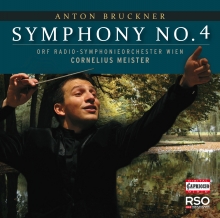 (1878/1880 Version by Leopold Nowak)
ORF Radio-Symphonieorchester Wien · Cornelius Meister
C5150 PC: 21 UPC: 845221051505
It is the only symphony by Bruckner that the composer himself gave a subtitle 'The Romantic'. However, in keeping with usage at the time it does not refer to 'Romanticism' in today's understanding of the word, but to an aesthetic attitude of the desire for the pervasion of art and nature. Hence, the French horns setting the tone from the outset can be interpreted programmatically: through them the spirit wafts through nature. For over an hour Anton Bruckner composed music in such an orgiastic and cheerful, Dionysian and Apollonian, voluptuous and boastful tone.
The ORF (Austrian Radio and Television) Vienna Radio Symphony Orchestra is a top orchestra of world renown; the orchestra defines itself in the Vienna orchestral tradition. The Orchestra emerged from the former Austrian Radio Orchestra in 1969. Cornelius Meister, born in Hanover in 1980, has been principal conductor and artistic director of the ORF Radio Symphony Orchestra Vienna since September 2010. With the RSO Vienna he holds regular concerts in Vienna Musikverein and Vienna Konzerthaus. Extensive tours have taken him to Japan and throughout Europe, including to Salzburg Festival. Together with the RSO Vienna, he is present on European radio, European television, on CDs and in the internet.

Tour Dates:

Dienstag, 29. Januar 2013
KÖLN: Kölner Philharmonie, Bischofsgartenstr. 1, 50667 Köln / 20.00

Mittwoch, 30. Januar 2012
Berlin: Philharmonie Berlin, Herbert-von-Karjan-Str.1, 10785 Berlin
20.00

Donnerstag, 31. Januar 2012
Hannover: Congress Centrum, Theodor-Heuss-Pl.1-3, 30175 Hannover / 20.00

Freitag, 01. Februar 2012
Düsseldorf: Tonhalle, Ehrenhof 1, 40479 Düsseldorf / 20.00

Sonntag, 03. Februar 2012
Dortmund: Konzerthaus, Brückstr.21, 44135 Dortmund / 16.00

Montag, 04. Februar 2012
Heilbronn: Kongresszentrum Harmonie, Allee 28, 74072 Heilbronn / 19.30

Dienstag, 05. Februar 2012
Frankfurt: Alte Oper Frankfurt, Opernplatz, 60313 Frankfurt / 20.00



Weitere Bilder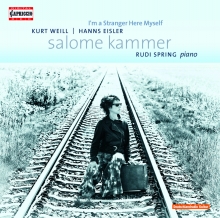 Songs by Hanns Eisler & Kurt Weill
Salome Kammer, voice Rudi Spring, piano
C5154 PC: 21 UPC: 845221051543
The composers Kurt Weill and Hanns Eisler and the poet Bert Brecht all experienced the fascinations and abysses of foreign lands and exile. What good fortune it must have been in Berlin in the 1920s when Weill and Brecht had such great success with their songs always telling of far-away countries and unknown things. At the time, they created an unmistakable style that has remained unique up to today with its mixture of popular music, supreme musical sophistication and political claims.
Salome Kammer's repertoire cannot be classified into subjects and genres. It covers avant-garde song and virtuoso vocal experiments, classical melodrama, song recitals, Dada poetry, vocal jazz or Broadway songs. Salome Kammer has held the international premieres of many works of New Music.


Weitere Bilder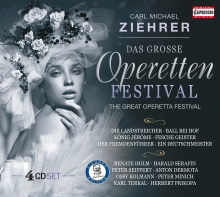 Die drei Wünsche · Ball bei Hof · Die Landstreicher · König Jérôme · Der Fremdenführer · Ein Deutschmeister · Der Husarengeneral ...
RENATE HOLM · HARALD SERAFIN · SYLVANA DUSSMANN · PETER SEIFFERT · ANTON DERMOTA · KURT EQUILUZ · OSSY KOLMANN · PETER MINICH · JÖRG SCHNEIDER
4CD-Box · C7147 PC: 22 UPC: 845221071473
CARL MICHAEL ZIEHRER (1843-1922)
The folksy creation of Ziehrer's operetta melodies can be seen as a transition between the opera-like stage works of the ageing Strauss and the young Lehar, full of completely new performance elements and electrifying impulses. Ziehrer's operetta blend falls back on Old Viennese elements of popular theatre, passing them on to a new generation (Benatzky, Lehar, Oskar Strauss).
This 4CD-Set presents for the first time an impressive Selection of Ziehrer's more than 20 Operetta Masterpieces, including rear recordings from the Austrian Radio Archive and new Productions of the Carl Michael Ziehrer Society in Vienna.

Weitere Bilder