box-sets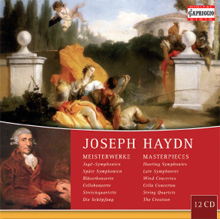 Joseph Haydn Meisterwerke
Cappella Coloniensis · Wiener Akademie
12 CD-Set
49 520 PC: 07
Jagd-Symphonien · Frühe Symphonien · Späte Symphonien · Cellokonzerte · Violinkonzerte · Sinfonia concertante · Trompetenkonzert · Streichquartette · Harmoniemesse · Kantaten · Die Schöpfung u.a.
Joseph Haydn steht als Begründer der Wiener Klassik am Anfang einer neuen musikalischen Epoche Ende des 18. Jahrhunderts und ist gleichzeitig ihr erster großer Meister. Auf allen Gebieten hat Haydn Großes geschaffen, und so enthält diese Box auf zwölf CDs Sinfonien, Konzerte, Streichquartette und geistliche Vokalmusik. Haydns Musik ist melodiös, reich an nuancierten Empfindungen.
Joseph Haydn is acclaimed as the founder of Viennese classicism at the beginning of a new musical epoch at the end of the 18th century, and was also its first great master. Haydn created great works in all genres, and this box therefore presents symphonies, concerts, string quartets and sacred vocal music on 12 CDs. Haydn's music is melodious and rich in nuance and feeling.