box-sets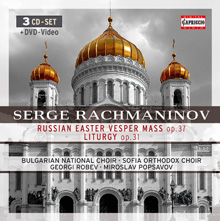 RUSSIAN EASTER VESPER MASS Op.37
SERGE RACHMANINOV
RUSSIAN EASTER VESPER MASS Op.37
PC: 04 UPC: 845221070100
LITURGY OF ST.JOHN CHRYSOSTOM Op.31
Special Price !
3CD plus DVD · C7010
MYSTERY of the EAST – FROM RUSSIAN MONASTERIES AND CHURCHES
Siberia – Resurrection in the sleeping country (Documentary)
MYSTIK des OSTENS – AUS RUSSISCHEN KLÖSTERN UND KIRCHENSibirien – Auferstehung im Schlafenden Land (Dokumentation)
MYSTIQUE DE L'EST – DES COUVENTS ET EGLISES DE RUSSIE
Sibirie – Résurrection au pays endormi (Documentation)
Languages: Deutsch / English / Français / Español · Picture Format: NTSC / Colour / 4:3
Region Code: 0 (worldwide) · Sound Format: Dolby Digital 5.1 · Running Time: 75 min.
BONCHO CHAKOV (Priest), tenor · NICOLAI DZICHKOVSKII (Priest) baritone
STEFAN MARKOV (Protodeacon) bass
BULGARIAN NATIONAL CHOIR · GEORGI ROBEV, conductor
SERGE RACHMANINOV
In seinem letzten Lebensjahr, 1943, wurde Serge Rachmaninov amerikanischer Staatsbürger. Doch nach eigener Aussage war er immer ein russischer Komponist. Zeitgenossen wussten zu berichten, dass Rachmaninov die politisch erzwungene Flucht aus Russland 1917 nach der Oktober-Revolution nie verwunden hat. In den 25 Jahren von Rachmaninovs Aufenthalt in den USA und der Schweiz, wo er von 1933 bis 1939 die Sommermonate verbrachte, entstanden ganze sechs Kompositionen. Obwohl Rachmaninov persönlich nicht am religiösen Leben teilnahm, komponierte er 1910 und 1915 zwei groß angelegte liturgische Werke für Chor a cappella, die Liturgie des Heiligen Johannes Chrysostomus und das große Abend- und Morgenlob, auch als "Vesper" bekannt geworden. Die Vesper war Rachmaninovs letztes in Russland komponiertes Werk, und es fiel bei den neuen kommunistischen Machthabern in Ungnade. Selbst die 1965 in Moskau produzierte erste Schallplatten-Aufnahme wurde nur im Ausland vertrieben, die eigene Bevölkerung durfte dieses Meisterwerk religiöser Musik nicht hören…
In his last year of life, in 1943, Serge Rachmaninov became an American citizen. Nevertheless he always regarded himself to be wholly Russian composer. He never really overcame the fact that he had to flee from Russia in 1917 after the October Revolution. During the 25 years, which he spent in the United States and in Switzerland (where he stayed during the summer months between 1933 and 1939), he only wrote six compositions. Thus not participating in religious life, he wrote two great liturgical works in 1910 and 1915 for a-capella choir. These were the "Liturgy of the
Holy John Chrysostomos" and the Morning and Evening Rejoycing, also known as the Vesper. The Vesper was Rachmaninov's last work to be composed in Russia, but it eventually fell in disgrace with the new Comunist leaders. Even the first disk recording in Moscow in the year 1965 was only produced for foreign markets; the own polulation was not allowed to listen to this kind of religious music.
Pendant sa dernière année de vie, en 1943, Serge Rachmaninov devint citoyen américain. Pourtant, d'après sa propre déclaration, il restait toujours un compositeur russe. Des contemporains racontent que Rachmaninov n'avait jamais pu surmonter sa fuite politiquement forcée de la Russie, après la révolution d'Octobre 1917. Pendant les 25 ans de son séjour aux Etats-Unis et en Suisse, où il passait les mois d'été de 1933 à 1939, il composa six œuvres. Bien que Rachmaninov ne participa pas à la vie religieuse, il créa, en 1910 et 1915, deux grandes œuvres liturgiques pour chœur a cappella, la liturgie du saint Jean Chrysostome et le grand éloge du soir et du matin, également connu sous le titre de "Vêpres". Cette composition fut la dernière des œuvres que Rachmaninov écrivit en Russie et elle tomba en disgrâce auprès des nouveaux dirigeants communistes. Même le premier enregistrement sur disque qui fut produit à Moscou, en 1965, n'était distribué qu'à l'étranger, les compatriotes de Rachmaninov n'avaient pas le droit d'entendre ce chef d'œuvre de la musique religieuse…