box-sets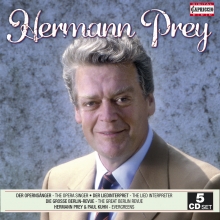 HERMANN PREY - Edition
CD 1+2: The Opera Singer (Mozart / Lortzing / Kreutzer / Wagner) · CD 3: The Lied Interpreter (Beethoven / Brahms / Loewe) · CD 4: The Grat Berlin Revue (Operetta) / CD 5: Hermann Prey & Paul Kuhn - Evergreens

C7202 (5CD) PC: 04 (Special Price) 845221072029
PAMELA COBURN · REGINA KLEPPER · FRANZ HAWLATA
PAUL KUHN · GEOFFREY PARSONS · WDR RUNDFUNKCHOR KÖLN
WDR RUNDFUNKORCHESTER KÖLN
HELMUTH FROSCHAUER · HEINZ GEESE
'I am an EU singer', Hermann Prey always said about himself. However, by that he did not mean so much his citizenship of a country of the European Union as the fact that he felt at home in the fields of 'E' and 'U', i.e. in 'serious' and entertainment music alike. For Prey, this distinction never existed, but only the issue of the quality of music, and he found this not only in the opera and Lied, but also in the operetta, the musical and the well-made hit. For forty-six years, from the time of his first commitment in Wisebaden in 1952 onwards, Prey always convinced his audience: in opera, art and folksong, operetta and musical alike. This collection of 5CDs shows us his fascinating wide range of repertoire and interpretation.

Weitere Bilder