box-sets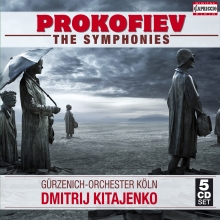 SERGE PROKOFIEV THE SYMPHONIES

Gürzenich-Orchester Köln · Dmitrij Kitajenko
5CD-Box: C7190 PC: PC04 (Special Price) UPC: 845221071909





CD 1 Symphony No. 1 in D major, Op 25 'Classical'
Symphony No. 7 in C sharp minor, Op 131
CD 2 Symphony No. 2 in D minor, Op 40
Symphony No. 3 in C minor, Op 44
CD 3 Symphony No. 4 in C major, Op 47 (Original 1930 version)
Symphony No. 4 in C major, Op 112 (Revised 1947 version)
CD 4 Symphony No. 5 in B flat major, Op 100
CD 5 Symphony No. 6 in E flat minor, Op 11
Gürzenich-Orchester Köln
DMITRIJ KITAJENKO
Prokofiev enjoyed relative freedom in the symphonic medium. Symphonies allowed him to create dancing rhythms that need not be strictly danceable, as well as singing melodies beyond the limitations of human vocal chords. He worked on symphonies – a part from earlier, unrealized student works – from 1916 until 1952, the year before his death. A complete set of Prokofiev's symphonies provides a satisfyingly all-encompassing look at the composer's creativity throughout the years of his mastery.


Weitere Bilder