box-sets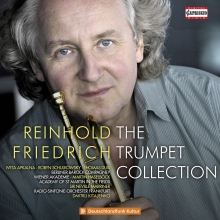 Reinhold Friedrich - The Trumpet Collection
TRIBUTE TO OLD ENGLAND · ITALIAN TRUMPET CONCERTOS · GERMAN TRUMPET CONCERTOS · BAROQUE TRUMPET CONCERTOS · CLASSICAL TRUMPET CONCERTOS · 20th CENTURY TRUMPET CONCERTOS
TRUMPET AND ORGAN · TRUMPET AND PERCUSSION
10CD-Set · C7285 PC: 07 UPC: 845221072852
CD 1 TRIBUTE TO OLD ENGLAND
Handel · Clarke · Purcell · Snow · Finger · Corbett · Lawes
CD 2 ITALIAN TRUMPET CONCERTOS
Stradella · Corelli · Marcello · Torelli · Albinoni
CD 3 GERMAN TRUMPET CONCERTOS: Molter · Endler
CD 4 BAROQUE TRUMPET CONCERTOS: Endler · Telemann · Fasch
CD 5 CLASSICAL TRUMPET CONCERTOS: J. Haydn · M. Haydn · L. Mozart · Hummel
CD 6 20th CENTURY TRUMPET CONCERTOS: Jolivet · Denisov · Rääts · Shostakovich
CD 7 CONTEMPORARY TRUMPET CONCERTOS: Zimmermann · Berio · Rihm · Scelsi · Killmayer
CD 8 TRUMPET AND ORGAN
Messiaen · Zbinden · Shostakovich · Eben · Escaich · Tomasi · Sauget · Takemitsu
CD 9 BELLE EPOQUE – TRUMPET AND PIANO
Charlier · Thome · Pennequin · Ropartz · Gaubert · Erlanger
Pares · Gedalge · Savard
CD 10 TRUMPET AND PERCUSSION: Cage · Wolff · Walter · Huber · Bornhoeft
REINHOLD FRIEDRICH, Trompete / trumpet
IVETA APKALNA, Orgel / organ· THOMAS DUIS, Klavier / piano
ROBYN SCHULKOWSKY, Schlagzeug / percussion
BERLINER BAROCK-COMPAGNEY
WIENER AKADEMIE – MARTIN HASELBÖCK
BUDAPEST STRINGS – BELA BANFALVI
ACADEMY OF ST MARTIN IN THE FIELDS – SIR NEVILLE MARRINER
RADIO-SINFONIE-ORCHESTER FRANKFURT – DMITRIJ KITAJENKO
DEUTSCHES-SYMPHONIE-ORCHESTER BERLIN – LUTZ KÖHLER


Weitere Bilder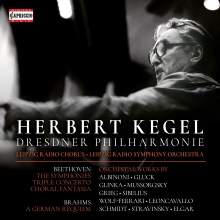 HERBERT KEGEL EDITION
BEETHOVEN · BRAHMS ALBINONI · GLUCK · GLINKA MUSSORGSKY · GRIEG · SIBELIUS
Rösel · Funke · Büchner · Hargan · Kováts · Lorenz Leipzig Radio Chorus Berlin Radio Chorus · Leipzig Radio Symphony Orchestra · DRESDNER PHILHARMONIE
8CD-Box · C7275 PC: 06 UPC: 845221072753
CD 1: LUDWIG VAN BEETHOVEN Symphony No. 1 in C major, op. 21
Symphony No. 3 in E flat major, op. 55 "Eroica"
CD 2: LUDWIG VAN BEETHOVEN
Symphony No. 2 in D major, op. 43 · Symphony No. 7 in A major, op. 92
CD 3: LUDWIG VAN BEETHOVEN
Symphony No. 4 in B flat major, op. 60 · Symphony No. 5 in C minor, op. 67
CD 4: LUDWIG VAN BEETHOVEN
Symphony No. 6 in F major, op. 68 "Pastoral" · Symphony No. 8 in F major, op. 93
CD 5: LUDWIG VAN BEETHOVEN
Symphony No. 9 in D minor, op. 125 "Choral"
Alison Hargan · Ute Walther · Eberhard Büchner · Kolos Kováts
Leipzig Radio Chorus · Berlin Radio Chorus
CD 6: LUDWIG VAN BEETHOVEN
Concerto for piano, violin, cello and orchestra in C major, op. 56 "Triple Concerto"
Fantasia for piano, chorus and orchestra in C minor, op. 80 "Choral Fantasia"
Peter Rösel, piano· Christian Funke,violin· Jürnjakob Timm, cello · Leipzig Radio Chorus
CD 7: JOHANNES BRAHMS
A German Requiem, op. 45
Marie Anne Häggander, soprano· Siegfried Lorenz, baritone
Leipzig Radio Chorus · Berlin Radio Chorus · Leipzig Radio Symphony Orchestra
CD 8: ALBINONI: Adagio in G minor· GLUCK: Dance of the Blessed Spirits
GLINKA: Ruslan and Ludmilla- Overture· MUSSORGSKY: Khovanshchina – Entr'acte
GRIEG: Two Elegiac Melodies, op. 34 · SIBELIUS: Valse triste, op. 44
WOLF-FERRARI: I Quattro Rustecchi -Intermezzo
LEONCAVALLO: Pagliacci – Intermezzo· SCHMIDT: Notre Dame – Intermezzo
STRAVINSKY:Circus Polka ·ELGAR: Pomp and Circumstance
Herbert Kegel is revered in Japan since his lifetime as one of the most important conductors of the 20thcentury. By contrast, maestro Kegel has always been regarded with a certain scepticism in his home country. For this reason, Kegel's name today also stands as a warning as to what damage the so-called 'music business' and state-regulated cultural policies may do. His interpretations are characterized by immensely painstaking precision, transparency and listenability. The list of exploits can be continued, including, undoubtedly, the first Beethoven cycle in digital technology. It can also be heard in this box. Kegel's slow tempi are initially surprising, but they have an effect: the poetry and clarity of Beethoven's scores have rarely shown to more advantage.

Weitere Bilder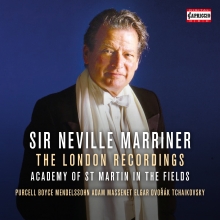 SIR NEVILLE MARRINER - The London Recordings
PURCELL BOYCE MENDELSSOHN ADAM MASSENET ELGAR DVORAK TCHAIKOVSKY
ACADEMY OF ST MARTIN IN THE FIELDS
14CD-Set · C7250 PC: 07 UPC: 845221072500

CD 1 HENRY PURCELL: Opera Suites
CD 2 WILLIAM BOYCE: 8 Symphonies
CD 3 FELIX MENDELSSOHN BARTHOLDY: Overtures
CD 4 ADOLPHE CHARLES ADAM Giselle
CD 5 JULES MASSENET: Ballet Suites
CD 6 EDWARD ELGAR: Enigma Variations
The Wand Of Youth Suites Nos. 1 & 2
CD 7+8 ANTONIN DVORAK:
Symphonies Nos. 7, 8 & 9 "From The New World"
Carnival Overture · Othello Overture
CD 9-14 PETER TCHAIKOVSKY:
The Symphonies Nos. 1-6
Manfred Symphony · Capriccio Italien · Overture "1812" · Francesca da Rimini
Neville Marriner was the Academy of St. Martin in the Fields – the orchestra he founded in 1958 and led for over half a century. Moreover, he was the face of classical music to millions of listeners… in a way that only Toscanini, Bernstein, and Karajan have rivalled in the age of recorded sound. In the later years, it was Capriccio, that stepped in when other labels showed no interest to record the Academy in the bigger romantic repertoire. The central element of this collection is the set of Tchaikovsky symphonies."The members of the Academy, trained on quite different repertory, let their hair down in playing that is both crisp and alert, obviously enjoying their outing into this pop repertory." Edward Greenfield, Gramophone


Weitere Bilder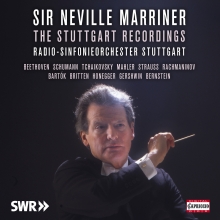 Sir Neville Marriner - The Stuttgart Recordings
BEETHOVEN SCHUMANN TCHAIKOVSKY MAHLER STRAUSS RACHMANINOV BARTOK BRITTEN HONEGGER GERSHWIN
RADIO-SINFONIEORCHESTER STUTTGART
15CD-Box C7230 PC: 07 UPC: 845221072302
CD 1 + 2 LUDWIG VAN BEETHOVEN: Overtures
CD 3 – 5 ROBERT SCHUMANN
Symphonies Nos. 1 – 4 · "Zwickauer" · Manfred Overture
CD 6 – 7 PETER TCHAIKOVSKY: Orchestral Suites 1-4
CD 8 GUSTAV MAHLER: Symphony No. 4
CD 9 – 10 RICHARD STRAUSS
Don Juan · Till Eulenspiegel · Capriccio · Rosenkavalier-Suite
CD 11 SERGE RACHMANINOV: Symphony No. 2· Vocalise
CD 12 BELA BARTOK: Der wunderbare Mandarin
CD 13 BENJAMIN BRITTEN: Sinfonietta op. 1 · Sinfonia da Requiem
ARTHUR HONEGGER: Sinfonie Nr. 3 "Liturgique"
CD 14 GEORGE GERSHWIN
Rhapsody in Blue · Piano Concerto in F · An American In Paris
CD 15 BARBER · COPLAND · GERSHWIN · BERNSTEIN
In Stuttgart, 1983 – 1989,Neville Marriner followed Sergiu Celibidache, offering quite the contrast to that willfully prodigious Romanian broodingly charismatic style with his own easygoing, less spectacular but genial manner and music-making. His sound wasn't as dense and carefully crafted, but the ensemble's playing became lighter and flexible, agile rather than probing. It is in his Stuttgart period that Marriner increasingly focused on repertoire that went beyond the baroque and classical periods. This compilation offers repertoire which music lovers will be less likely to associate with Marriner: German romanticism, including all of Schumann's Symphonies, Richard Strauss, Tchaikovsky and Rachmaninoff, Mahler, Bartók and Gershwin – The fundamental impression that comes from re-listening to these performances, apart from good and fresh music-making, is one of sympatheticmusic-making. That feels about right as an epitaph for the man and his body of work.

Weitere Bilder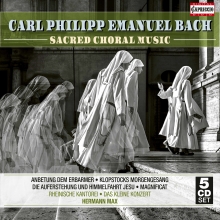 CARL PHILIPP EMANUEL BACH: SACRED CHORAL MUSIC
Klopstocks Morgengesang · Magnificat · Die Auferstehung und Himmelfahrt Jesu
Rheinische Kantorei · Das Kleine Konzert · Hermann Max · La Stagione Frankfurt · Michael Schneider
5CD-Set C7221 PC: 04 UPC: 845221072210
COMPACT

DISC

1
Klopstocks Morgengesang am Schöpfungsfeste Wq 239 (Leipzig 1784)
Auf, schicke dich recht feierlich Wq 249 (1775)
Anbetung dem Erbarmer Wq 243 (vor/before 1784)
Heilig Wq 217 (1776)



COMPACT

DISC

2
Gnädig und barmherzig ist der Herr Wq 250 (1785)
Wer ist so würdig als du Wq 222 (Hamburg 1774)
Der Herr lebet Wq 251



COMPACT

DISC

3
Magnificat Wq 215 (1749)
Der Gerechte, ob er gleich zu zeitlich stirbt
(H 818)
COMPACT

DISC

4 + 5
Die Auferstehung und Himmelfahrt Jesu
Wq 240 (1777/78)
The Resurrection and Ascension of Jesus
Gott hat den Herrn auferwecket
Wq 244 (1756) "Easter Cantata"
RHEINISCHE

KANTOREI

·

DAS

KLEINE

KONZERT




HERMANN

MAX




DRESDNER

KAMMERCHOR

· LA

STAGIONE




MICHAEL

SCHNEIDER

(Magnificat)
After the 5CD-Release with sacred choral music by Georg Philipp Telemann (C7215), Capriccio continues now with most impressive Cantatas and Oratorios by Carl Philipp Emanuel Bach. It's already shown that the famoust of the Bach-Sons has nothing to hide compare to his Fathers Masterworks. Since three decades, Hermann Max has been a major con­trib­u­tor to the canon of his­tor­i­cal­ly informed performance practice and makes these Rarities alive again.
Weitere Bilder