box-sets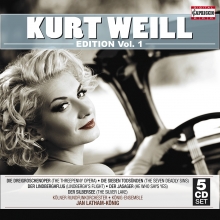 Kurt Weill - Edition Vol.1
DIE DREIGROSCHENOPER · DIE SIEBEN TODSÜNDEN · MAHAGONNY SONGSPIEL · DER LINDBERGHFLUG · DER SILBERSEE
Doris Bierett · Trudeliese Schmidt · Ulrike Steinsky · WDR Rundfunkorchester Köln · Jan-Latham König
5CD-Box: C7178 PC: PC04 (Special Price) UPC: 845221071787
CD 1: DIE DREIGROSCHENOPER / THE THREEPENNY OPERA
(Text: Bertolt Brecht)
CD 2: DIE SIEBEN TODSÜNDEN / THE SEVEN DEADLY SINS
MAHAGONNY SONGSPIEL
(Text: Bertolt Brecht)
CD 3: DER LINDBERGHFLUG / LINDBERGH'S FLIGHT
DER JASAGER / HE WHO SAYS YES (School Opera, 1930)
CD 4 + 5: DER SILBERSEE / THE SILVER LAKE
Ein Wintermärchen / A Winter's Tale (Text: Georg Kaiser)
DORIS BIERETT · TRUDELIESE SCHMIDT · ULRIKE STEINSKY
WOLFGANG SCHMIDT · WALTER RAFFEINER
KÖNIG-ENSEMBLE
WDR RUNDFUNKORCHESTER KÖLN · JAN LATHAM-KÖNIG
In the framework of Capriccio's Kurt Weill edition the present CD-Box now offers a collection of the prestigious recordings of well known and mostly unknown stage works of the composer. Beside the famous "Threepenny Opera" and "The Seven Deadly Sins" we also included some rarities like the radio cantata "Lindbergh's Flight", the School Opera "He Who Says Yes" and the romantic Winter Tale "The Silver Lake". An additional 5CD-Set is in preparation.

Weitere Bilder