box-sets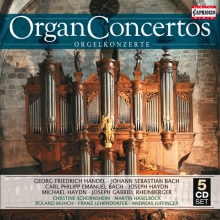 ORGAN CONCERTOS
Handel · J.S. Bach · C.Ph.E.Bach · J. Haydn · M. Haydn · Rheinberger
Christine Schornsheim · Martin Haselböck · Roland Münch · Wiener Akademie
5CD · C7172 PC: 22 (Special Price) UPC: 845221071725
CD 1: GEORG FRIEDRICH HÄNDEL (1685-1759)
Organ Concertos No. 6 in B flat major HWV 294 · No. 3 in G minor HWV 291
No. 4 in F major HWV 292 · No. 2 in B flat major HWV 290 · No. 5 in F major
HWV 293 · No. 13 in F major HWV 295 "The Cuckoo and the Nightingale"
CD 2: JOHANN SEBASTIAN BACH (1685-1750)
Concerto for organ, oboe, strings and continuo in D minor
Reconstruction after BWV 146 1&2, BWV 188,1
CARL PHILIPP EMANUEL BACH (1714-1788)
Concerto for organ, strings and continuo in G major Wq 34/H 444 · in E flat
major Wq 35/H 446
CD 3: JOSEPH HAYDN (1732-1809)
5 Concertos for organ and strings in C major,
Hob. XVIII:1 · Hob. XVIII:5 · Hob. XVIII:8 · Hob. XIV:11 · Hob. XIV:12
CD 4: MICHAEL HAYDN (1737-1806):
Concerto for organ, viola, strings and continuo in C major
JOSEPH HAYDN: Concerto for organ and strings in C major, Hob. XVIII:10
WOLFGANG AMADEUS MOZART: Church Sonata in C major for strings and
organ KV 336 (336d) · 3 Church Sonatas for two solo violins, bass and organ
K.224 (241a) K. 67 (41h) · K. 328 (317c)
CD 5: JOSEPH GABRIEL RHEINBERGER (1839-1901)
Concertos for organ and orchestra op. 137 & op. 177 · Suite for violin and
organ op.166
CHRISTINE SCHORNSHEIM · MARTIN HASELBÖCK · ROLAND MÜNCH
WIENER AKADEMIE · NEUES BACHISCHES COLLEGIUM MUSICUM

This 5CD-Set includes some of the most important and most impressive concertos for organ with instrumental accompaniment and shows us also the interesting development of this concert genre from Baroque periode to the romantic era. One of the most famous virtuoso performers of his day and age on the organ and the piano, George Frideric Handel was the first composer in the history of music to liberate the organ from its liturgical context and turn it into a concert instrument. At the first performance of his oratorio "Deborah", on March 17th, 1733, he also for the first time played one of his organ concertos as interval music on a small instrument without any pedals. Two years later, the official announcements of performances of his spiritual works were already referring to these "incidental pieces" as a special attraction for audiences seeking musical diversification. In the 18th century, particularly in its second half, very basic changes in musical life and far-reaching shifts in style occurred, having a lasting effect also on the area of organ music. The fortepiano began its victorious advance, bringing to an end the earlier predominance of the harpsichord and the organ. Pieces that are rich in harmony and full of affect changes causing tension can be more graphically presented on a pianoforte with its wider range of dynamic means than on a harpsichord. Other pieces more deliberately placing emphasis on a splendid sound and representation suggest a performance on the harpsichord whose wealth of harmonic overtones are better suited to hold their own against an orchestra and in larger halls than the comparatively intimate sound of an early Viennese pianoforte. Against this background, the organ presents itself as a moderator between both instruments. Because of its many registers, it has tonal versatility available and is able to effortlessly make itself heard due to its acoustics.Haydn definitely cannot have envisaged the type of an opulent church organ, but rather a smaller "cabinet organ" as it was found in the music rooms and small chapels of the wealthy bourgeoisie or nobility. The soloist, accompanied by a small circle of instrumentalists, was, very likely, the composer Haydn himself.
Weitere Bilder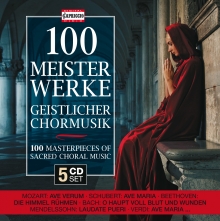 100 MASTERPIECES of SACRED CHORAL MUSIC
Ave verum · Ave Maria Laudate Dominum · Salve Regina · Ich bete an die Macht der Liebe ...
Wiener Sängerknaben · Thomanerchor Leipzig · Regensburger Domspatzen ....
5CD-Set C7155 PC: 22 (Special Price) UPC: 845221071558
"Singing is the foundation of everything in music", wrote Georg Philipp Telemann, and this basic musical truth still holds good today. This 5CD-Set with 100 Masterpieces can be an incentive to reflect once again on the foundation of music and, additionally, to become acquainted with the diversity of sacred choral compositions. For precisely in this sphere the most compositionally lavish, musically captivating choral works were written. This particularly applies to J.S.Bach, Mozart, Schubert, Mendelssohn, Brahms and Bruckner. Specially recordings by these and others have been assembled here, partly in the original scoring with a boys' choir. What earlier was current practice is today almost a rarity.

CD 1:
SCHUBERT: Ave Maria · MOZART: Laudate Dominum · SILCHER: So nimm denn meine Hände · HAYDN: Die Schöpfung / The Creation (Chorus) · MENDELSSOHN: Ave Maria · BACH: Jesu meines Herzens Freud · TRADITIONAL: Meerstern ich dich grüße….

CD 2:
HÄNDEL: Hallelujah · MOZART: Ave verum · BEETHOVEN: Die Himmel rühmen · SCHUBERT: Salve Regina · TRADITIONAL: Maria, Mutter unsres Herrn · MOZART: Orgelsolomesse · VERDI: Requiem (Lacrymosa) …

CD 3:
MENDELSSOHN: Vom Himmel hoch · BACH: Messe h-moll / Mass in B Minor (Gloria) · BRAHMS: Täublein weiß · BRUCKNER: Virga jesse · SCHUBERT: Chor der Engel …

CD 4:
BRUCKNER: Te Deum · SCHUBERT: Heilig, heilig · TRADITIONAL: Glorwürd'ge Königin · MENDELSSOHN: Veni Domine · VERDI: Ave Maria …

CD 5:
BORTNJANSKY: Ich bete an die Macht der Liebe · BACH: O Haupt voll Blut und Wunden · SCHUBERT: Stabat Mater · BRUCKNER: Ave Maria · BRAHMS: Ein Deutsches Requiem / German Requiem (Selig sind)….

WIENER SÄNGERKNABEN (VIENNA BOYS' CHOIR) · THOMANERCHOR LEIPZIG · DRESDNER KREUZCHOR · REGENSBURGER DOMSPATZEN · RIAS-KAMMERCHOR · MÄNNERCHOR DES RUNDFUNKCHORES LEIPZIG
WIENER AKADEMIE – MARTIN HASELBÖCK · RADIO-SYMPHONIE-ORCHESTER BERLIN – MARCUS CREED

Weitere Bilder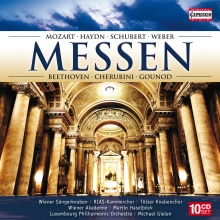 World famous MASSES
Mozart; Coronation Mass · Mass in C Minor SCHUBERT: German Mass BEETHOVEN; Missa solemnis · HAYDN: Harmony Mass CHERUBINI: Coronation Mass · GOUNOD: St. Cecilia Mass ...

10CD-Box C7161 PC: 23 (Special Price) UPC: 845221071619
This 10 CD-Set offers a collection of the most popular Mass compositions from the Viennese Classics up to the romantic period. It includes famous masterpieces like Mozart's "Coronation Mass", Beethoven Missa solemnis, Haydn "Harmony Mass", Gounod St. Cecilia Mass but also rarities like "Missa Sancti Joannis Nepomuceni" by Michael Haydn, the "Coronation Mass" by Cherubini, "Missa sacra" by Robert Schumann and the "Misa solemnis" of the german romantic composer Friedrich Kiel. Performed by well known artists like the Vienna Boys' Choir, RIAS Chamber Choir, Tölzer Boys' Choir, Wiener Akademie and last but not least also includes the spectacular recording of Beethoven's Missa solemnis with conductor Michael Gielen.

CD 1: WOLFGANG AMADEUS MOZART: Messe C-Dur / in C K 317 "Krönungsmesse" / "Coronation" · Missa solemnis c-moll / in C minor K 139 "Waisenhausmesse" / "Orphanage Mass"

CD 2: WOLFGANG AMADEUS MOZART: Messe c-Moll / in C minor K 427 "Grosse Messe" / "Great Mass"· Missa brevis C-Dur / in C major K 259 "Orgelsolo-Messe" / "Organ Solo Mass"

CD 3: JOSEPH HAYDN: Messe B-Dur / B flat major "Harmoniemesse" / "Harmony" MICHAEL HAYDN: Missa Sancti Joannis Nepomuceni MH 182

CD 4: LUIGI CHERUBINI: MISSA PER L'INCORONAZIONE CARLO X. (1825) · Messe zur Krönung Karls X. · Mass for the coronation of Charles X. · MICHAEL HAYDN: Te Deum in D MH 829

CD 5: LUDWIG VAN BEETHOVEN: Missa solemnis op.123

CD 6: FRANZ SCHUBERT: Messe Nr.5 As-Dur / in A flat major D 678 · Deutsche Messe D 872

CD 7: FRANZ SCHUBERT: Messe Nr.2 G-Dur / in G major D 167 · Messe Nr.6 Es-Dur / in E flat major D 950

CD 8: ROBERT SCHUMANN: Missa sacra c-Moll / in C minor op.147 (1852) CARL MARIA VON WEBER: Missa sancta G-Dur / G major "Jubelmesse" (1819)

CD 9: FRIEDRICH KIEL: Missa solemnis op.40

CD 10: CHARLES GOUNOD:Messe solennelle De Sainte-Cécile · Cäcilienmesse · St. Cecilia Mass · ANTON BRUCKNER: Te Deum

WIENER SÄNGERKNABEN (VIENNA BOYS' CHOIR) ·TÖLZER KNABENCHOR ALTENBURGER SÄNGERKNABEN · RIAS-KAMMERCHOR · EUROPA CHOR AKADEMIE · KAMMERCHOR CANTEMUS · WIENER AKADEMIE – MARTIN HASELBÖCK · RADIO-SYMPHONIE-ORCHESTER BERLIN – MARCUS CREED DEUTSCHE KAMMERAKADEMIE NEUSS AM RHEIN – WERNER EHRHARDT ORCHESTRE PHILHARMONIQUE DU LUXEMBOURG – MICHAEL GIELEN



Weitere Bilder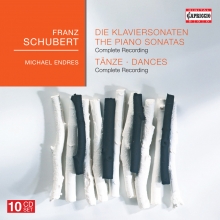 FRANZ SCHUBERT - The Piano Sonatas · Waltzes and Dances
(Complete Recording)
Michael Endres, piano
10 CD-Box C7125 PC: 24 UPC: 845221071251
· Re-release of the many times awarded Schubert Recordings with Michael Endres
· Now in a new 10 CD Package together with the complete recording of all Dances, Waltzes and Ecossaises
· incl. Booklet with all important informations (also in English Version)
· Special price!



Weitere Bilder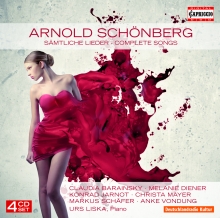 ARNOLD SCHÖNBERG
Sämtliche Lieder · Complete Songs
Claudia Barainsky · Melanie Diener ·Konrad Jarnot · Markus Schäfer · Urs Liska, piano
4CD-Box · C7120 PC: 23 UPC: 8452210571206
· First Complete Recording of the Songs For Voice And Piano by Arnold Schönberg
· Top Singers like CLAUDIA BARAINSKY · MELANIE DIENER · KONRAD JARNOT · MARKUS SCHÄFER · CHRISTA MAYER · URS LISKA, piano
· incl. Gurre-Lieder (Early Version for voice and piano) Fifteen poems from "The book of the hanging gardens · Brettl-Lieder · Early Songs

Weitere Bilder