sacd-hybrid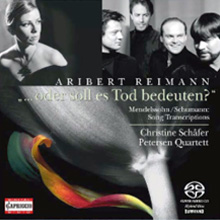 Aribert Reimann "...oder soll es Tod bedeuten?"
Christine Schäfer
Petersen Quartett
1SACD Hybrid 71 090 PC: 21 EAN: 4006408710905
FELIX MENDELSSON BARTHOLDY
Acht Lieder und ein Fragment von Felix Mendelssohn Bartholdy nach Gedichten von Heinrich Heine für Sopran und Streichquartett bearbeitet und verbunden mit sechs Intermezzi von Aribert Reimann.
Eight Songs and a Fragment by Felix Mendelssohn Bartholdy on poems by Heinrich Heine, arranged for soprano and string quartet and linked to six Intermezzi by Aribert Reimann.
ROBERT SCHUMANN
Streichquartett A-Dur op.41 Nr.3—Sechs Gesänge op.107,
transkribiert von ARIBERT REIMANN
Der deutsche Komponist Aribert Reimann feierte 2006 seinen 70. Geburtstag. Christine Schäfer und das Petersen Quartett haben zwei von Reimanns Werken aufgenommen, die Lieder der deutschen Romantik von Mendelssohn und Schumann, die zum Ausgangspunkt von Reimanns eigener kompositorischer Aktivität werden. Schumanns Streichquartett op.41,3 bildet die sinnfällige Ergänzung.
String Quartet in A major op.41 no.3—Six Songs op.107,
transcribed by ARIBERT REIMANN
In 2006, the German composer Aribert Reimann celebrated his 70th birthday. Christine Schäfer and the Petersen Quartett have recorded two of Reimann's works, the German romantic songs of Mendelssohn and Schumann, which became a source for Reimann's own compositional activity. Schumann's string quartet op. 41 no. 3 is the logical complement to this programme.