sacd-hybrid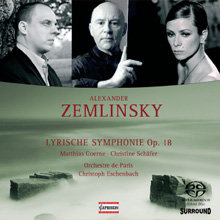 Alexander Zemlinsky Lyrische Symphonie
Matthias Goerne · Christine Schäfer
Orchestre de Paris – Christoph Eschenbach
SACD 71 081 PC: 21 EAN: 4006408710813
Alexander Zemlinsky komponierte seine "Lyrische Sinfonie" 1922 nach dem Vorbild von Gustav Mahlers "Lied von der Erde". Sie ist Zemlinskys bedeutendstes Werk neben seinen Opern. Die Neuaufnahme wartet mit einer absoluten Starbesetzung auf: Christoph Eschenbach leitet das Orchestre de Paris, Christine Schäfer und Matthias Goerne sind die Solisten – vier Capriccio-Debüts der ganz besonderen Art.
"Hervorragend und extravagant. Einfach hinreißend!
Frankfurter Rundschau
CD-Tipp der Woche Die Zeit
Alexander Zemlinsky composed his "Lyrische Sinfonie" ("Lyrical Symphony") in 1922, modelling it on Gustav Mahler's "Lied von der Erde" ("Song of the Earth"). Along with his operas, it is Zemlinsky's most important work. This new recording presents a star cast: Christoph Eschenbach conducts the Orchestre de Paris, Christine Schäfer and Matthias Goerne are the soloists – four very special Capriccio debuts.
"Outstanding and flamboyant. Simply delightful!
Frankfurter Rundschau
CD Tip of the Week Die Zeit