dvd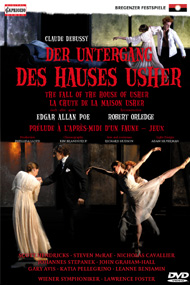 Der Untergang des Hauses Usher
The Fall of the House of Usher
CLAUDE DEBUSSY
1 DVD 93 517 PC: 31 4006408935179
World Prémiere Recording
Ballett und Oper nach Edgar Allan Poe
Ballet and opera based on the tale by Edgar Allan Poe
Scott Hendricks · Nicholas Cavallier · Wiener Symphoniker · Lawrence Foster
World Prémiere Recording · Capriccio presents the world premiere of the first performance of the recently reconstructed opera by Debussy, "The Fall of the House of Usher" based on the tale by Edgar Allan Poe. This is already the third publication of performances presented at the Bregenz Festival (the others were "Masquerade" and "La Bohème" with Rolando Villazón). Phyllida Lloyd's much noticed production combines Debussy's opera in one act with the "Prelude to the Afternoon of a Faun" and the ballet "Jeux" (Games), creating a fascinating collage of music, song, dance and action.
Als Weltpremiere präsentiert Capriccio die Uraufführung der rekonstruierten Fassung von Debussys Oper "Der Untergang des Hauses Usher" nach der Erzählung von Edgar Allan Poe. Es ist dieses bereits die dritte Veröffentlichung von Aufführungen der Bregenzer Festspiele (nach "Maskerade" und "La Bohème" mit Rolando Villazón). Die vielbeachtete Inszenierung von Phyllida Lloyd kombiniert Debussys einaktige Oper mit dem "Vorspiel zum Nachmittag eines Fauns" und dem Ballett "Jeux" (Spiele) zu einer faszinierenden Collage von Musik, Gesang, Tanz und Aktion.
NTSC · Subtitles: D / GB /F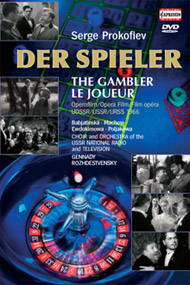 Serge Prokofiev · Der Spieler
THE GAMBLER · LE JOUEUR

1 DVD · 93 510 PC: 31 4006408935100
Original 1966 Soviet Film · Opernfilm · Opera Film · Film opéra
nach dem Roman von / based on the novel by
FJODOR
DOSTOJEWSKI
Filmregie · Film Director: J. Bogatirenko
Babjatinskii · Machow · Poljakowa
Troizkii · Matjuschina · Sokolow
Choir and Orchestra of the USSR National Radio
and Television
GENNADY ROZHDESTVENSKY
Prokofjews Oper "Der Spieler" nach dem Roman von Fjodor Dostojewski zählt nicht zu seinen bekannten Werken. "Der Spieler" wurde zunächst in Westeuropa in französischer Sprache gespielt. Erst 1963, zehn Jahre nach Prokofjews Tod, erklang das Werk zum ersten Mal in Russland, dirigiert von Gennadi Rozhdestvensky, der drei Jahre später auch die Verfilmung der Oper leitete. Dieses Dokument von 1966 legt Capriccio jetzt als DVD vor.
Prokofiev's opera "The Gambler" based on the novel by Fyodor Dostoyevsky is not among his popular works. In Western Europe, "The Gambler" was first played in the French language. The work was first performed in Russia only in 1963, ten years after Prokofiev's death. It was conducted by Gennadi Roshdestvensky, who was also responsible for the film version of the opera three years later. Capriccio now presents this recording from 1966 as a DVD.
Subtitles: Deutsch / English / Français
Picture Format: NTSC / black & white / 4:3
Sound Format: 2.0 Stereo Dolby Digital
Historical Recording
Der Evangelimann
Volksoper Wien
Wilhelm Kienzl
93 516 PC: 31 EAN: 4006408935162
Musikalisches Schauspiel in zwei Aufzügen · Musical drama in two acts
Walter Fink · Alexandra Reinprecht · Wolfgang Koch · Jürgen Müller · Janina Baechle · Josef Luftensteiner
Chor & Orchester der Volksoper Wien, Alfred Eschwé · Inszenierung: Josef Ernst Köpplinger · Co-Produktion VOLKSOPER WIEN & CAPRICCIO
Wilhelm Kienzls "Der Evangelimann" aus dem Jahr 1895 wird behutsam modernisiert, um die Geschichte zweier verfeindeter Brüder noch prägnanter hervortreten zu lassen. Neben dem berühmten Gesang des Laienpredigers "Selig sind, die Verfolgung leiden" weist diese seit den 50er Jahren in Vergessenheit geratene Oper zahlreiche packende Szenen auf.
SUBTITLES: Deutsch/English/Français PICTURE FORMAT: NTSC/Colour/16:9 SOUND FORMATS: 5.1 Surround/2.0 Dolby Digital REGION CODE: 0 (worldwide)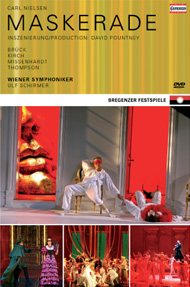 Carl Nielsen · Maskerade
Bregenzer Festspiele
David Pountney
1DVD · 93 512 PC: 31 EAN: 4006408935124
Komische Oper in drei Aufzügen
Comical Opera in three acts
GÜNTER MIESSENHARDT · DANIEL KIRCH · MARKUS BRÜCK · JULIA JUON · ADRIAN THOMPSON · ERNST D. SUTTHEIMER · WIENER SYMPHONIKER · ULF SCHIRMER
Inszenierung: DAVID POUNTNEY
Co-Produktion BREGENZER FESTSPIELE und CAPRICCIO
SUBTITLES: Deutsch / English / Français / Dansk PICTURE FORMAT: NTSC / Colour / 4:3 SOUND FORMATS: 5.1 Surround / 2.0 Dolby Digital REGION CODE: 0 (worldwide)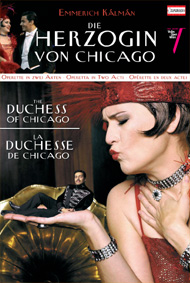 Die Herzogin von Chicago
The Duccess of Chicago
Emmerich Kálman
1DVD · 93 509 PC: 31 EAN: 4006408935094
Operette in zwei Akten
Operetta in two acts
Inszenierung: DOMINIK WILGENBUS
Co-Produktion VOLKSOPER WIEN – CAPRICCIO
PETER MATIC · MEHRZAD MONTAZERI · NORINE BURGES · RENÉE SCHÜTTENGRUBER · WOLFGANG GRATSCHMAIER · Chor, Ballett, Orchester und Kinderkomparserie der VOLKSOPER WIEN · MICHAEL TOMASCHEK
SUBTITLES: Deutsch / English / Français PICTURE FORMAT: NTSC / Colour / 4:3 SOUND FORMATS: 5.1 Surround · 2.0 Stereo Dolby Digital REGION CODE: 0 (worldwide)